I had the lucky opportunity to check out Calavera Restaurant in Oakland ahead of its official open. This is Chris Pastena's latest creation after Chop Bar, Tribune Tavern and Lungomare. I'd heard about Calavera a while back and was especially excited by their plans to stock more than 80 mezcals. I mean, how could I not be excited?
Located on Broadway, in a restored Julia Morgan building, it is a large, open restaurant with simple yet beautiful design that shines through with the hanging lights (not Edison lights!). The orangish back wall has very lightly and subtly embossed skulls, and a gorgeous long bar with a wall of mezcal that resembles a library because of the wheeled ladder used to access all the protruding boxes which contain all that precious mezcal.
And what a collection of mezcals – this place is serious. Pastena knows his stuff and has put together quite a list with specific selections from Mezonte, In Situ, and 400 Rabbits, plus the full collections from Vago, Del Maguey, Pierde Almas, Alipus, Mezcalero and more. Mezcal is served in ceramic copitas crafted by Oaxacan artist Omar Hernandez. It is this attention to detail that really shows the loving care put into creating this restaurant. There's also a great list of cocktails – I tried the Sandia, a watermelon base with mezcal, salt air (foam), a sprinkling of chile de arbol and a watermelon garnish. Perfect for the heat of the evening.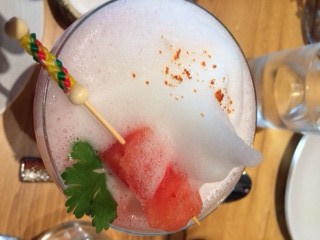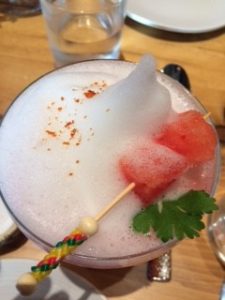 Then there is the food… Chef Christian Irabien, whose background includes Oyamel Cocina Mexicana (Jose Andrés' restaurant in DC) has crafted a unique menu that salutes tradition and simultaneously turns it around. We were a four top of serious and adventurous eaters and therefore were not shy at ordering as much as we could. Everything was delicious, from the ceviches to the refried beans to the chile relleno and to the grilled huachinango (oh how I love huachinango and so rarely eat it outside of Mexico.)
Calavera is the latest addition to Oakland's collection of upscale Mexican restaurants which makes it quite a place to eat out. Between this latest addition, Tamarindo, Nido, and Doña Tomas it's far easier for those of us on the east side of the bay to stay local while indulging our love for all things Mexican. I am greatly looking forward to spending some time at the bar, sipping my way through that list.