Recently I discovered Anna Bruce's photography because she covers our favorite subject, the world of mezcal, with great aplomb. We chatted about her photos over email. The interview is below with minimal editing for clarity. You can find our more about her work and life on her web site, Tumblr, Instagram, FaceBook, and Twitter. Should you be fortunate enough to live in London you can see a selection of her mezcal photos at the Charlotte Street branch of Wahaca. She has also photographed a tremendous variety of subjects and brings great insight to all of them. Just take a look at her portfolio here.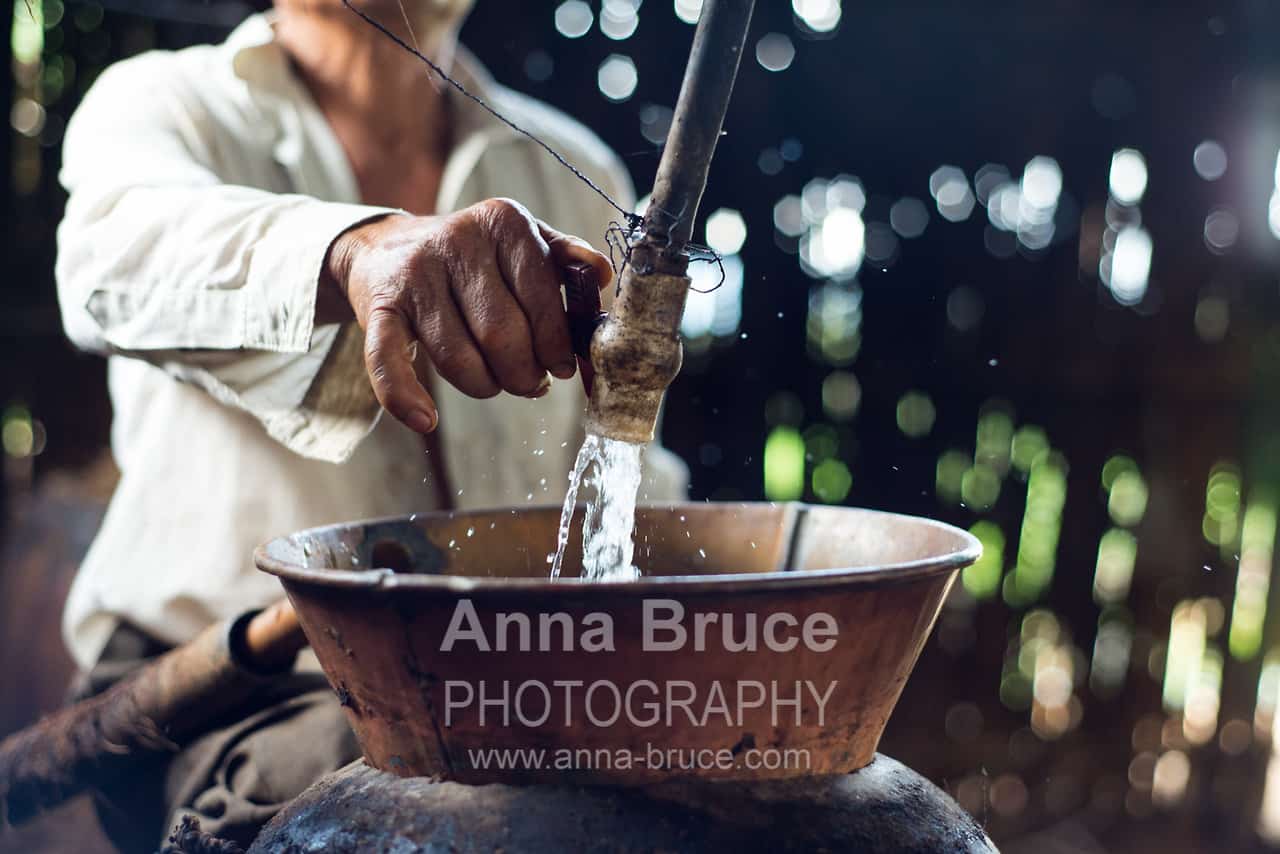 How did you come to this project?
When I was younger my family had lodgers in the house. I was good friends with 2 Mexican girls who stayed with us for a while, and when I was 19 in 2008 I visited them in Mexico. On that trip I tried my first taste of Mezcal, and went to mezcalerias in DF. One of my friends had an idea about bringing a Mezcal bar to the UK, but at that time it was not possible due to importing laws/trade regulations.
A couple of years ago the first Mezcal bars opened in London. I was curious as to how this could be, and discovered that the mezcal industry was changing and new certifications meant that we could now get it in England. During my research I began to understand more about the artisinal process of making mezcal, and the controversy surrounding the regionalisation of mezcal and the certification. The more I read the more questions I had about how mezcal would change as it gained popularity outside Mexico. I had been looking for a project that would get me back to Mexico, and this seemed like the perfect opportunity. I approached the Mexican embassy in London with my proposal to photograph the process of making mezcal; focusing on the fact that it was both a new Mexican import to the UK, and that the process may change as the product needs to reach a larger/broader audience. The embassy gave me a media scholarship to spend a month in Oaxaca photographing the process in July 2013.
Since then I have been back twice to exhibit a selection of the images in December, and for a further research trip in May, to photograph more distilleries in Oaxaca, as well as in Jalisco and Michoacan.
How did you meet the palenqueros that you photographed and where are their palenques located?
For my initial trip, my Mexican friends put me in touch with the brand owner of a mezcal called 'el Mero mero,' and a lot of the images from that time were taken at the distillery of don Justinos Garcia in San Dionisio, where that mezcal is made. He also took me to his fields near Santiago Matatlan where I photographed him harvesting espadin. During the trip I met others involved in the mezcal industry, mostly with the help of Hector Audiffred from Amores Mezal and photographed the Amores and Danzantes distilleries in Matatlan.
I was asked to accompany a writer for the trip in May, and he has contacts through importing speciality brands from Mexico to the UK. Brand distilleries we visited included Derrumbes Rey Campero, Real Minero, Alipus and Del Maguey. We visited a broad variety of distilleries making tequila, raicilla, and mezcal, in Jalisco, Michoacan, and Oaxaca. Michoacan was fascinating as it is a newly certified mezcal- the first in the region, (producing for Derrumbes). Until recently they have had to call their spirit 'distillate of agave'.
When I went in 2013 I spent a long time looking at each step of the process focusing predominantly on Justino. I stayed at his house with his family, including his father and son- ( who had previously run the distillery, and who he will pass it on to). The more recent trip was a whirl wind, sometimes driving to see two or more distilleries in a day and stopping regularly to photograph fields and different varieties of agave growing wild at the side of the road.
What interests you most about the world of mezcal?
While I was in Oaxaca I got to meet a lot of the creative community. Speaking with them, as well as mezcal makers, it is fascinating to learn about the cultural history of mezcal, and how it is represented creatively (and perhaps informs creativity). I would like to make a further study into the relationship between mezcal and the arts in Oaxaca.
Have these photos appeared elsewhere?
A selection of photos from the first trip are on permanent display in the Charlotte Street branch of the restaurant Wahaca in London, Wahaca's in house magazine also published an article about the work, and the Express newspaper covered the exhibition opening. An installation of 200 pictures was shown at Taller Espacio Alternativo in Oaxaca and subsequently at the London School of Economics as part of a week of lectures focusing on Mexico.
Any plans to return to Mexico for another series on the world of mezcal or something else?
I am returning to Mexico in July of 2014 to work with Puente, a charity working to reintroduce amaranthe into the Oaxaca area. This will be alongside working with and documenting an artist residency focusing on nutrition and 'first foods' in the area such as amaranthe and corn. Hopefully this residency will become an exchange, as we have found accommodation and work space to offer 5 Mexican artists in the uk.
I think there will be more mezcal related work in the future (I hope so).