Digging deep into the story of rum from Oaxaca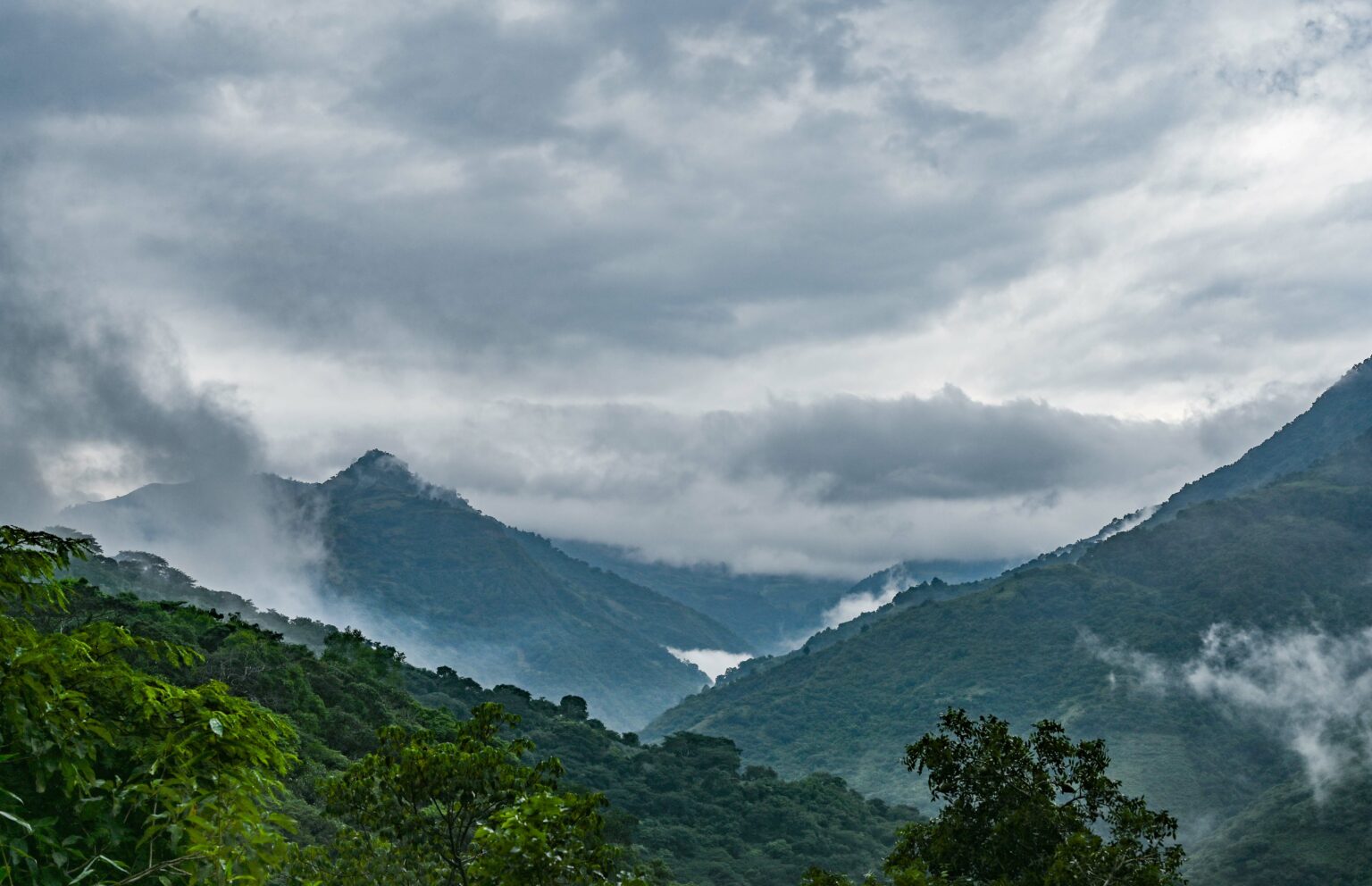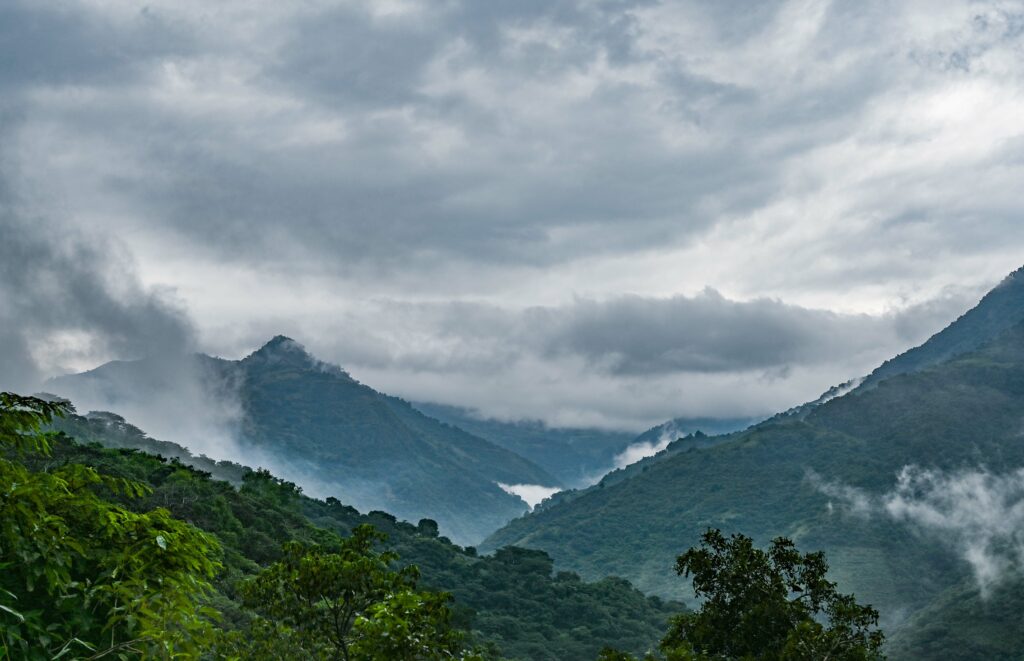 This October I had some epic journeys deep into the Sierras of Oaxaca, traversing over cloud covered mountains, down muddy switchbacks, through coffee and banana groves. But these recent adventures have not been to find mezcal or agave. These spirit-led experiences were to learn about Oaxacan rum, locally known as aguardiente.
As with mezcal, terroir plays a major part in the story and taste of Oaxacan rum. This spirit is made from a variety of different species of sugarcane that thrive in different soils. High-land or low-land as well as the surrounding vegetation also plays a significant factor. A wild, continuous fermentation is kept alive over months, capturing the atmosphere of each unique production.
My partner Brooks and I had our first taste of Oaxacan rum or Auguardiente in March 2020, at the inauguration of Bebidas de Oaxaca , a beautiful book by Shava Cuevas. This book celebrates the diversity of artisanal beverages made in the state of Oaxaca. On arrival, of course, we made a beeline for the agave spirits, but after sipping on a few old favorites, we began to explore the wealth of other drinks on offer.
One product that stood out was a rum made in Etla, Oaxaca called Rey Eteco. Maricruz Gomez Martinez was there representing her family's product. She shared with us their joven and anejo, and we were blown away by the depth and complexity of flavor.
Brooks was surprised by the vibrant pure sugar cane flavors, easily mistakable for Cachaça or Agricole Rhum. Many rums produced in areas that were colonized use molasses (a by-product after a refinery boils the cane juice to extract as much sugar crystal as possible), whereas, Cachaça and Agricole Rhum are made with fresh-pressed sugarcane juice.
Speaking with Maricruz, it became clear why Brooks found these rich, fresh notes in her family's rum. They also use fresh pressed sugarcane juice for their production. Her father-in- law, Salvador Arellenes is a third generation grower of sugarcane. She says that it was "his grandfather who was the one who left the Oaxacan swamp in the year 1918 and came to live in San Sebastian Etla. He was the one who started to cultivate cane." Initially the cane was predominantly used for animal feed, but in 2014 they began to make rum.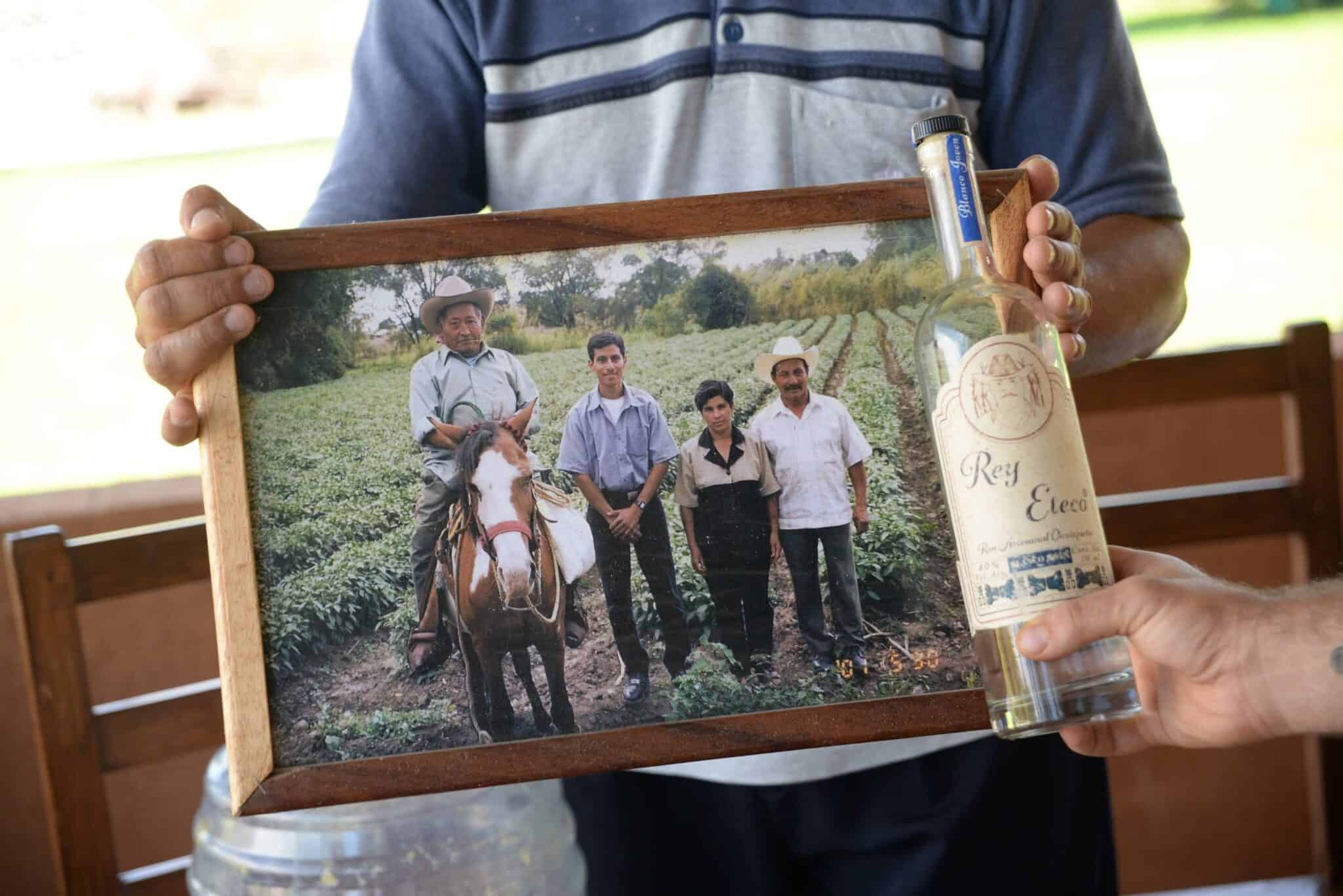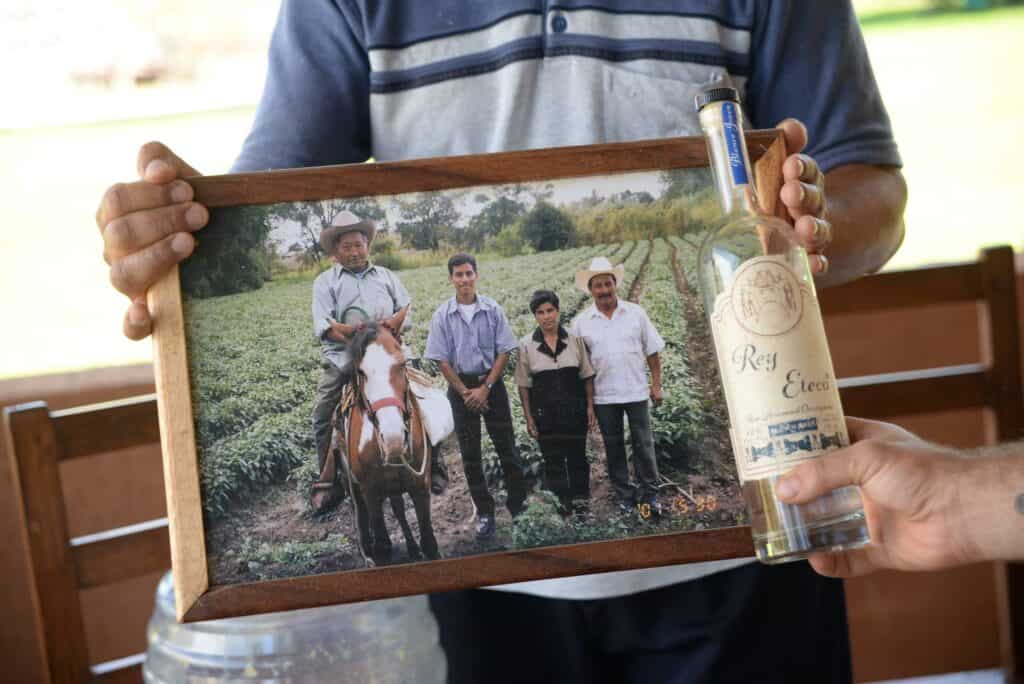 Since trying that first taste of Rey Eteco I have been keen to learn more about this relatively unsung spirit. Based in Oaxaca, I was particularly interested to see projects that worked with both rum and mezcal. I was honored to visit Dakabend Rum which is made by the producers of Mezcal Tosba and Tso'ok from the team behind Cuentacuentos Mezcal. It was also enlightening to hear from Francisco Terrazas, cofounder of Paranubes, developed by the team from Mezcal Vago.
The Paranubes story
Paranubes were ahead of the curve exporting Oaxacan rum to the international market. The production comes from the mountains of Huautla in Northern Oaxaca. The label shows this landscape, seen through the leaves of sugar cane, down through clouds to the smoke of an active rum production (known as a trapiche). The name Paranubes is "made-up," a combination of being Para meaning "for the" (people of the area), and Nubes referencing the cloud forest region where it is made.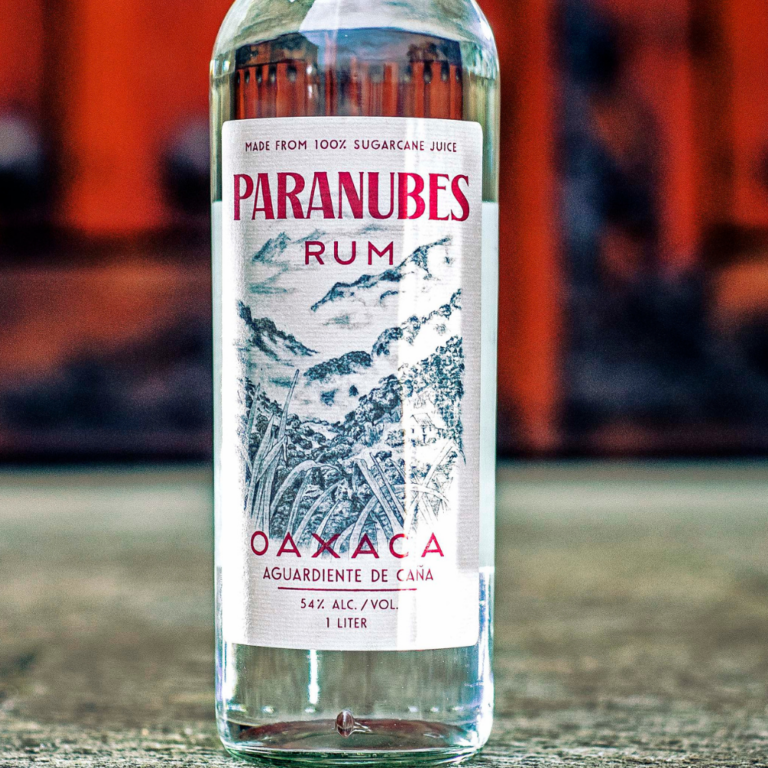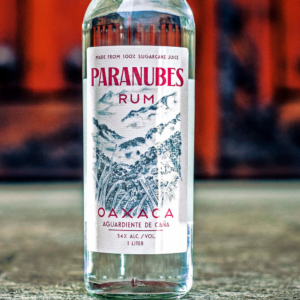 Terrazas remembers meeting the producer of Paranubes for the first time while exploring the region, looking out for plumes of smoke and the "put-put" sound of the mill motor – signifying the production of rum/aguardiente. "We reached Rio Tuero, which is where Jose Luis Carrera and his family have lived for three generations. His grandfather actually founded the village. We were absolutely captivated by him as a person."
When the Paranubes team began working with Don Jose Luis, they went through a process of adapting the profile. Originally the final product was an aguardiente being sold locally at around 35% ABV. Jose would separate the distillation into three large cuts and blended to that ABV.
To attain the profile for Paranubes, they separate the distillation into five cuts and keep them separated by day. This helps to maintain some control of what can be an extremely variable distillate. According to Terrazas, "every couple of weeks, we taste ninety eighteen-liter garafones and blend them to the final ABV of 54%. We do not add any water to the fermentation or post-distillation. Straight-up delicious cane juice!"
Terrazas explains that when they met Don Jose Luis, he was just a couple of weeks from abandoning the family trapiche. Many of his family had already left for Oaxaca City in search of other opportunities.
Fortunately when he began working with Paranubes, Don Jose Luis was able to double production to approximately 50,000 liters a year. This led to outsourcing sugar cane to the surrounding community and hiring additional people. The demand for rum, brought by Paranubes, refreshed the practice of growing and distilling sugar cane in the area.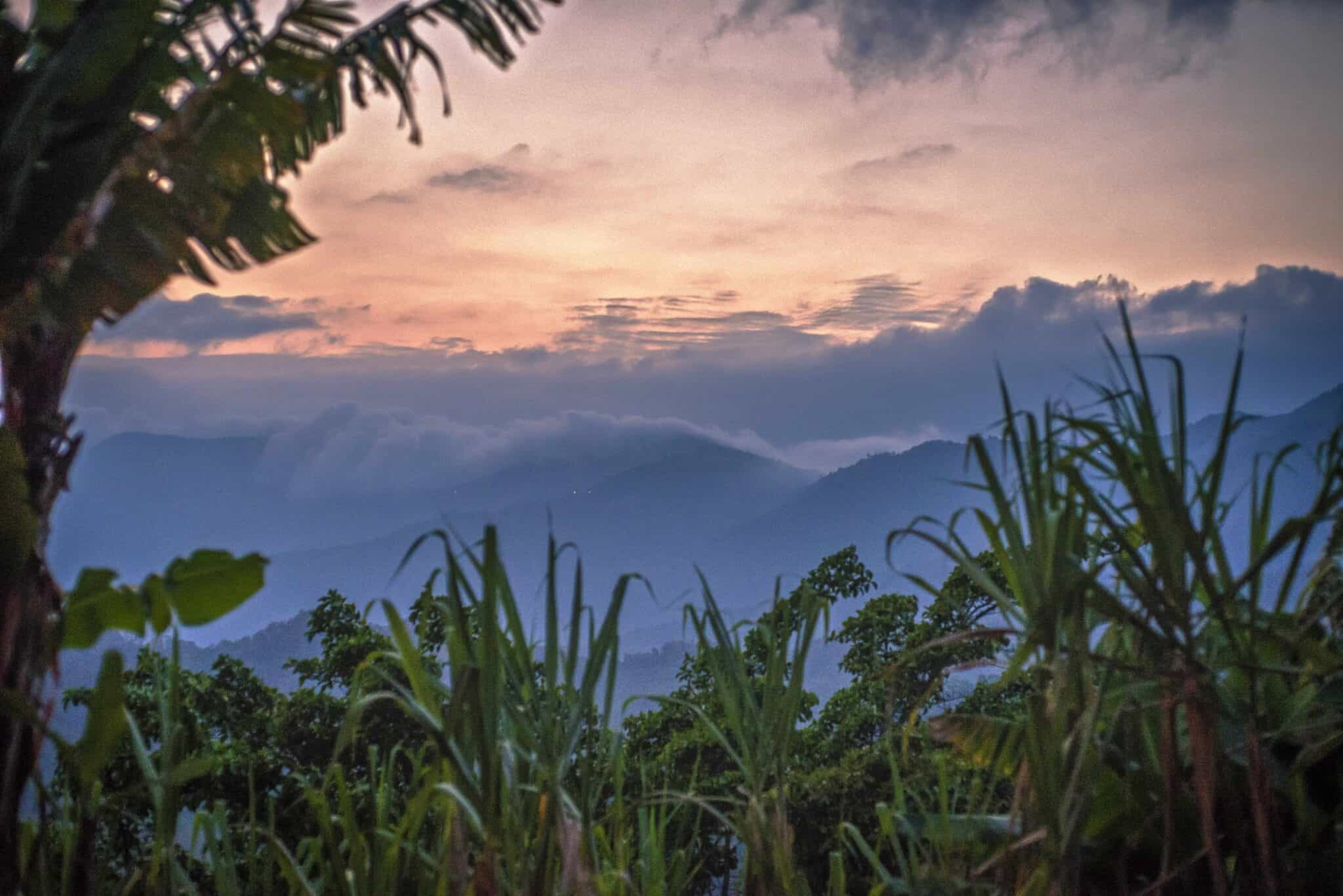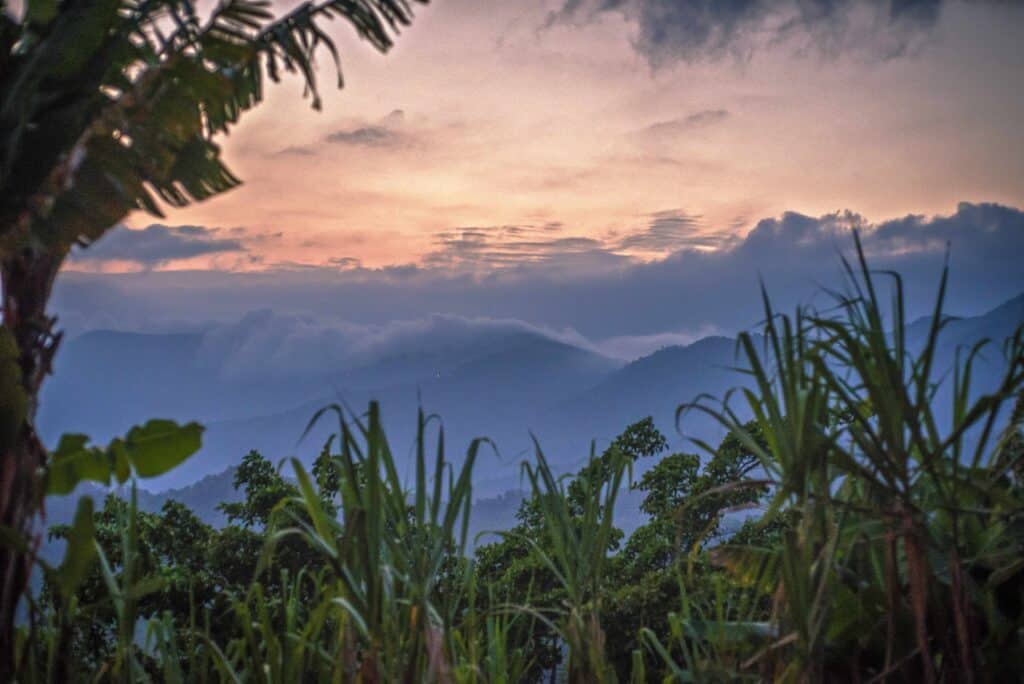 Growing a community tradition
This focus on rejuvenating the community is clear in the innovative work of cousins Edgar and Elisandro Gonzalez who make Dakabend rum. They are from San Cristóbal Lachirioag in the Zapotec region of the Sierra Norte in Oaxaca. The area is known for growing coffee and sugarcane, typically used to make aguardiente and panela.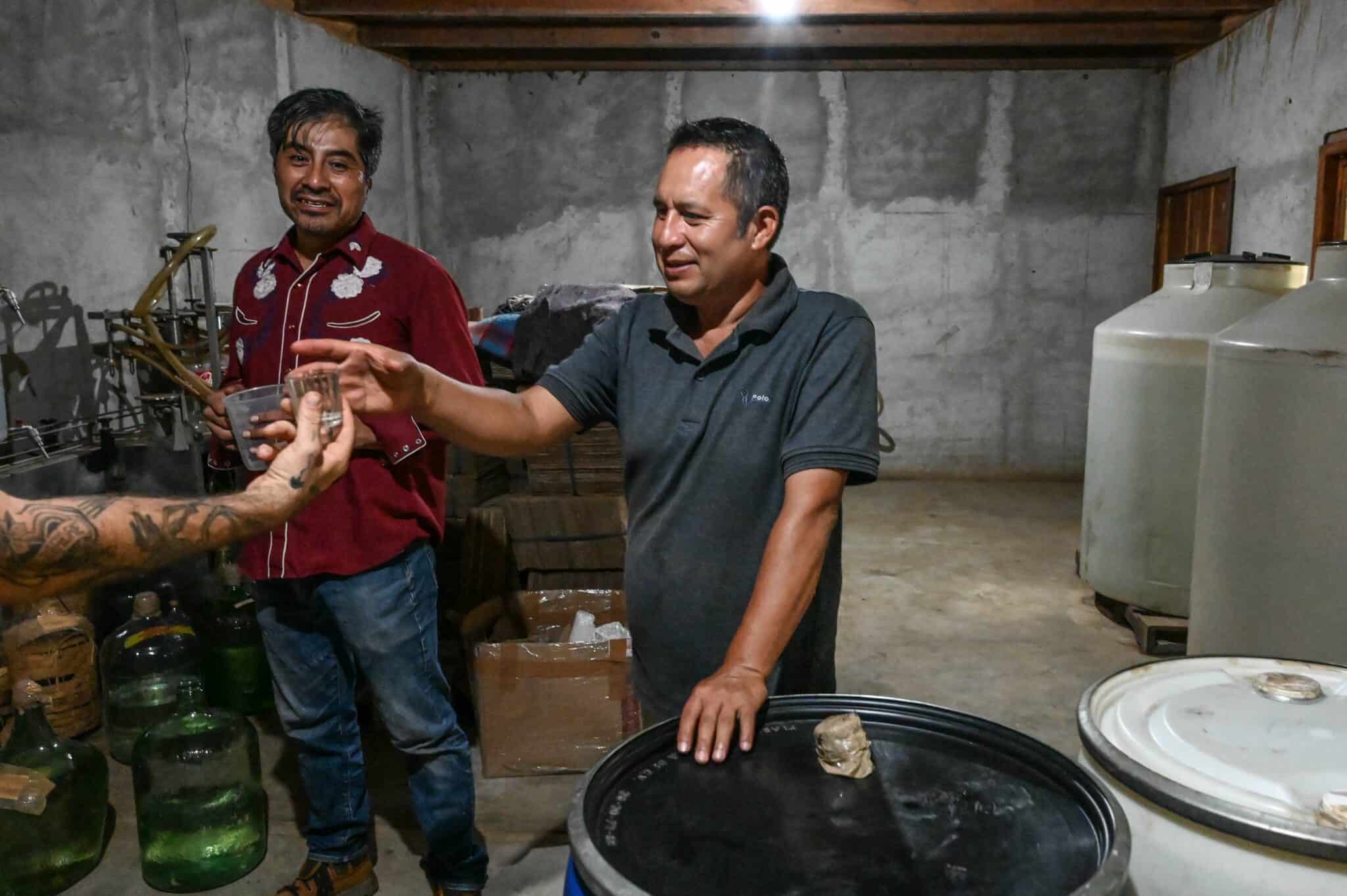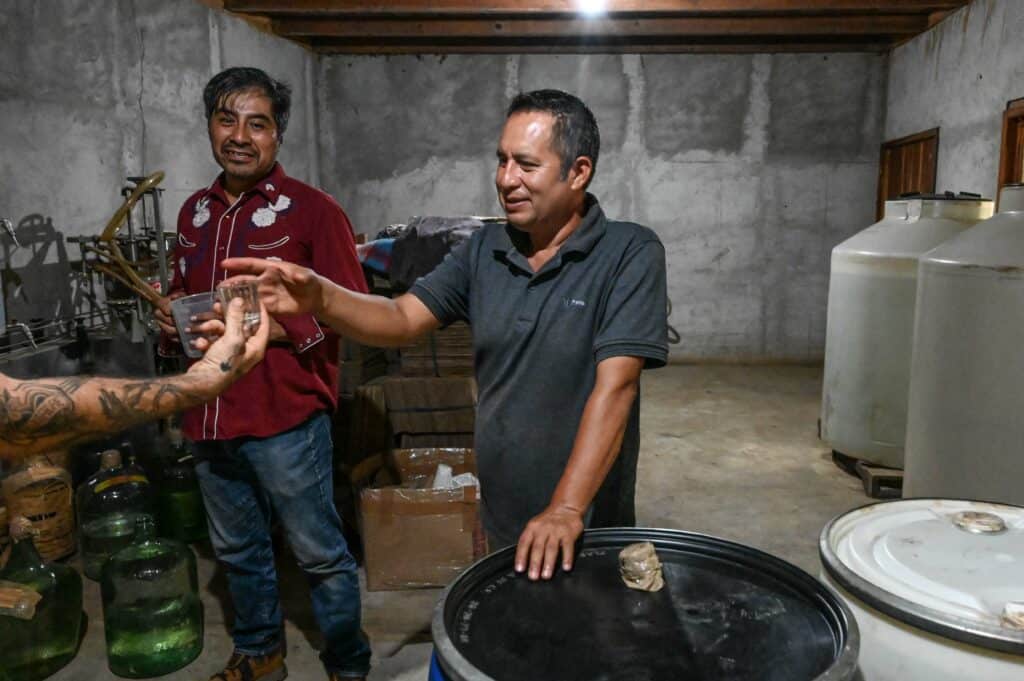 When Elisandro drove Brooks and I to visit them it was a good four hour ride each way, through clouds, including a steep dirt track down to the palenque itself. However, this pales when you hear Elisandro's stories of 18 hour bus rides and trips on prop planes that had to navigate landing through fog and forest.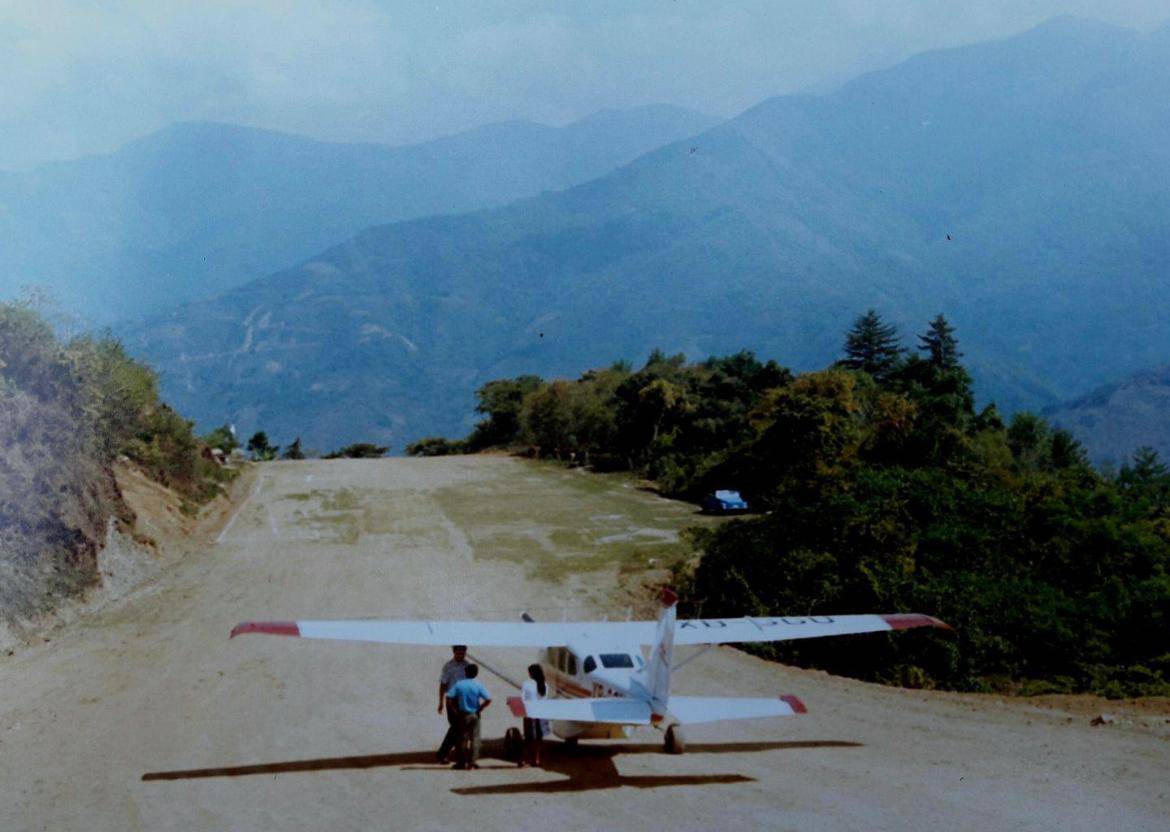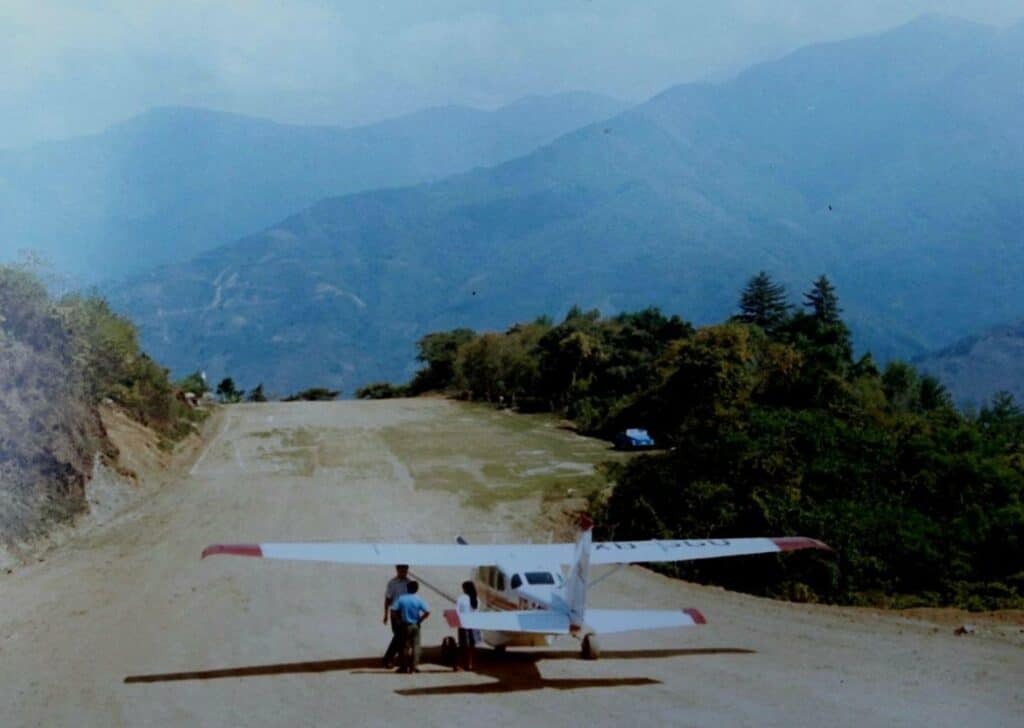 Along with many people from their community, the cousins left for the States when they were young men. However, they were distressed to see the migration from their home and the impact it had on the community. They wanted to build something that would bring recognition and opportunities to the area.
Edgar also said that personally, having watched the film "A Walk in the Clouds" he was inspired to pursue a life in the vineyards – even if that was fields of cane and agave, rather than grapes.
Despite a tradition of aguardiente in the area, it was agave spirits that first caught their attention. In 2000 the pair saw an opportunity in mezcal. They bought agaves and sent money home to develop a palenque. Ten years later Edgar returned to Lachirioag to learn the craft of a mezcalero, while Elisandro went to business school to learn how to market their original product, Tosba.
Following the success of Tosba, Edgar and Eslisandro looked back to the local tradition of distilling sugar cane. It was growing all around after all. Edgar's father grew sugarcane and would take the tools for fermentation and distillation out to the fields. He would stay there for months; cutting, milling, fermenting and distilling, before bringing aguardiente back to sell amongst the community.
Their current production for rum consists of the motor powered mill, fermentation tanks and copper stills. The copper stills are similar to those used in mezcal, and for a time they even used the same stills to make Tosba and Dakabend. However they now have them separated as they found that using the exact same equipment had the potential to impact the final product.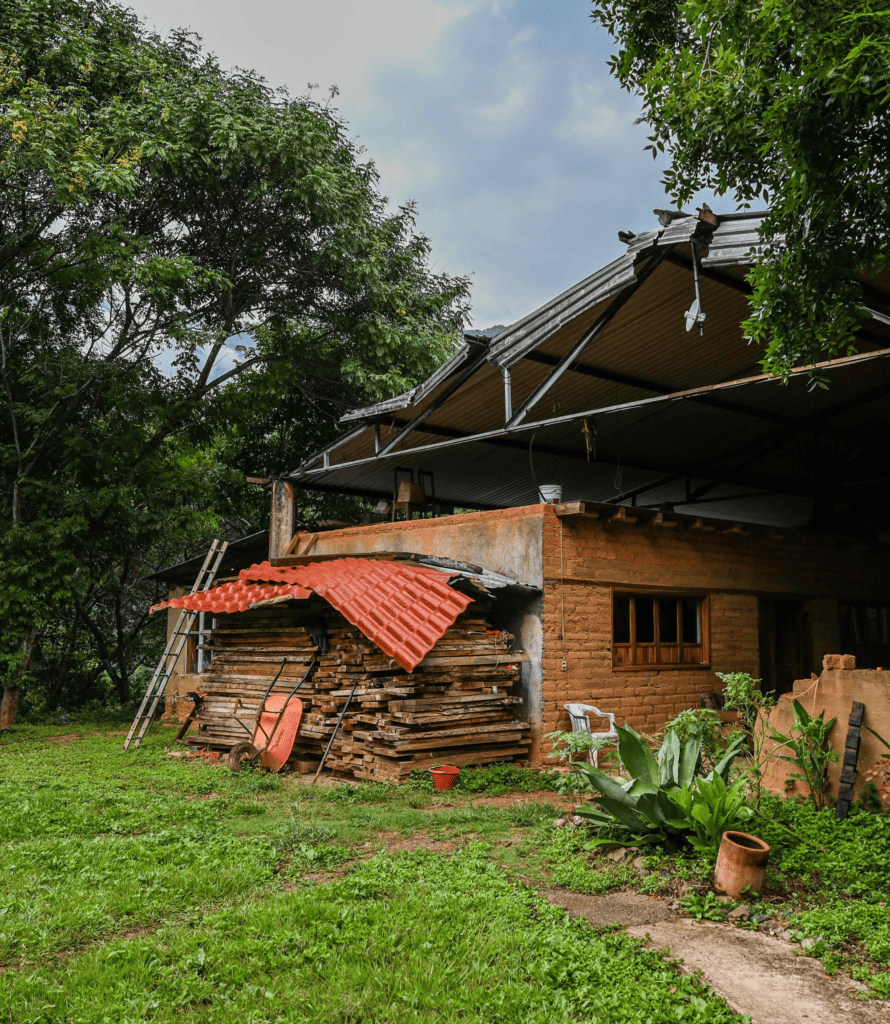 The production is built to utilize the incredibly steep site on which it is built. So gravity does a lot of the work when bringing the juice down from the point of milling, in the field, into the fermentation tubs and finally the still. Although they still need to get the final product up and out! This is similar to the Paranubes production.
One of the key differences in processing agave and sugarcane for production is the fermentation. For mezcal you have to cook the plant first. Once milled the resulting matter is a paste of agave fibers that you need to add water to. With sugarcane you use pure, fresh juice. This is put into a tank where fermentation starts, often helped along the way by some previous fermented juice, corn or a type of bark that stimulates the yeast.
Both Dakabend and Paranubes use a continuous fermentation. This means that once the batch is started they keep adding to it. As one still is filled from the fermentation tank, more fresh juice is added on top of what fermented juice is still in there. This continues for the whole season.
This period of work usually begins in the dry season with harvesting the cane. In Oaxaca this is typically January to June. When it rains the sugarcane becomes waterlogged, diluting the sugars. At Dakabend they prefer to get the cane milled as soon as possible after cutting to keep the flavor as fresh as possible.
Dakabend roughly refers to "the one that doesn't listen," suggesting how the cousins have forged a path of their own. In other words, how their family discouraged them from such a difficult path producing artisanal spirits in the Sierra Norte of Oaxaca, yet they chose to do it anyway.
A production deep in the mountains
The physicality of the work to produce and distribute rum, even locally, really hit home when we visited Tso'ok in the Sierra Mixe. Speaking with Tso'ok cofounder, Reed Spear, he explained how he had first tried Oaxacan rum with cofounder Carlos Blas and some friends from the Mixe. They were told that the Mixe community had never been conquered by the Spanish because "the area was too rugged. And it is insanely steep and mountainous."
Blas, who is maestro mezcalero of his own brand Palomo in Matatlan, and works with Reed on Cuentacuentos and Tso'ok, drove with us to Francisco Jayacaxtepec, Totontepec Villa de Morelos in the Sierra Mixe Baja, over 1500 meters above sea level. The main road through the community is flanked by steep slopes on either side. The view of dawn through four meter tall maize was breathtaking.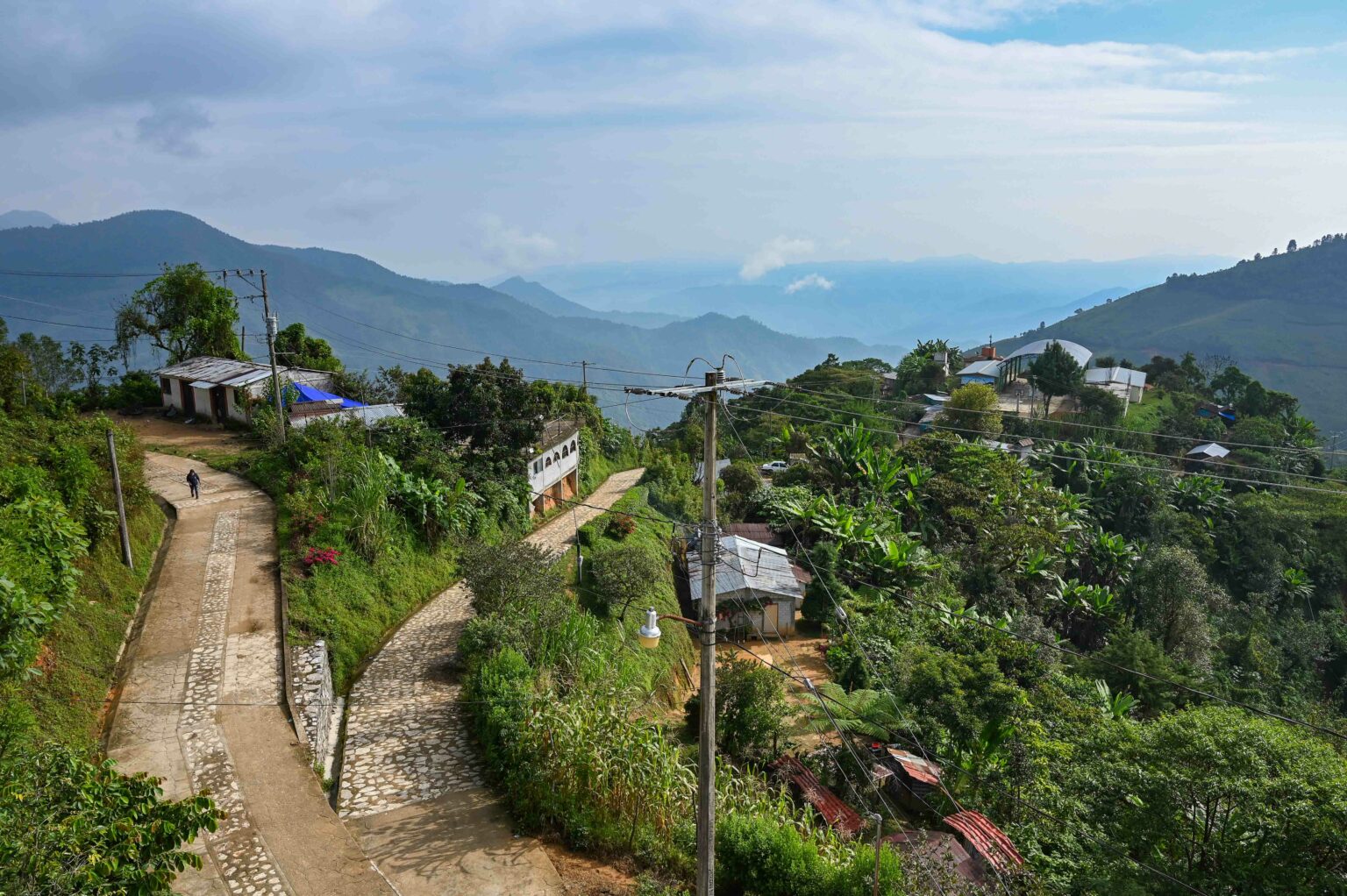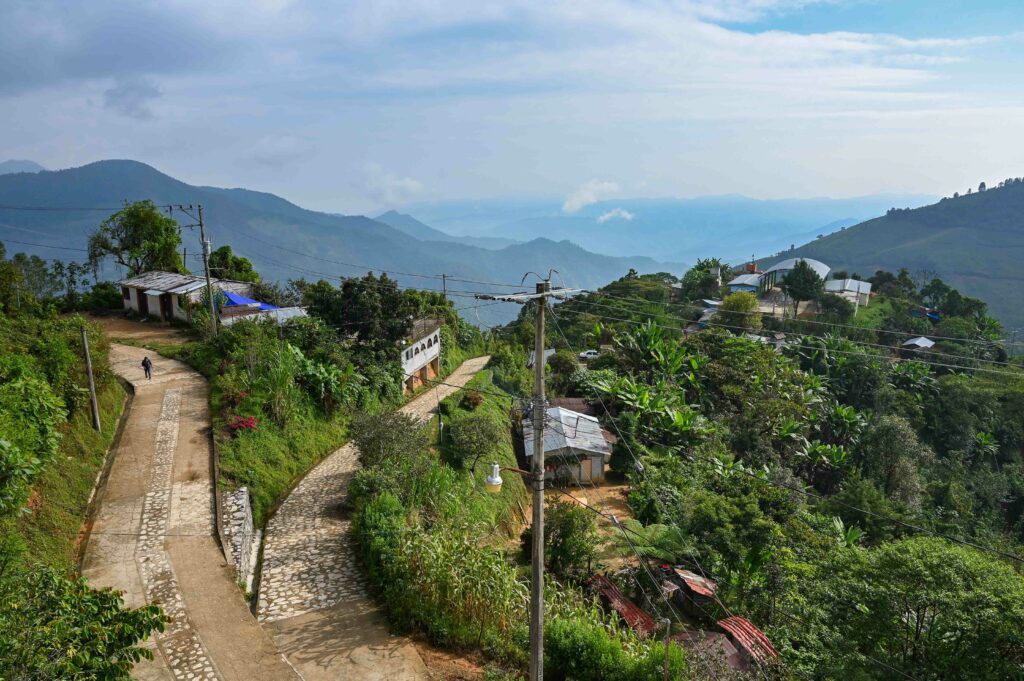 From there we hiked our way down over an elevation change of around 750 meters, on a slippery, river track. We half walked, half tumbled our way down, until we turned a corner past some giant banana plants to find a small ramshackle structure, housing a tiny rum distillery.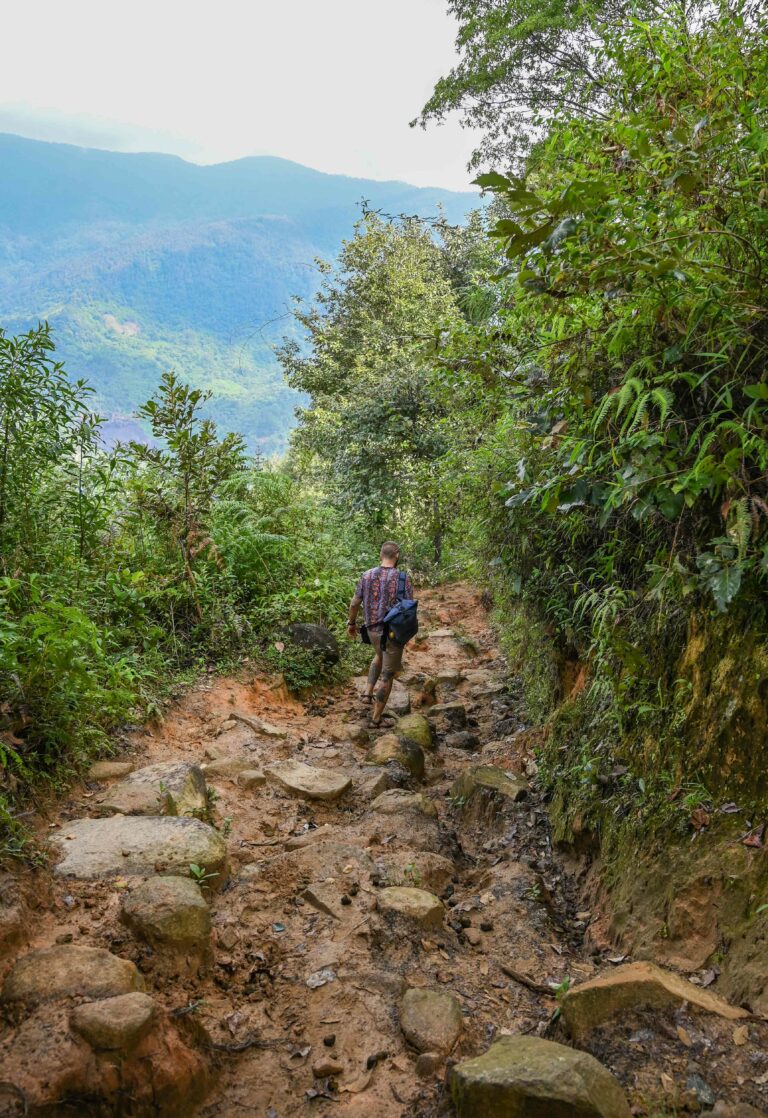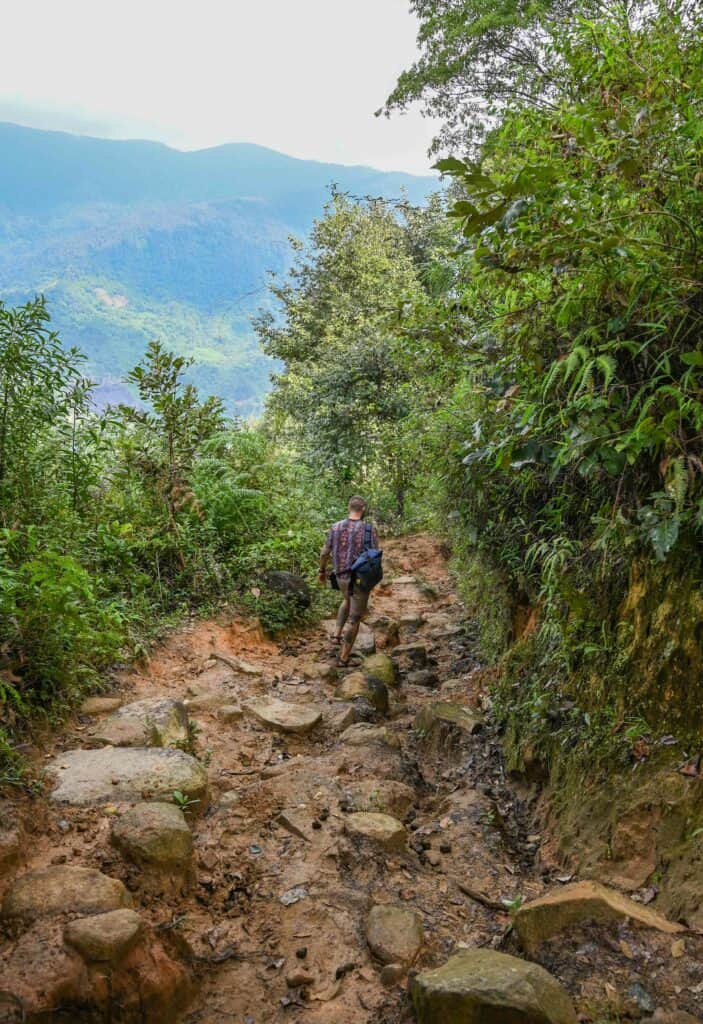 The production is set on a small platform completely surrounded by tall plants. There is a magical quality to the space as smoke from the distillation weaves its way through the foliage. We were enamored by the different butterflies that perched on my hands as I tried to capture the atmosphere.
According Spear, "The tso'ok is an animal nahual or totem that follows them through life. When a Mixe is nearing birth or just born the parents or curandero will look for signs—maybe a dream or tracks outside the house—and in that way they know what the baby's tso'ok is. When Carlos and I learned that the Mixes had this as part of their ontology we had to honor it."
When we arrived, we met Brigida who runs the production with her son. They had just begun to work for the season, so there were a few tubs of sweet tasting, fermenting sugar cane juice. Fermentation happens in a mixture of plastic tubs and ancient clay pots that are submerged in the earth.
Brigida and her family mill the cane using a metal trapiche, but unlike Paranubes and Dakabend, this is pulled by a horse (rather than motorized). The mechanism says "made in the USA," and according to Brigida was brought there over a hundred years ago.
Each stalk of cane has joint-like nodules along the stem. These nodules have to be broken with a wooden mallet before the stalk can be pulled through the cogs of the mill. There is so much juice in each stem that they can be pulled through twice. In the first hour we were there they pressed about five gallons (and we probably slowed them down with our efforts to help).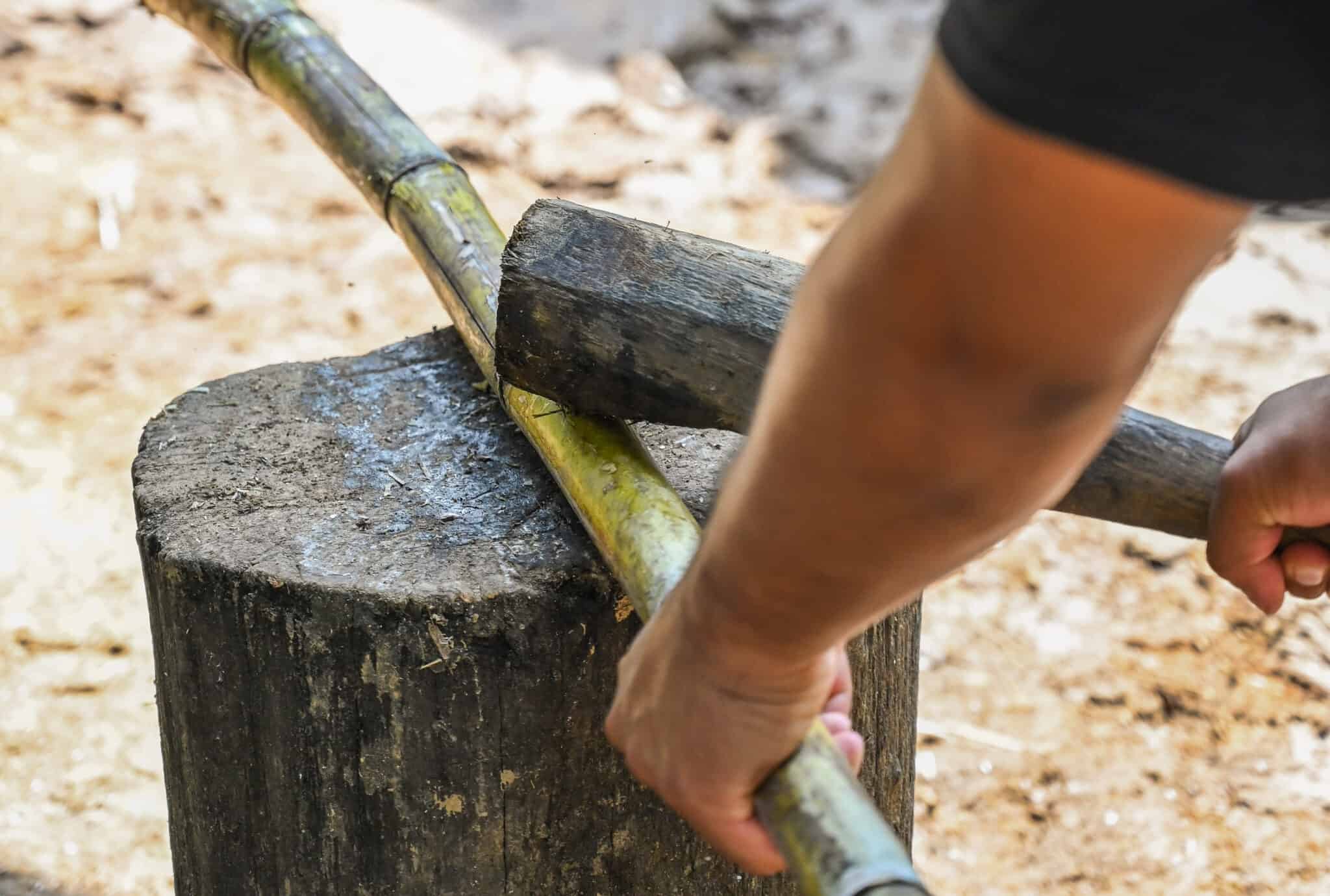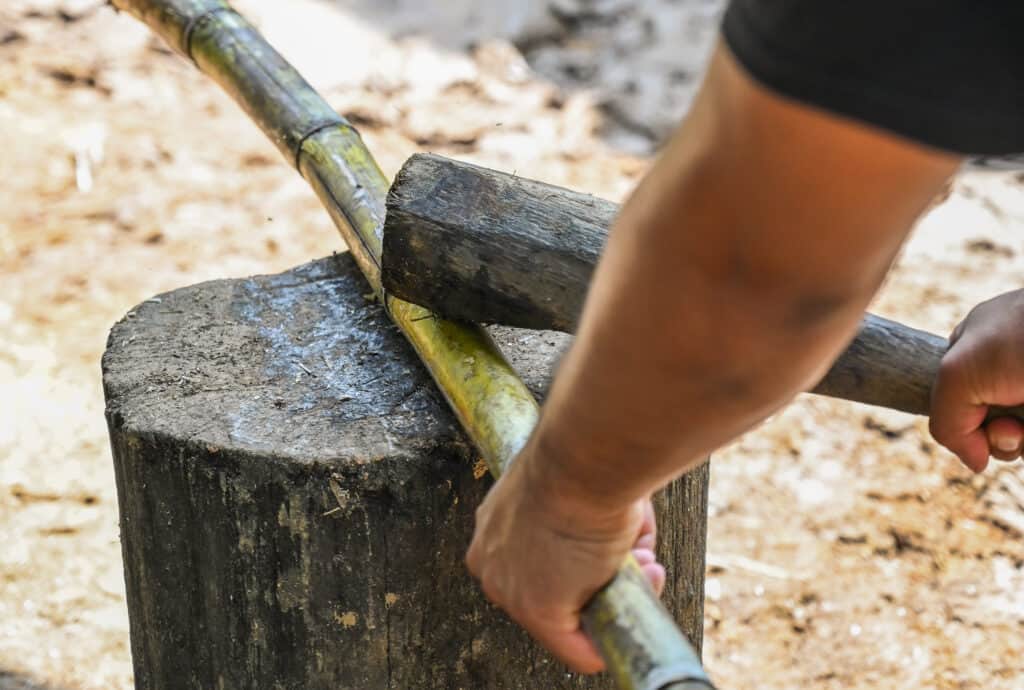 We stayed a while, sipping rum in this tiny, hidden paradise, before we began to contemplate the return journey. What had taken us about an hour straight down, took us at least twice as long, scrambling up out of the humidity of the lower valley to the much needed freshness at the top.
Ahead of us, a friend of Brigida led two mules with jugs of rum packed on their packs. Due to the steep climb, this is the only way they can get their product out of the valley.
The physicality of the process is not the only prohibiting factor to making and distributing rum from Oaxaca. As with mezcal there was some negative stigma around Oaxacan rum/ aguardiente.
Creating a market for Mexican rum
Sugarcane was brought by the Spanish colonizers, first to the Caribbean Islands in the 1500s and subsequently to regions of Mexico, including Oaxaca. For a time, Spain was shipping wine to Mexico and returning with barrels filled with rum. However, eventually the Spanish perceived it as a threat to their national liquor industry. They went on to enforce a prohibition, driving production underground. This is a contributing factor in the lack of recognition for Mexico's rum tradition.
Maricruz from Rey Eteco explained that people often try their spirit expecting it to be mezcal and are confused by the flavors, or don't see the potential of the product in the market. She said that the biggest challenge for them has been "competing with the mezcal boom. Trying to sell your product that you know is artisanal, but it's rum, competing as an artisanal drink in the market where mezcal and tequila stand out."
Maricruz's words echo those of Terrazas of Paranubes: "Agave was Mexico's competitive edge over other countries, so much of the investment and marketing was put behind that as it became part of the national identity. Think about corn. Corn, as we think of it, originated in Mexico, yet Mexican whiskey is just coming online, arguably behind cane spirits. Agave spirits really just pushed these other products into the shadows."
Terrazas says that "For the vast majority of people who try Paranubes, it is a complete shock to them that rum is even produced in Mexico, it being almost exclusively associated with agave spirits. So, it has been a lot of work on education on two fronts: changing people's perceptions of what aguardiente is and showing people that Mexico is, in fact, a rather prolific producer of sugarcane and, thereby, cane spirits."
His reference to aguardiente is poignant, as it creates an additional confusion over the identity and quality of sugarcane spirits being made in Oaxaca. Aguardiente is a broad term closely related to the idea of "moonshine," and many draw negative connotations from this. Paranubes use both rum and aguardiente on their label to respect the local usage of the term aguardiente, while reassuring the consumer that it is quality rum.
Despite challenges of finding the appropriate market space for Paranubes, speaking with RumCast, Terraza explained that it was loyal fans of Vago and "agave heads" who first embraced Paranubes. He says that mezcal comes with an inherent love for Mexico. "If you love Mexico you love what's coming out of Mexico which makes those consumers great for trying Mexican rum – one more thing to get people excited about."
According to Spear, he has been overwhelmed by the reception for Tso'ok. "My first 20 cases to Chicago got bought instantly by the first buyer to taste it. Same thing in Australia… first bar to taste it took it all. It took months to make the voyage and it was gone in a day. I'm even finding bottles in bars in Oaxaca and I swear to you it's not for sale in Mexico yet!"
Blas has also been distributing Tso'ok in Europe "I see a big opportunity for rum in all the markets, it's something unique and original. These days people are looking for unique and original spirits"
For Elisandro and Edgar, they are happy to see the engagement with their spirits in their community, and feel that it has inspired a wave of entrepreneurship. Elisandro says that their community "is happy that Dakabend is in other countries and people recognize it." Their goal for the future is to continue growing, and they are keen to reach Europe next.
Whether you are a rum fanatic or an "agave head" interested in all things Mexico, I highly recommend getting your hands on a bottle of Oaxacan rum. It feels like a turn in the tide for the category, with more brands appearing all the time.
As well as being a deliciously, terroir forward spirit to sip, Oaxacan rum can be produced at a lower cost than mezcal due to the shorter growing time of the cane. Therefore it can be presented at a lower price point, despite the artisanal quality. This makes it more approachable to use in cocktails. Having similar qualities to cachaca, these rums make a great caipirinha.
All the Oaxacan rums I have tried pack a big punch in flavor, evocative of the raw cane and individual landscape from which they come. If you have the luck to find yourself in Oaxaca try and find time to visit a production, it is a wild and wonderful experience that will test your perseverance and reward you with delicious rum!