Lately the mezcal world has been swooning for Michoacan. First it became street legal in 2012 joining the states that can legally label their agave distillate mezcal. Lots of people already knew that the local mezcal was fantastic, it just wasn't reaching far beyond the state's borders. Then stories started circulating about the cupreata, the wooden stills, and many other novel elements used frequently in the state.
And then we finally got a bottle here in the US through the Fundacion Agaves Silvestres Vinos de Mezcal line and it blew our minds. The production method alone causes fits of the imagination, cupreata isn't seen anywhere else, then it's hand mashed in a wooden tub appropriately called a canoe, fermented in stone vats; oh and the still is made out of wood and copper.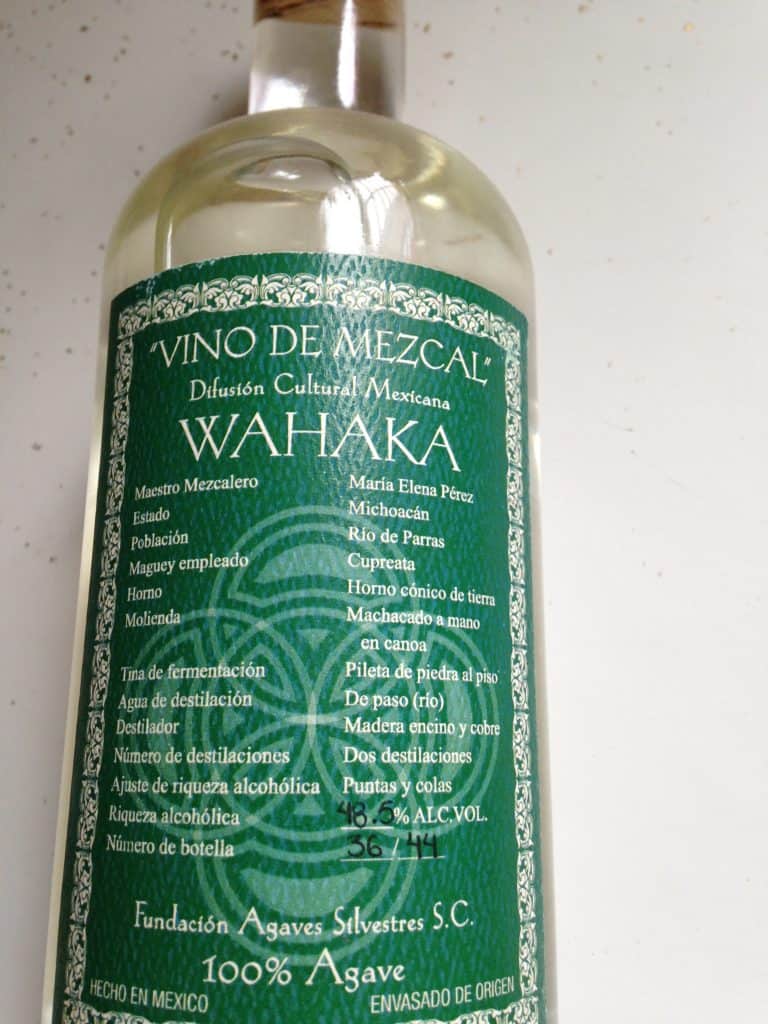 I figured that Michoacan had to be part of my next Mexican itinerary and that we'd find out more then but others have been faster to the punch. Per our repost of Cristina Potter's Mexico Cooks! blog she made the trip recently and found a fantastic palenque. A few weeks ago an attendee at our Meet the Karwinskis Mezcal Martes event at Lolo strongly suggested that our next tasting should feature solely Michoacan mezcals. Then out of the blue Ron Kunze, one of our long time fans, correspondents, and fellow travelers popped up with news that he'd just returned from Michoacan with a suitcase full of mezcal that we needed to sample RIGHT… THIS … MINUTE!
Not one to look gift mezcal in the mouth I jumped right in for a miniature survey of the world of Michoacan distilling. We started with the Bruxo Pechuga. Strangely it looks like Bruxo is available in England but not in the United States which means that we're beholden to shoppers like Ron who are willing to bring a bottle back. This one has a very distinct yellow tint but it's not as unctuous as some pechugas and quite flavorful without being fruity.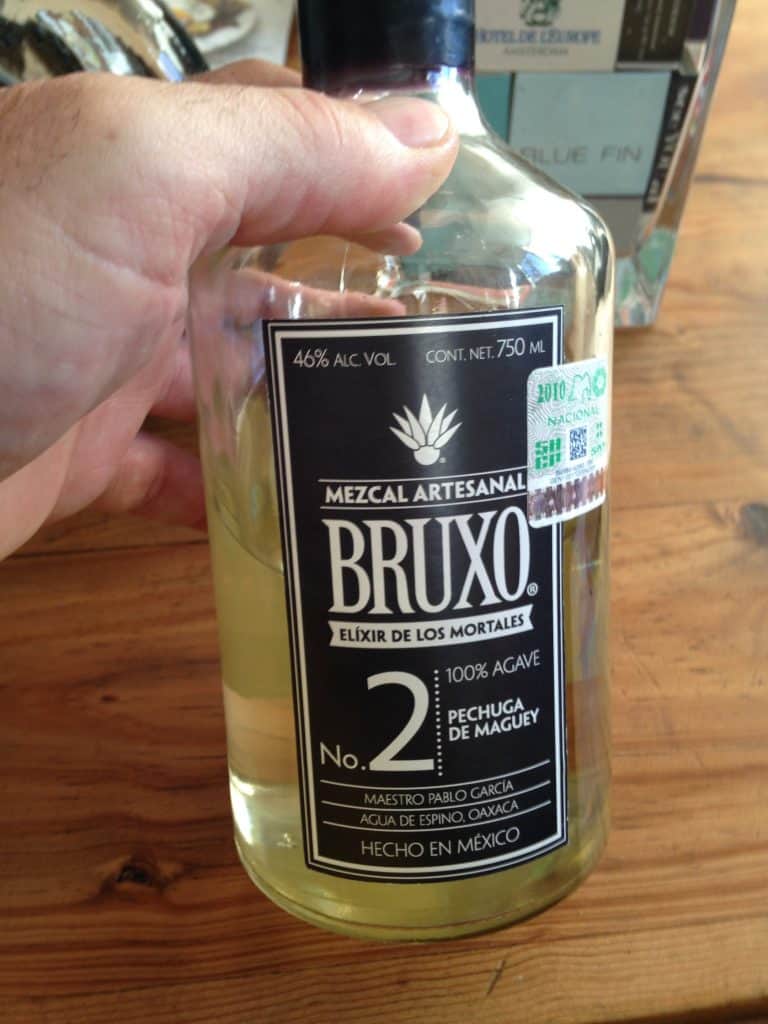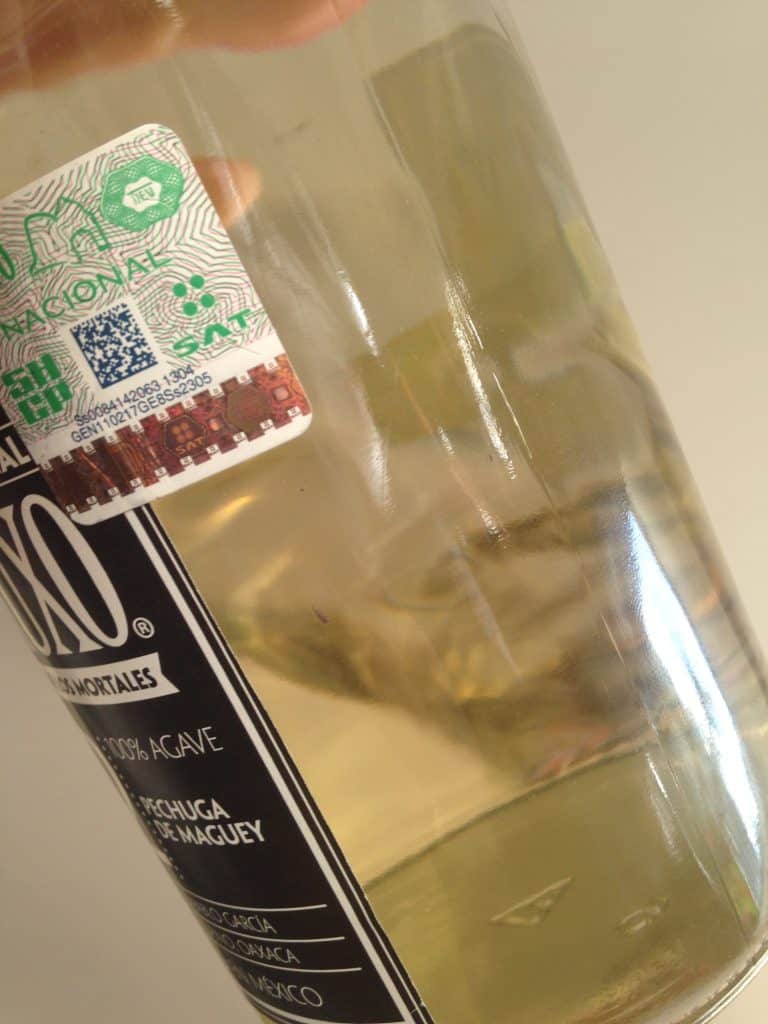 While tasting the Bruxo we perused a mezcal menu Ron brought back from a restaurant in Morelia that he swore by. It gives a a great sense for the variety and complexity of mezcal production there. 1.5 ounce pours, lots of cupreatas but many more agaves, and a clear sense of centrality to the dining experience.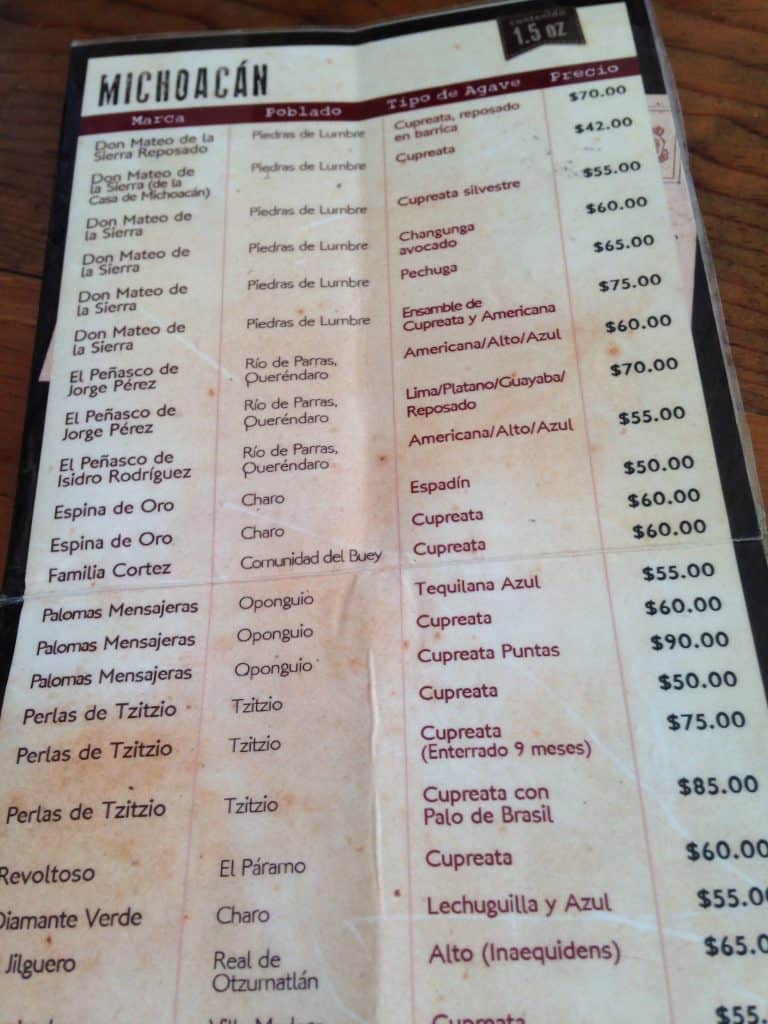 Next up the most distinctive bottle of the day, La Perla del Tsitzio Cupreata Enterrado 9 meses which has the most beguilingly fruity, even bubble gum like nose, incredibly full mouth feel, and an incredibly fruity palate. It reminded me of a fruity zinfandel. Per the product description it was buried underground in a glass container for nine months which sounds fantastic, they do that to some wines in the Mediterranean and distillates in the Balkans, but I still haven't been able to find a convincing explanation of how this method alters the bottle's contents.  The La Perla site has a description of this method which, while mouth watering, still leaves me a asking questions:
En el mes de octubre se lleva  a cabo el desentierro del mezcal reposado en vidrio bajo tierra durante nueve meses, el primer lote de producción que es el de enero se entierra dejando una muestra fuera cabe señalar que es una producción limitada de 350 litros promedio ya que se somete al reposo únicamente el primer lote de producción  a los nueve meses se desentierra y se lleva a cabo una sesión sensorial comparando olores y sabores del mezcal reposado y el blanco del mismo lote enseguida se brinda una comida con platillos mezcaleros preparados por las cocineras tradicionales disfrutando de un buen ambiente.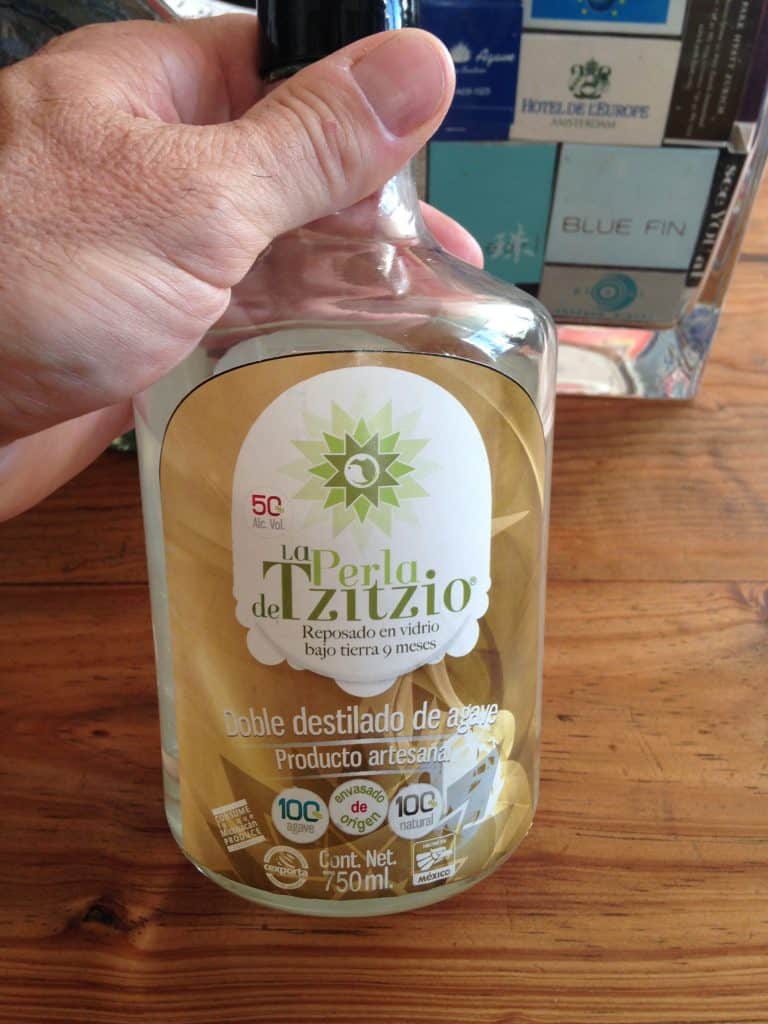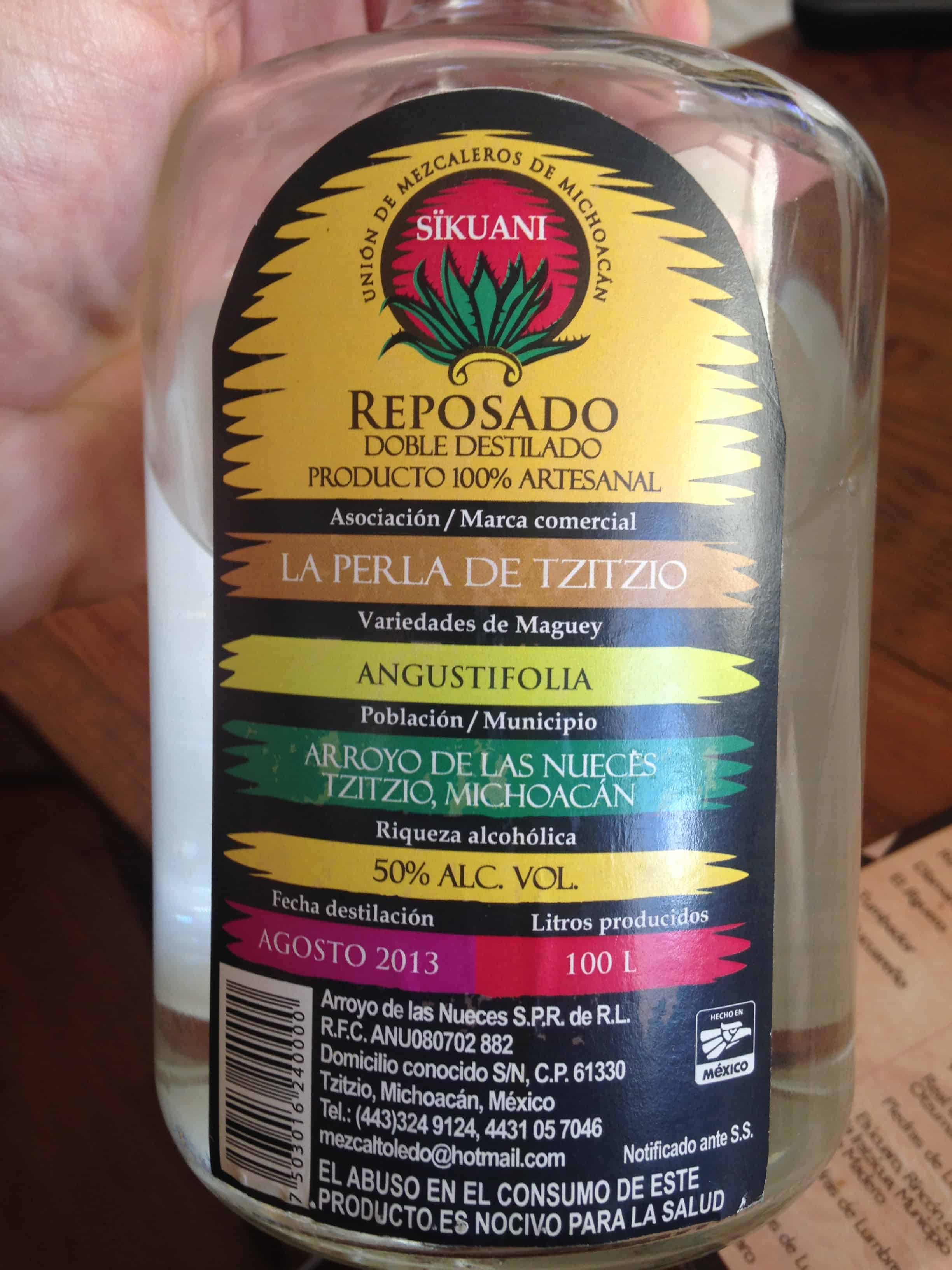 After that we jumped into the land of the unlabeled bottle. Lots of mezcal never makes it into branded bottles and Michoacan is no different. Take this fine, apparently hand blown, blue bottle. Ron told me that the mezcalero said the bottle was almost more expensive than the mezcal inside which, once you get past the beauty of the bottle, is a pretty sad testament to the undervaluation of mezcal in Mexico.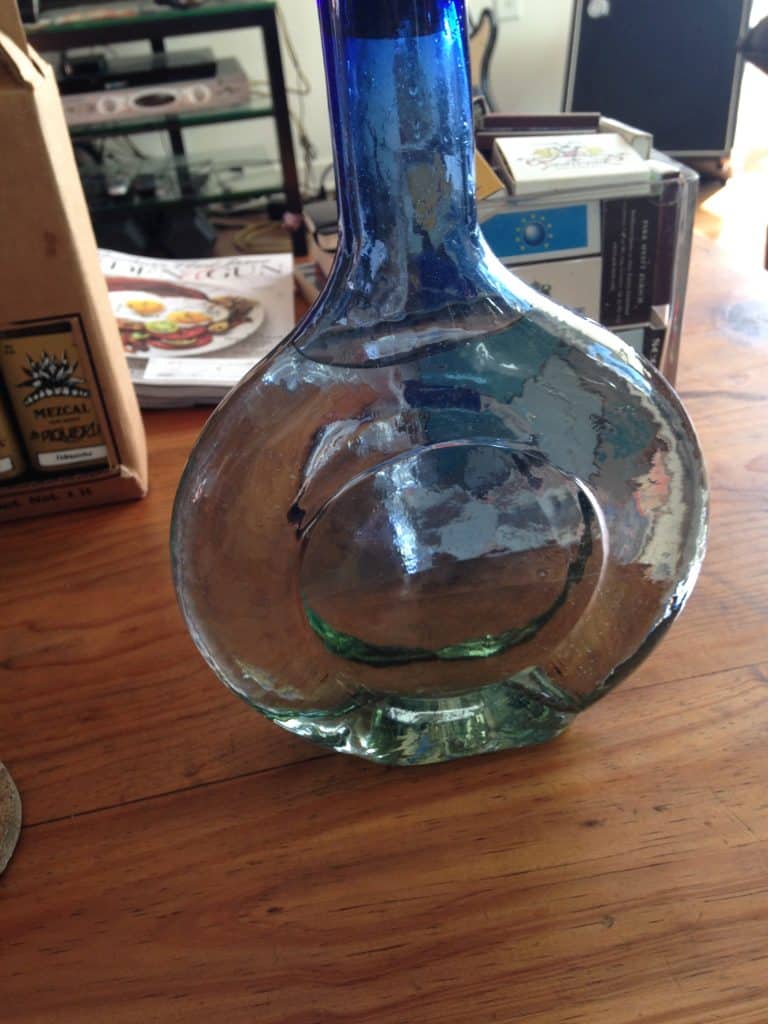 This next example looks medicinal partially because it came out of a pharmacy so I bet they just bottle it in the most readily available plastic bottles, the same ones that we use for rubbing alcohol. The mezcal within was of the rougher and more alcoholic variety. For once, the bottle did not belie its contents.  To the right you can see an example of a much more normative technique of mezcal bottling. We all have concerns about how rapidly the plastic breaks down but for consumption not too far from the creation date and expedience this definitely does the trick.
Last of all we sampled this nicely packaged gift set which contained an amazing little universe of silvestres that are generally hard to find if not impossible in the US, especially the Sierra Negra. None of these were revelatory, all were simply good, reminders of the remarkably high level of production across Mexico. I'm also an admirer of the small bottles wrapped in a single package because it's a great entry point for anyone like the 95% of mezcal drinkers who only take the occasional sip. And it makes a tremendous gift so take note distributors and brands!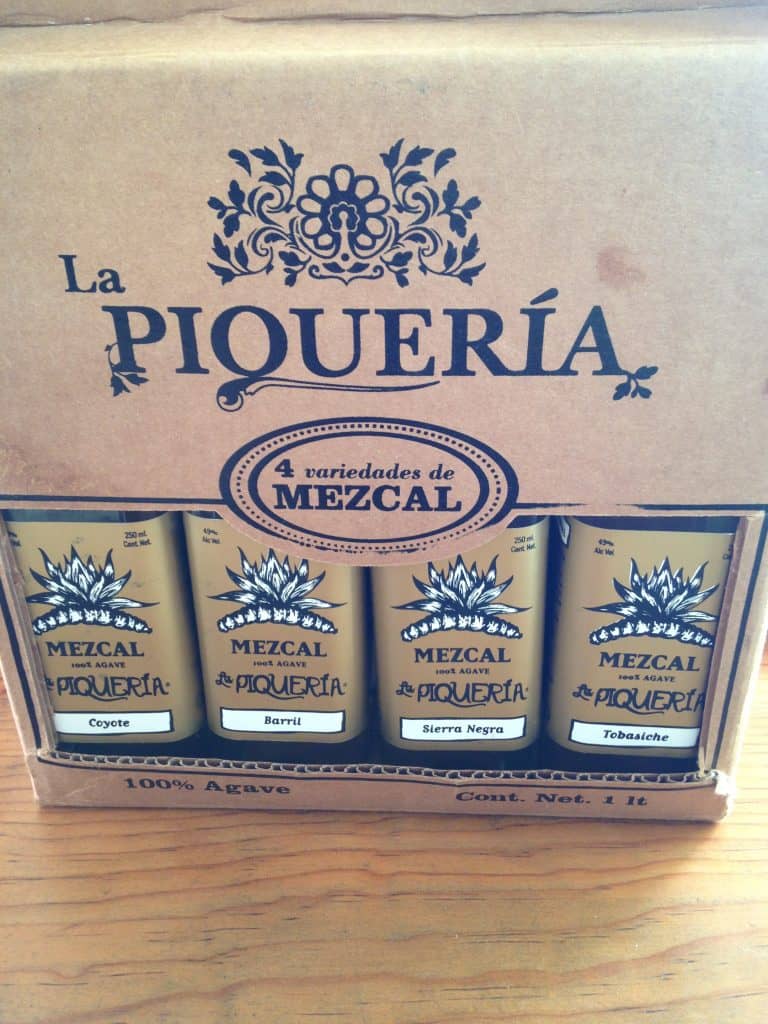 Obviously Michoacan has arrived as a mezcal producer and is gearing up to move into the United States in a big way. Just in recent weeks a few  producers told me that they're ready to go, just waiting on COMERCAM certification or the final details of their export arrangements before they start shopping their products around. We've heard rumors that Bruxo will arrive soon so our fingers are crossed. In the interim we are proud to announce that you'll have a chance to taste some Michoacan mezcal at our September 14th Mezcal: Mexico in a Bottle event so definitely buy your tickets today!