[et_pb_section fb_built="1″ _builder_version="3.0.47″][et_pb_row _builder_version="3.0.48″ background_size="initial" background_position="top_left" background_repeat="repeat"][et_pb_column type="4_4″ _builder_version="3.0.47″][et_pb_text _builder_version="3.0.74″ background_size="initial" background_position="top_left" background_repeat="repeat"]
This is a nice, straightforward mezcal made for your sessions.
Details
Location: Santiago Matatlan
Agave: Sierra Negra
Maestro Mezcalero: Celso Martínez López
Quantity: 155 cases
ABV: 48
NOM: O349X
Flavor keywords: Warm, granite, contrasts well with food.
Nose
A nice ephemeral  sweetness, fresh cane juice and roasted agave.
Taste
A very light body, very light sugars, touch of acetate and granite minerality. This is a bottle that works really well with food, it almost needs an acid or fatty foil to really make it pop.
Background
La Jicarita is a new label that features two anomalous mezcals, a Sierra Negra and a Pechuga, which you can read about here. There are so many curious elements to the label's story that reveal quite a bit about where mezcal is today and where it may be headed.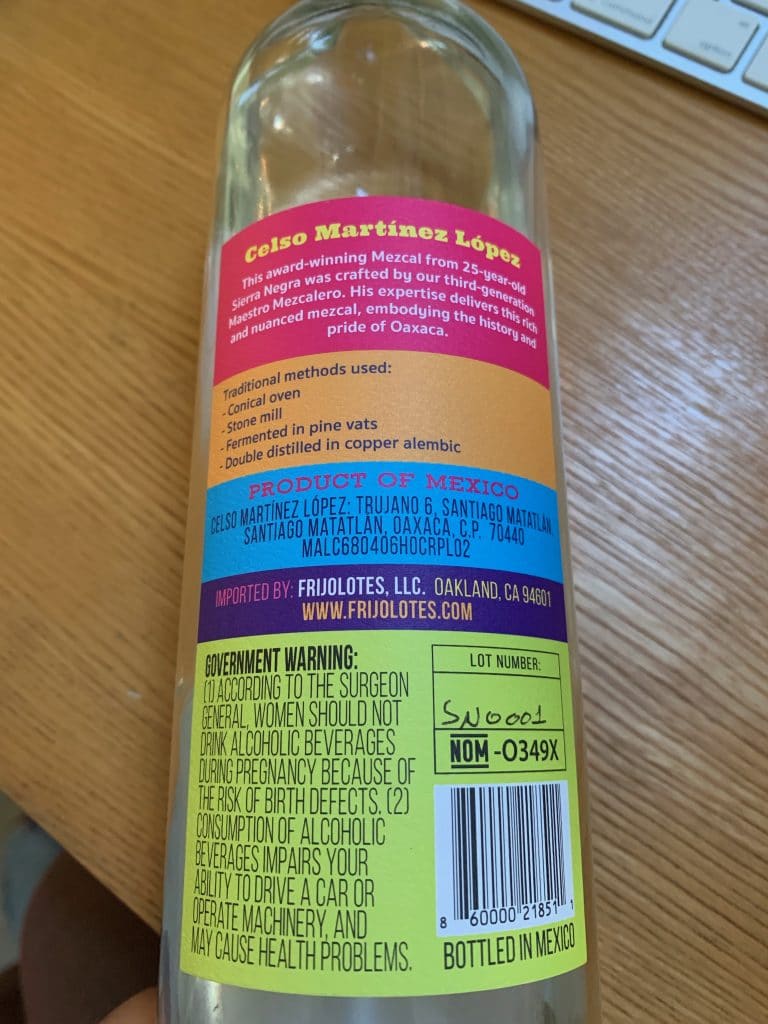 First of all there's the brand. Fred Baptista and Young Jung, old friends who were developing a long gestating mezcal project. They had set up Frijolotes as their import business and were looking for a producer for their own label. They met Don Celso who pitched them on the idea of importing his brand, La Jicarita insead of creating their own. It may seem minor but it's important to highlight this point because this sort of arrangement is so rare: The La Jicarita brand is owned by Don Celso. Frijolotes has a business deal to import and distribute La Jicarita for a period of time and hopes that the relationship endures beyond that point, but it's all up to Don Celso.
I emphasize this point because there are very few mezcaleros who own brands, even fewer who own them outright. Don Celso continues to distill for a variety of brands most prominently Nacional and Dangerous Don but now he gets to branch out and develop his own thing.
Then there's the Sierra Negra, a mezcal that is as distinct as it is rare. Both qualities are direct outcomes of the agave's life because Sierra Negra takes a long time to mature. The plants in the La Jicarita bottle are about 25 years old which is about par for the course with Sierra Negra. Right now there are only a handful of Sierra Negras on the market which reflect everything about them, the time it takes to grow, the patience in handling them, and a suitable price. These are generally pretty small batches which reflect very distinct places and times.
The reason we can taste this Sierra Negra is due to another fluke of the mezal world. Fred and Young had already committed to bringing in the La Jicarita pechuga when in a casual conversation Don Celso mentioned that he also had a batch of Sierra Negra that he was looking to sell. It was exciting enough to get Fred and Young to revise their business plan and bring it in.
[/et_pb_text][/et_pb_column][/et_pb_row][/et_pb_section]