We get asked all the time about how to go visit palenques in Oaxaca. Unfortunately, or fortunately depending on who you ask, the tourist infrastructure isn't fully built out so tours and routes aren't that obvious. There just isn't a Silverado Trail there even if there are tons of distillers and plenty of roadside stands of somewhat dubious quality. But with the explosion of interest in mezcal over the past few years some great options have emerged. Here are a few of the most prominent.
First, the basics. Everyone we're listing here speaks English, they all focus on artisanal mezcals, and they have  a good connection with local Mexican culture. That means that they will also get you to great local restaurants and craft people, just make sure to ask if that's on your itinerary or if you'd like to do something other than visit palenques. Obviously there are tons of guides out there. Many of them are probably pretty good. Most hotels in Oaxaca can provide you with someone who will get you there but quality varies considerably. The same goes for the rest of Mexico. When in doubt ask at the bar or restaurant where you find good mezcal. Otherwise get into contact with these people.
Second, we're focusing on Oaxaca because that's the area we're most familiar with, where most people go, and because the mezcal tourism infrastructure for many other states is just starting to develop. This idea is becoming popular enough that Oaxaca recently launched a Ruta del Mezcal. It's more of a background brochure on the mezcal producing regions around Oaxaca than a true travel guide but it does provide decent information. You should be able to find it at most hotels in Oaxaca.
We know of many projects in the works for places like the raicilla producing areas around Puerta Vallarta which we're really looking forward to trying out. The area is beautiful, the raicillas from the region are superlative. The beach speaks for itself. Michoacan also has a Ruta del Mezcal which we're looking forward to testing out soon for similar reasons: That state is stunningly beautiful, has incredible food, great crafts, oh and the mezcal is phenomenal. And we hear incredible stories about Sotol in Chihahua, mezcal in Durango, and so many other areas. We look forward to bringing you news about trips to those areas.
Third, but what about us? Susan and I travel to Oaxaca at least once a year and have been doing so for some time so the tour idea has been knocking around for some time. We hope to make it a reality soon. As in this year. So if you're interested stay tuned.
Without further ado, our short list in alphabetical order.
—
Alvin has been a fixture in Oaxaca for some time. An expat who moved there, owns a B&B, and loves mezcal. He also writes about Oaxaca and mezcal and has been a great voice, and sometimes contrarian of what is happening in Mexico. We haven't been on any of his tours but we've talked to enough people who have to want to give them a try. Contact him here.
Clayton has an incredible breadth and depth of experience guiding tours through tequila for years with Experience Tequila and has been guiding mezcal tours around Oaxaca that are pretty incredible. I have attended his pechuga making trip to Tosba's plenque in the Sierra Norte and visited palenques around Oaxaca with him. Both trips were incredibly educational, fun, and professionally managed.
The guys knows his stuff and, when not guiding tourists through the wonders of Mexican spirits, is either stationed behind his bar, La Cata in Tequila, or traveling the Mexican landscape chatting with Sotol makers in Chihuahua or distillers in many other locations. Even if he can't guide a trip personally, he has a network of great guides who are just as connected and professional. Check his web site for details and email him.
Yes, we called him the Indiana Jones of Mezcal. No, that's not complete hyperbole. The guy travels everywhere for mezcal. He knows tons of people in the industry. And he's got stories to tell. He is also happy to work out some of the more far flung itineraries. Since he travels so widely he is one of the better resources for trips to any of the mezcal regions in Mexico. Get in contact with him through his FaceBook page.
The venerable and one of the original educators for those ready to fall in love with mezcal. This Oaxaca tasting room can also arrange a palenque tour for you. They aren't regular features but they know so many of the smaller producers around Oaxaca that they frequently will set up a little tour and meal for you. Visit the tasting room in Oaxaca or email to see if you can set it up in advance.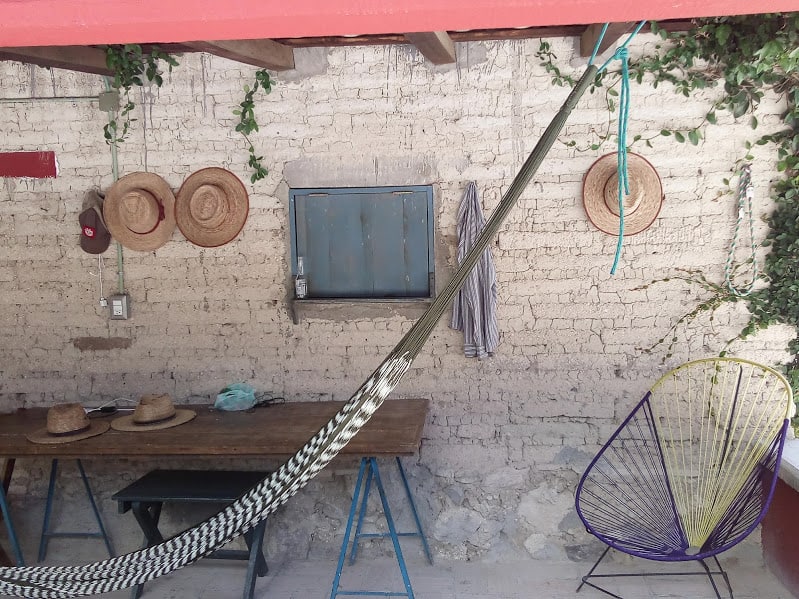 Andrea Hagan is obsessed with food and mezcal. Her passions are front and center at Mezcaloteca but she also has launched her own touring business on the side which features meetings with the local cooks and distillers who she has come to know over years of expeditions into the Oaxacan landscape. Check out Susan's write up of their tour for more information, they also have an excellent Instagram feed.
You may know him, you should know him, through Oaxacking on Instagram. He is another fixture on the Oaxaca scene and can take you to a variety of palenques, comedors, and craft creators.
Created by San Francisco bartender / brand manager Eric M. Giardina and Darren Crawford, Puro Burro organizes periodic trips to palenques around Oaxaca as well as maintaining a sideline in bar ware. They're just opening Puro Burro Cantina inside Mezcalogia in Oaxaca as well. Asis Cortes owns Mezcalogia and is part of the family which owns El Jolgorio, Agaves de Cortes, and Nuestra Soledad mezcals. You can also ask at the Mezcalogia bar to see if they can organize a trip for you.
Eric has been a brand representative for Fortaleza and El Jolgorio and just opened Golden Era, a completely remodeled classic bar in Nevada City. The tours skew younger, generally they have a cluster of bartenders in attendance, and happen about once every other month.