Cuish has long been on the mezcal circuit in Oaxaca and was one of the first mezcalerias in town to really elevate mezcal. They did this by bottling batches from small producers and pouring them in a very approachable yet cultivated experience. Their packaging has always been amazing, founder Felix Hernández Monterrosa is a creative force who clearly understands product design and has no restrictions when it comes Cuish. He changes the labels at a rate that would make a major brand freak out and produces amazing special boxes for mezcal large and small, some that aren't even directly his products. Over the years the mezcaleria became a lighthouse on the mezcal route, always a welcoming place to drink mezcal and an institution which has brought many small mezcal makers to light and kept them front and center. Now Cuish is finally available in the U.S. so it's a perfect time to talk about who they are and how they got here.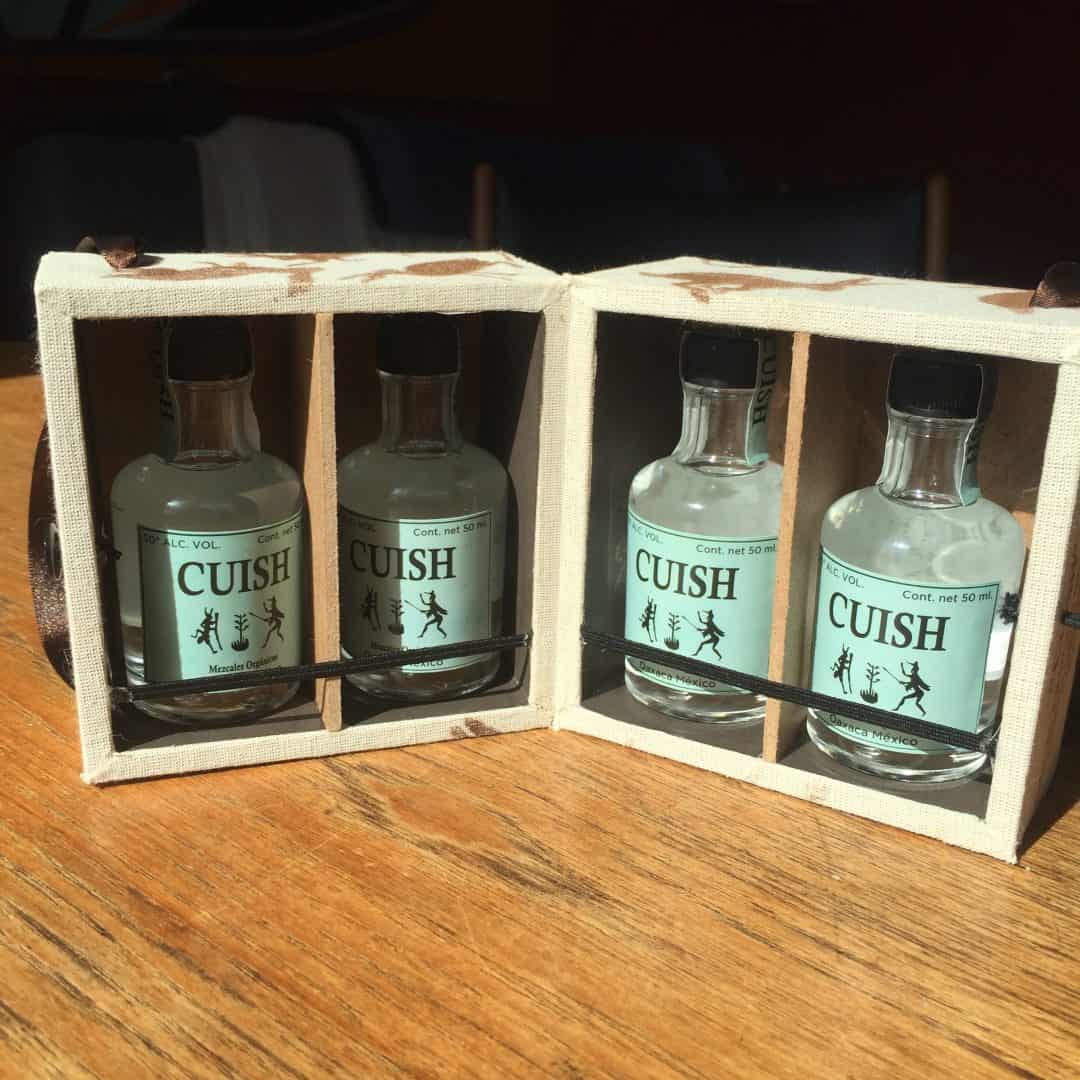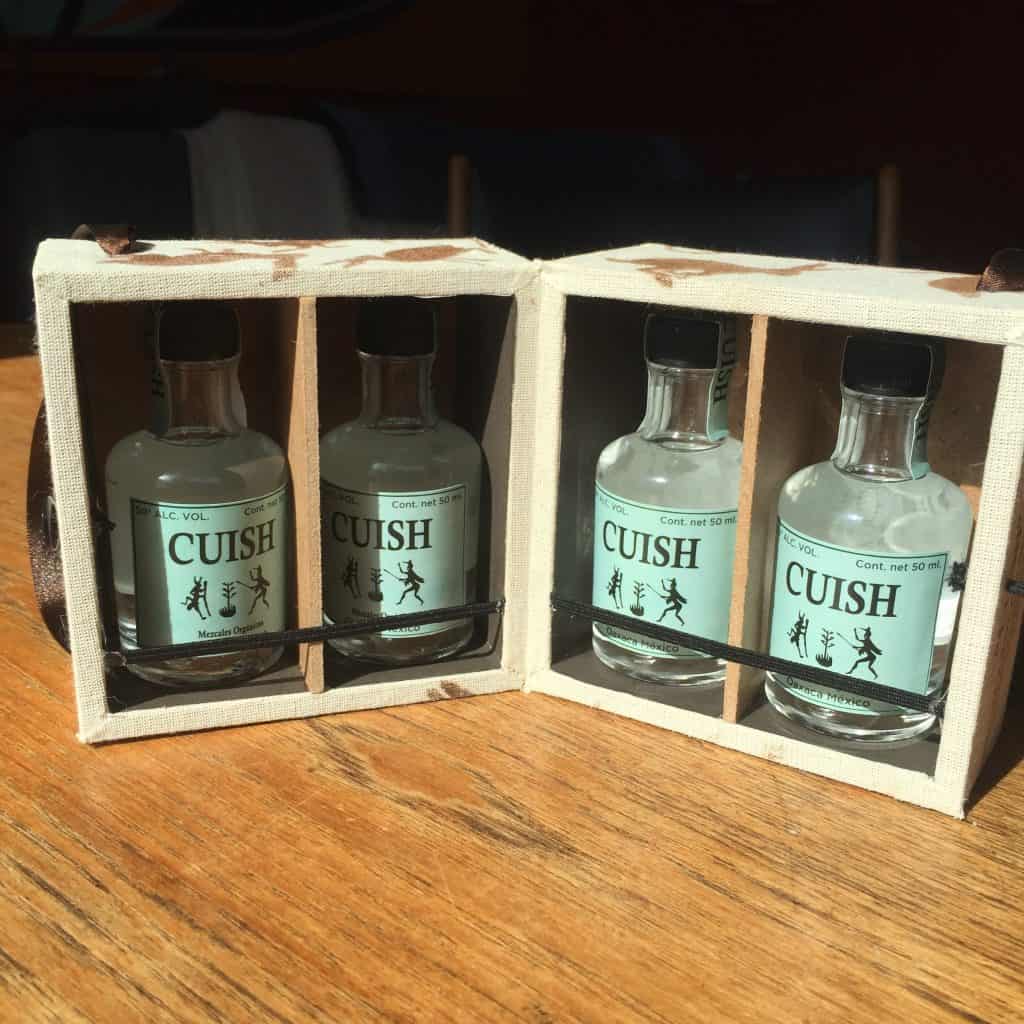 Cuish in the U.S.
Cuish is finally here because of a collaboration between Felix and Rion Toal. Rion has been a part of the Oaxacan mezcal scene for quite some time both as a member of Maestros del Mezcal and someone fascinated by the cultural world of Oaxaca. He produces and narrates the Maestros del Mezcal Podcast which has featured Rion's great knowledge about mezcal while also introducing important stories like a recent conversation with Silvia Philion which has the mezcal world abuzz.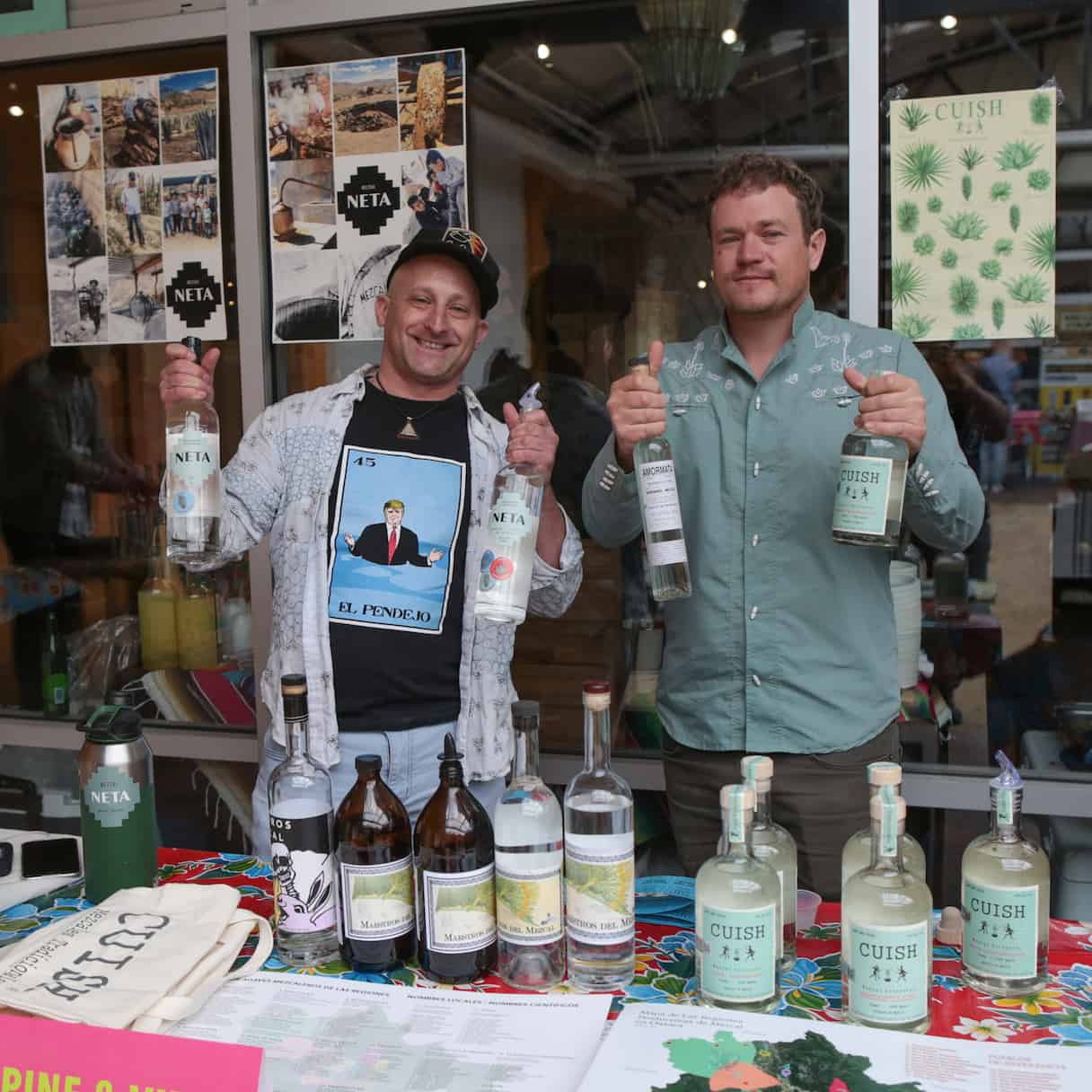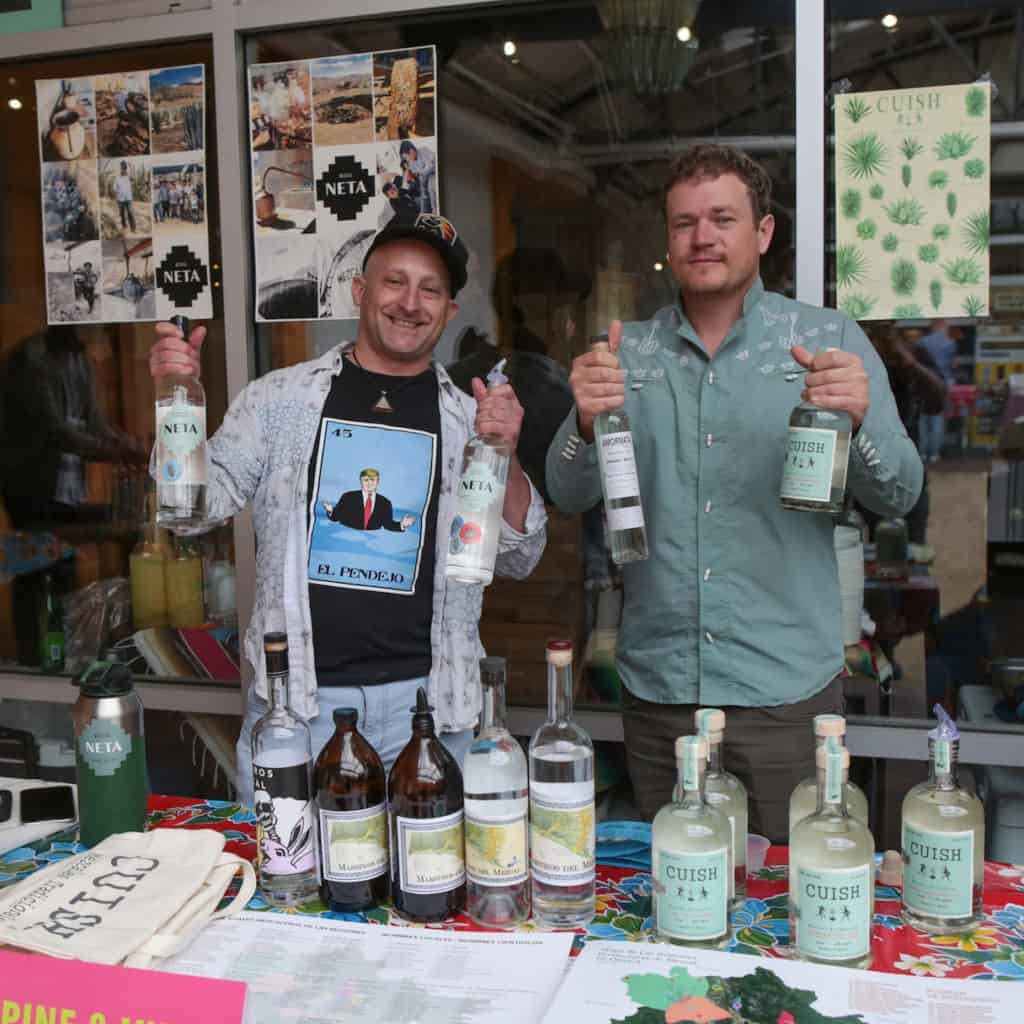 Rion created an import and distribution company named Of Spine and Vine to bring labels like Cuish into the U.S. but he always had wider ambitions. He told me that he founded Of Spine and Vine because "I always planned on doing something with wine – hence the "vine" part. In fact wine in some way was responsible for getting me into mezcal. I was into wine long before mezcal and when I started to see the parallels to wine in the complexity of mezcal and the expression of varietal and terroir is when I really started to get hooked." That's a familiar story. Whether as a metaphor or a gateway, wine has a clear connection to mezcal. I keep finding that wine people instantly understand, and fall in love with, mezcal.
Cuish's initial import run contains three labels:
Rion is focused on selling these into the California market now with plans to import additional expressions soon. While we await additional Cuish expressions, Of Spine and Vine is also importing NETA's Miahuatlán mezcals. There will be others so stay tuned.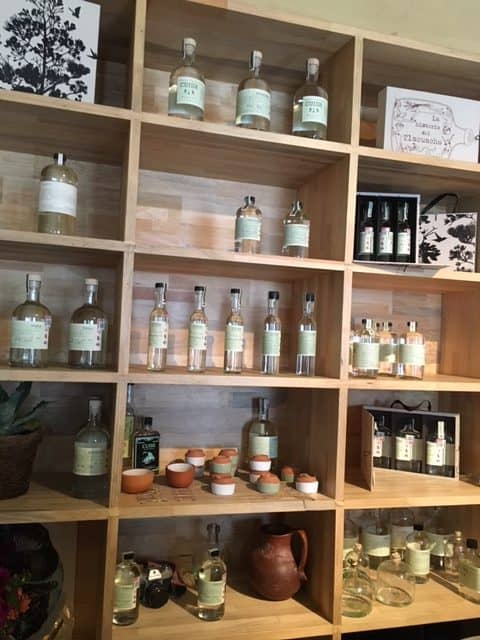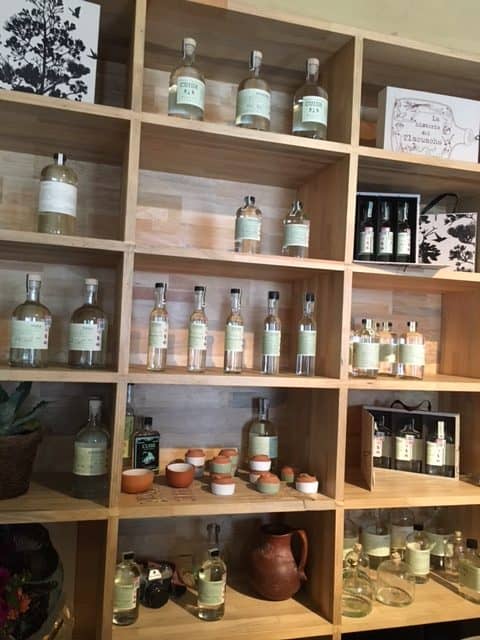 A short history of Cuish
Felix founded the mezcaleria Cuish in 2009 but his family has been in the mezcal business for much longer – family members have been distilling mezcal for as long as anyone can remember. In Oaxaca Felix's parents operated a local expendio store where you could buy unlabeled mezcal in the same location as the current Cuish mezcaleria from 1988-1992. When Felix resurrected the concept he changed the name and gave it his aesthetic.
How they got to that location is another story, one of many that illuminate the hard road that mezcal has taken to its current place on the global stage of spirits. Felix remembers that his "grandfather Pedro Monterrosa, like many small producers, felt the persecution in the 60's, that's why he took to the hills to to make mezcal with the agaves that he found there. My grandmother Andrea Hernandez remembered that her husband's mezcals were distinct from those made from espadin in the valley around Oaxaca. It was distinct because my grandfather was using a variety of wild agaves and distilling with clay pots."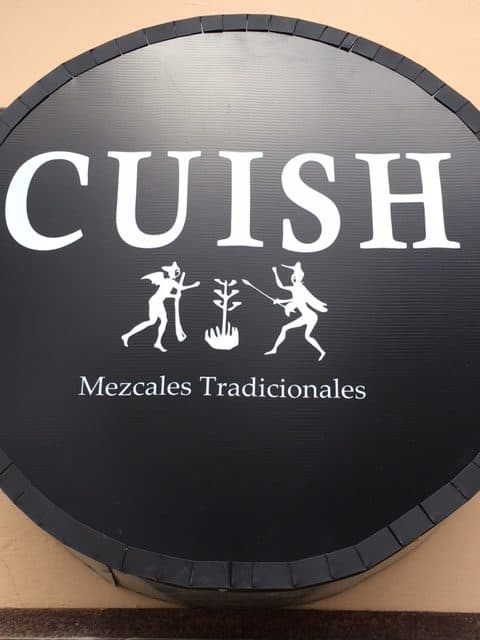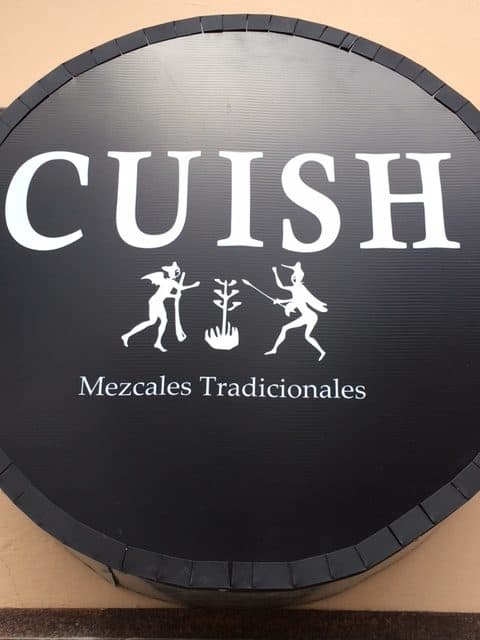 Mi abuelo Pedro Monterrosa; como a muchos pequeños productores, le tocó la persecución por parte de falsos fiscales en Santiago matatlán en la década de los 60's; Por lo que tenía que producir mezcal en las montañas con agaves que encontraba en el lugar. Mi abuela Andrea Hernandez contaba que el mezcal de su esposo era distinto al del espadín Del Valle; y era distinto por qué era de diversos agaves silvestres y destilado en ollas de barro.
Felix grew up steeped in mezcal. He says " A great part of my youth was spent in my grandmother's expendio." He got his start in the business in 2008 at his uncle, Cornelio Monterrosa's, expendio called "La Union de Palenqueros de Oaxaca." Cornelio brought in mezcals from across the mezcal producing areas of Oaxaca and helped create an association of 47 producers who would conduct tastings of all the various mezcals that they made. Felix says that:
"Then the most 'prestigious' mezcals were the agaves mezcals which had hints of wood flavor which was totally contrary to the karwinskii agaves which had herbal and earthy notes. That's why these wild karwinskii agaves were so lowly valued and were called Cuish (which means disheveled or grungy in Zapotec). I called my mezcaleria Cuish in homage to the diversity and hidden knowledge about these agaves. They'd been so overlooked while representing the rural and indigenous universe."
"En ese entonces los mezcales más "prestigiosos" eran los añejos y con notas a madera.. cosa totalmente contraria a lo que nos brindan los agaves karwinskiis; notas herbáceas y terrosas, fue está una de las razones por las que nos denominamos como ese maguey silvestre poco valorado: Cuish. En homenaje a esa diversidad y conocimiento oculto y negado tal vez por representar a un mundo rural e indígena."
That was one inspiration for the Cuish project. The other was Maestro Francisco Garcia who, after eight years of working in the U.S., returned to Miahuatlan. Upon his return he tasted an extraordinary batch of mezcal made from his family's karwinskii holdings that had been resting in glass for his eight year sojourn. As Felix tells it "this extraordinary lot had floral and sweet notes. It was one of the major reasons to reclaim and defend the idea of Cuish." "ese extraordinario lote con notas florales y dulces fue otra de las razones para reivindicar al Cuish."
His mezcaleria is far more than a bar, it's a bona fide cultural hub full of mezcal and the world around it. "Cuish has a tight bond with art and culture; for our labels we invite painters and printers to collaborate on our packaging. They create special works for our limited edition mezcal boxes. And in the Mezcaleria we have art exhibits alongside tastings with Maestro mezcaleros." If you visit Oaxaca stopping into Cuish is one definite appointment on the mezcal and art pilgrimage.
Mezcales Cuish tiene un estrecho vínculo con el arte y la cultura; elaboramos carpetas gráficas en donde invitamos a pintores y grabadores a colaborar en cajas con obras y lotes especiales de mezcales en ediciones limitadas. En la Mezcalería realizamos exposiciones pictóricas así como degustaciones con maestros mezcaleros.
What's next for Cuish?
For now California is digesting half a palette of Cuish's first three expressions. Two other expressions have already been certified and will be arriving soon, a tobaziche and a vintage espadin from 2002 / 2003. All five of these labels are classified as Artesenal under NOM 70. There's no final date for those next two expressions, we'll update you as soon as we hear more. Cuish is also available now in Texas through Virtuoso Wine and Spirits.
Further in the future, who knows. I talked to Rion a fair amount about his plans and I've visited Cuish's Oaxaca tasting room many times. There are certainly plenty of expressions that rotate through that tasting room so hopefully we'll see more of them, Felix, and the entire Cuish identity soon.