As I was watching this video by the San Diego Union-Tribune on the impact of climate change on the Anza-Borrego Desert, the appearance of a few agaves towards the end reminded me of the many independent strands of research, activism, and reporting on how well they'll adapt to climate change. Anza-Borrego straddles eastern San Diego and western Imperial counties and is probably best known for occasional wildflower super blooms that take over Instagram. But it's also a real desert full of all the cacti, agaves, and rugged terrain. The problem is that the water is disappearing so quickly that all these plants and the animals that depend on them may not make it.
This shouldn't be a huge surprise. Periodic droughts in the North American west are a fact of life. But, what used to seem like two separate droughts may actually just be one massive drought that began in 2011 and had a brief interlude in 2019. This may be the driest the southwest US has been in 1,200 years. And now the entire area is experiencing the expected results: Forest fires that are growing in size and duration which also appear year round because there is no rain or snow to stop them. But that's only the most dramatically visible effect: While some forests burn, others just slowly die of dehydration and all the diseases and infestations that flourish in unhealthy ecosystems.
In the video, park official Dan McCamish notes that plants and animals may have adapted to the already liminal desert climate over 10,000 years but that, "in the very short period of a 100 years we may push our own ecosystem out of that adaptable change. And so when that changes we expect extinction events to happen." He goes on to say that they expect a 40% vegetation loss in the greater Colorado Desert.
Agave are different. They thrive in arid and extreme environments because of the way that they perform photosynthesis. We, hopefully, all learned that plants take in energy from the sun which they use to convert carbon dioxide into oxygen and energy for themselves. But, agaves share an ingenious adaptation with a variety of other arid plants like cacti and pineapples called Crassulacean Acid Metabolism or CAM where they seal their pores during daylight hours so that they don't loose water and only open their pores at night when they suck in the carbon dioxide that they'll convert into energy the following day.
There is one line of research which suggests that these climate changes may benefit agave because they already thrive in arid environments. The argument goes that, as temperatures rise and the danger from freezes recedes, agaves can thrive. In one paper J. Ryan Stewart argues that
That is certainly possible, but the nature of climate change isn't linear and includes wild variations in weather conditions including dramatic freezes like the one that struck Northern Mexico in 2011 when an estimated 60% of mature agave were wiped out by a sudden freeze. The tequila industry has encountered some issues with irregular freezes as well. And then there's the question of whether it can ever get too hot, even for agave. A recent study looked at how climate change would impact cactus and found the same thing happening in Anza-Borrego, many niches where cactus had adapted gradually over time, may be overwhelmed by adverse climate conditions. If that can happen to cacti, what about agave?
And it's not just about agave. After all, everything really is connected within ecosystems so if you remove one plant or animal from the system, there will be disruptions elsewhere. There are the human costs if mezcal production is disrupted or eliminated which include impacts on critical cultural traditions and economic livelihoods. Then there are the impacts to ecosystems where agave provide nectar for migrating bats and a variety of other animals like hummingbirds and insects.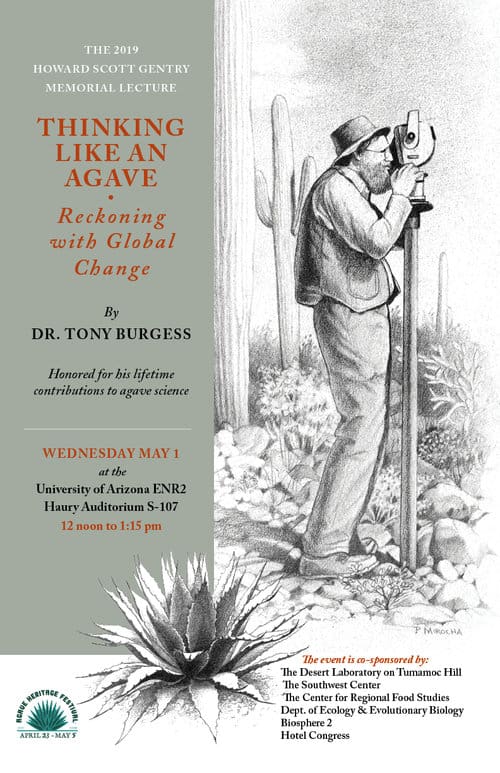 The agave rescue mission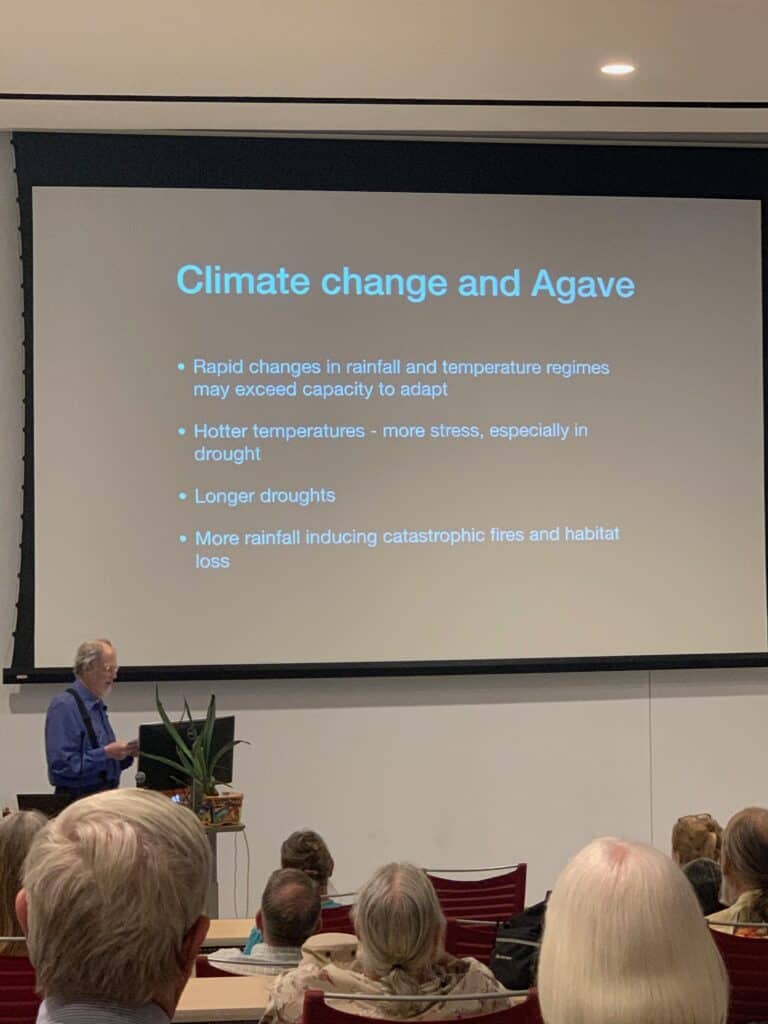 In 2019 I was lucky enough to attend Dr. Tony Burgess' lecture about agaves and climate change titled "Thinking Like an Agave: Reckoning with Global Climate Change." His focus was on whether some species of agave would survive changes in their local climates. While extremely resilient, they had adapted to very specific situations over thousands of years so, if those conditions suddenly changed over decades or a century, they might not be able to adapt nor find new niches to inhabit. One thought raised was whether we should consider moving agave species into ecological niches which resembled where they came from, a sort of agave lifeline airlift. While this summons a fantastical mash up of Chuck Norris carting agaves out of blistering deserts, the threat is real.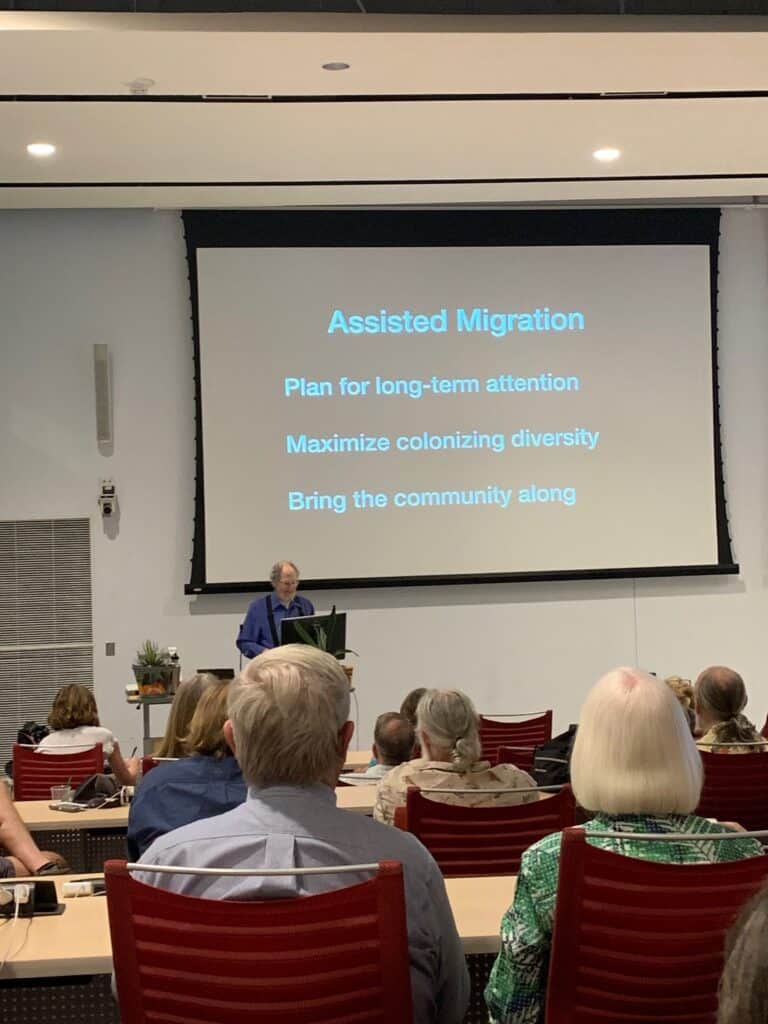 The potential silver lining in all of this is that radical change encourages radical thinking and the agave's strengths set it up for success in a variety of roles. Already small scale plantings have proved their worth as fire breaks but the breakout role may be in agriculture. The drought in California's central valley has large scale farmers looking for drought resistant crops that can still yield some revenue. They are already planting test plots of agave to see how they perform. It's very early in this process but, should these tests show promise, we could see agave growing in place of almond trees in the more liminal areas and, eventually contributing to a growing Californian agave spirits industry.