My trip last year to Tucson's Agave Heritage Festival was amazing for so many reasons but one of the most tasty was an in depth introduction to bacanora. Bacanora is a tiny mezcal appellation in the mountains of Sonora. Not only did I get to taste more bacanoras than I'd ever seen before, I was able to talk with a variety of producers about the history of Bacanora, their distillation methods, and a variety of issues surrounding the appellation. I look forward to visiting the area soon, hopefully for their annual Banacora Festival in November.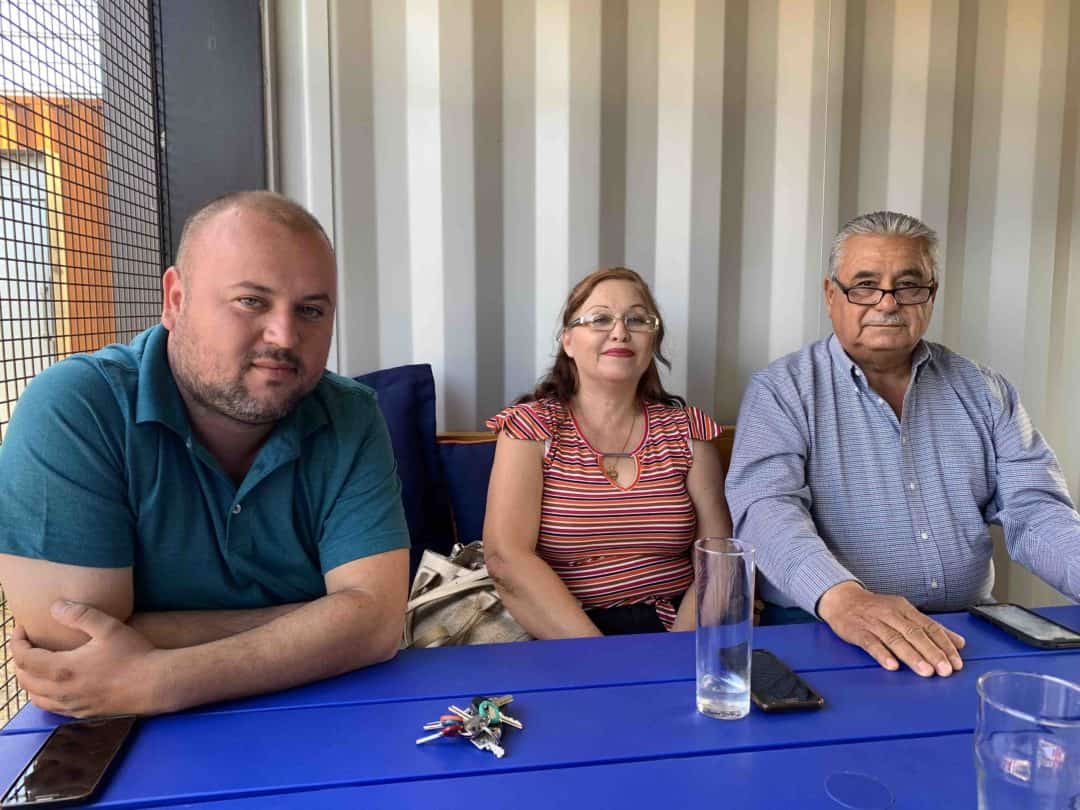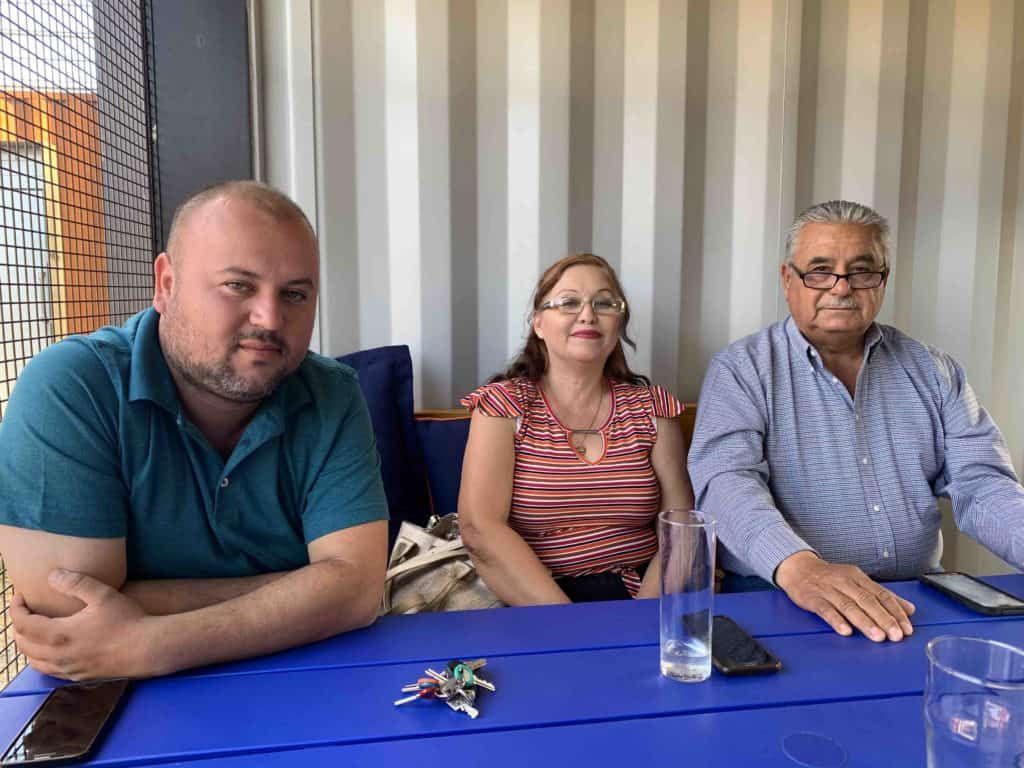 Why Tucson and Bacanora?
They share a desert. No, that's not just a one liner, they really do share a desert. The Sonoran Desert runs from Arizona deep into the Mexican state of Sonora and shares a common geography, set of plants and wildlife. The desert, the culture, the people that live in it were here before the border. Many call this area "Sonorense," a cross border bio-cultural region exactly because it encompasses such a shared ecological and cultural heritage. Today you will encounter heavy border patrol operations miles from the border. It's shocking to encounter, locals roll their eyes because it is so heavy handed and obvious, but the deeper threats are real because the proposed border wall would be devastating to wildlife and the human connections that continue to flourish to this day.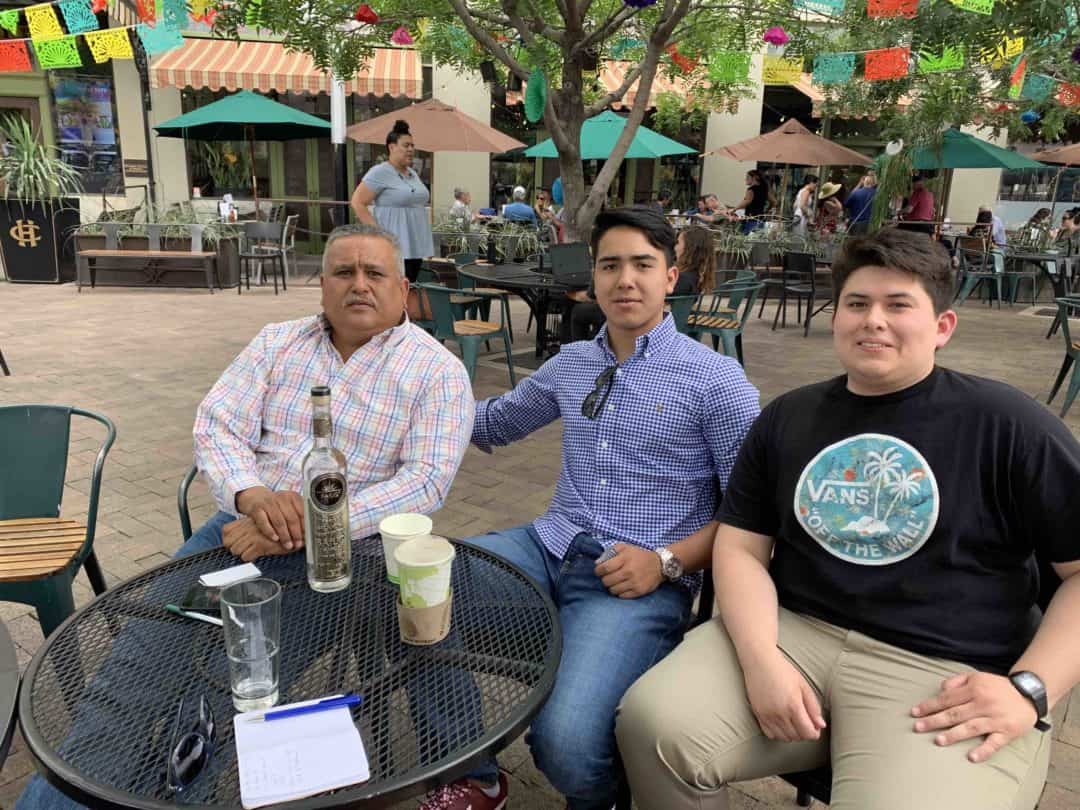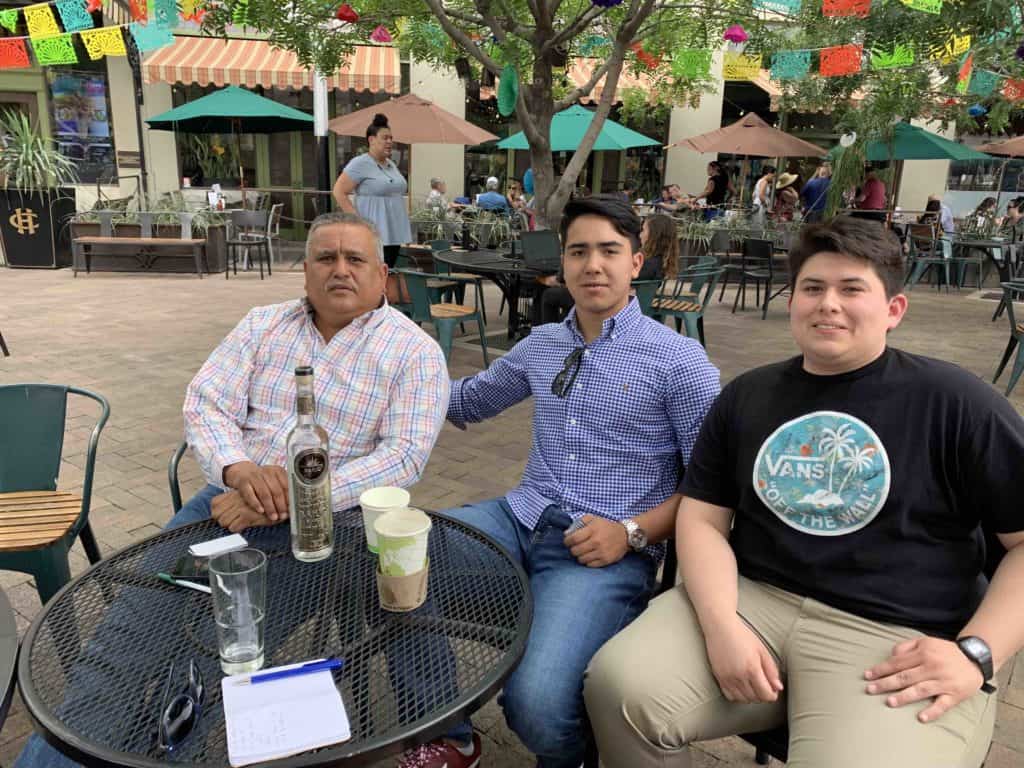 What makes bacanora distinct?
Like the majority of mezcal, bacanora comes from a member of the angustifolia family, the Agave angustifolia pacifica which is endemic to the mountains in the Sierra de Sonora and surrounding areas. Howard Scott Gentry identified two varieties in Sonora, yaquiana and pacifica so both may make their way into some batches because they share a similar appearance. While it is likely a close relative to the espadin, it looks distinct and probably evolved or hybridized within the Sonoran landscape. And, while there is plenty of Agave pacifica growing throughout the area, only the plants grown in the mountains around the town of Bacanora within the DO can be called a bacanora, at least legally.
Like everywhere else in Mexico traditionally people distilled whatever was ripe. Producers said that this is mostly angustifolia because that's what grows most effectively, it's easy to cultivate and matures quickly, but distillers sometimes added other agaves, even sotol. Many artisanal producers continue to do this today and are starting to produce explicitly labeled ensembles. But there's a bit of friction with the DO, it gives everyone recognition and market status, but it also restricts them. And the way it was written is a close copy to the tequila NOM with reposados and anejos. And just like tequila, bacanora may lose sight of that tradition of different agaves and sotol in distilling. Now that the market is growing there's pressure and desire to expand volumes and since the cultivation of A. pacifica hasn't kept up, people are already using different agaves.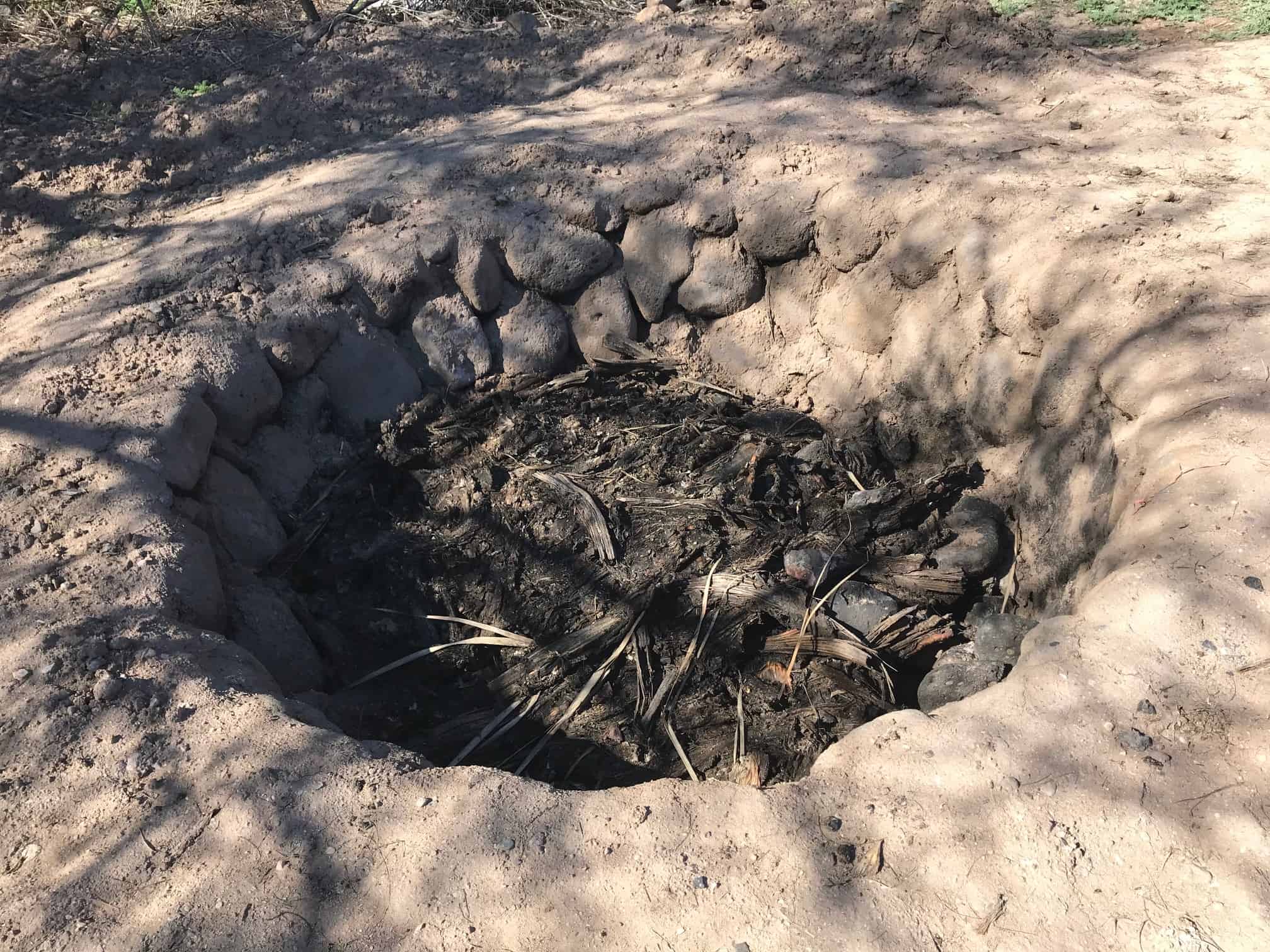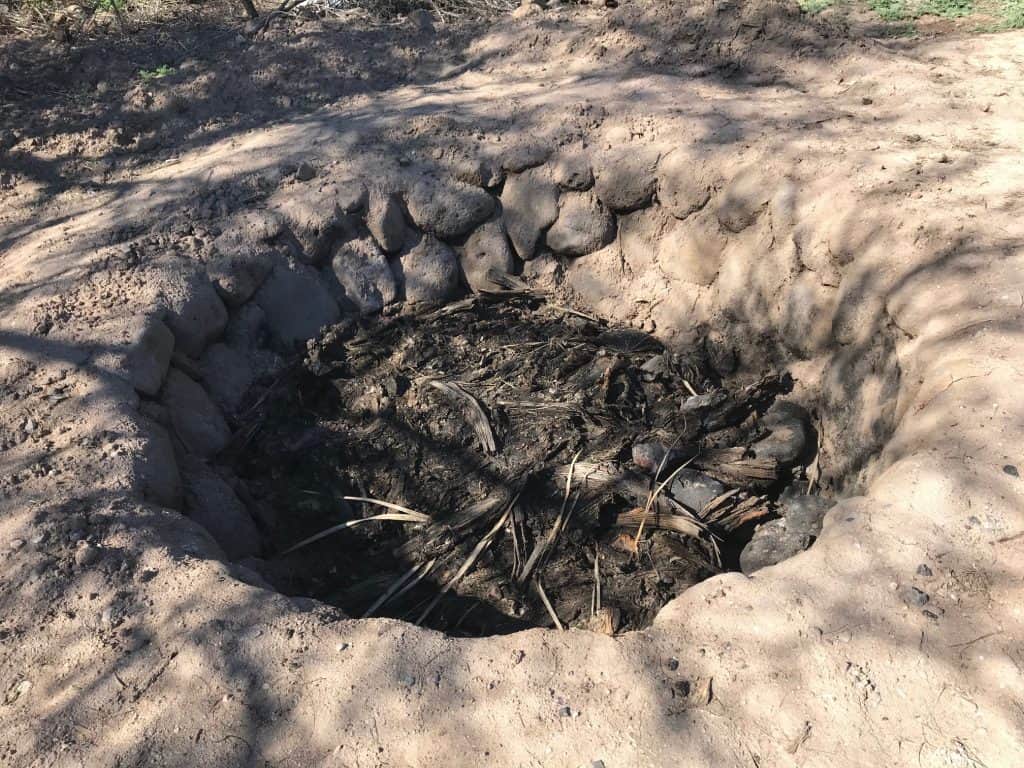 Gentry even singles bacanora out:
One of the more famous mescals of Mexico is "mescal bacanora" of Sonora… Whether owing to this particular variety, or to the minerals in the soil in which it grows, or to the particular bacteria of fermentation, or to other unknown factors, this mescal has an outstanding flavor, even when tasted fresh from the still.

Agaves of Continental North America by Howard Scott Gentry
The production method encompasses a variety of techniques. The agaves can be roasted underground but some producers steam cook their agaves in autoclaves or even mix the two techniques. The agaves are crushed using a variety of implements ranging from mallets to mechanical shredders, wild fermented mostly in large plastic vessels, and then distilled.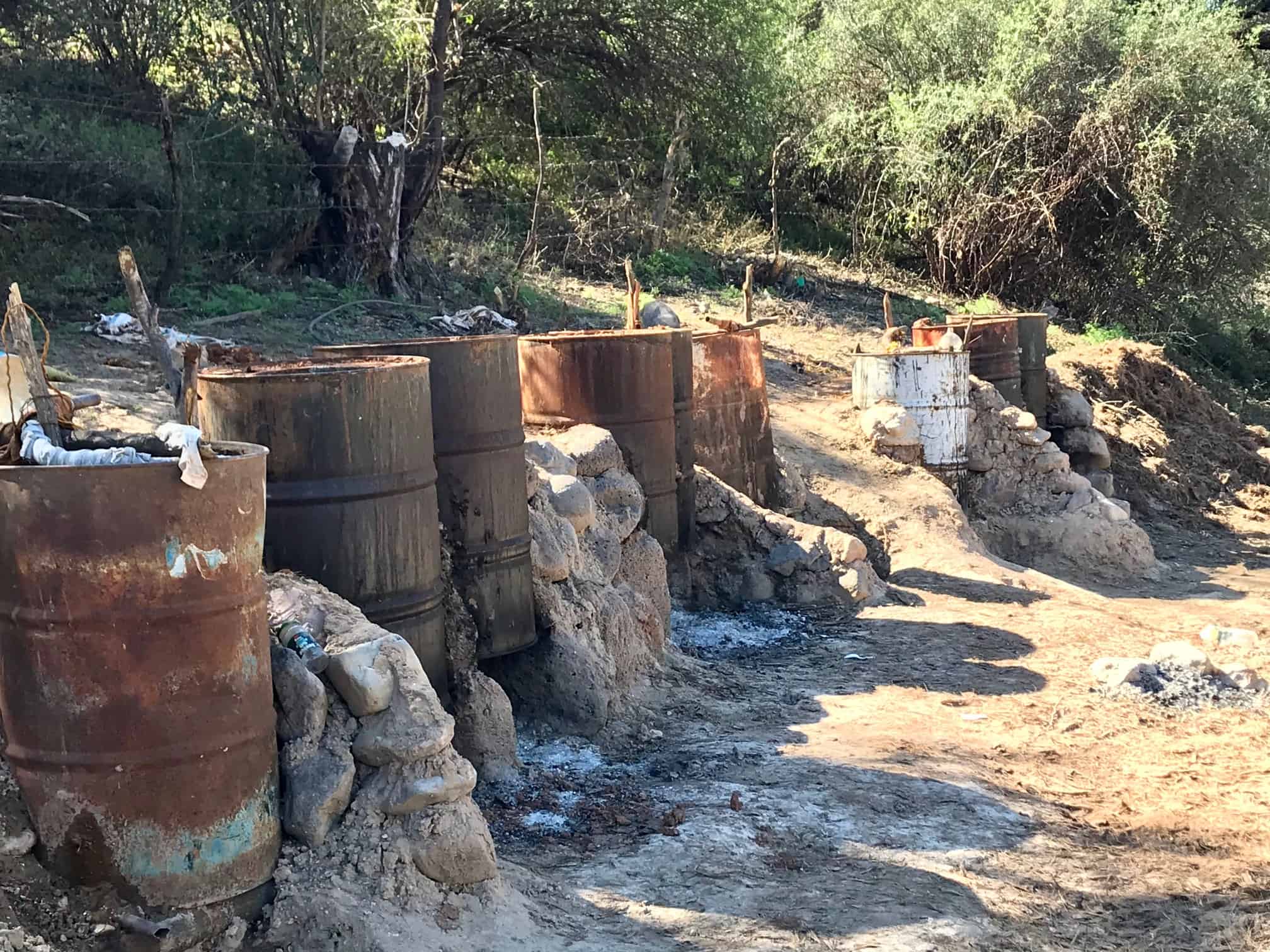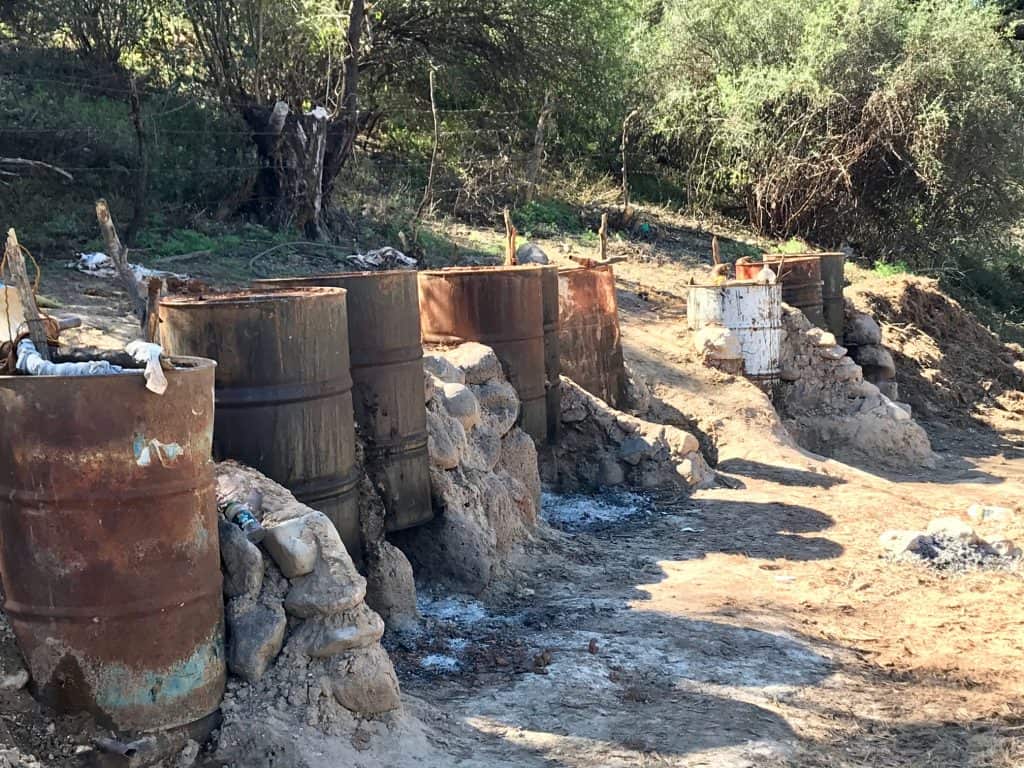 One common still is a modified 50 gallon oil drum which, like many things in mezcal, is a leftover from the years of bacanora living underground. From the Mexican Revolution to 1992 it was technically illegal so all the distilling had to be clandestine and portable. Just like ollas and small pot stills in Oaxaca, 50 gallon oil drums look innocuous, can be quickly transported, and do double duty. From the producers I met, it seems like there are quite a few individual innovations to the distillation process. Bacanora has a very short distilling season that runs from March-June when the temperature is right for the fermentation and the rain hasn't engorged the agaves. As one person active in the business told me "others distill outside of that season out of convenience or pressure to produce." This means that you really need to stay alert to production details so scan those bottles or the tasting notes as they come out.
Perhaps the biggest thing that makes bacanora unique is the location. The appellation acknowledges this and every bacanora maker I've met says the same thing – it's the location, shared history, and tradition gated by the mountainous which define the spirit. One producer told me that "it's great if other people want to make mezcal down in the lowlands, just don't call it bacanora because it's not from Bacanora." While the town and spirit share a name the mountainous area is much more vast. As Michael Hurley, who imports Mazot and other bacanoras through Borderland Spirits told me, "before prohibition the mining town of Alamos had highest bacanora production and that's quite south of Bacanora the town."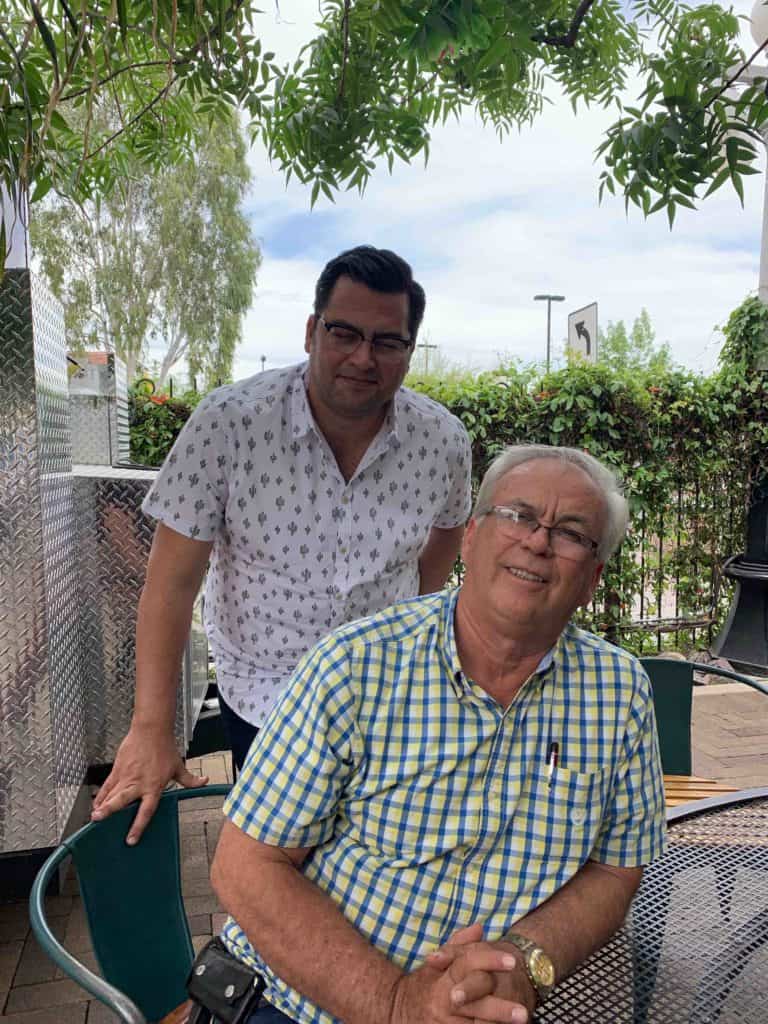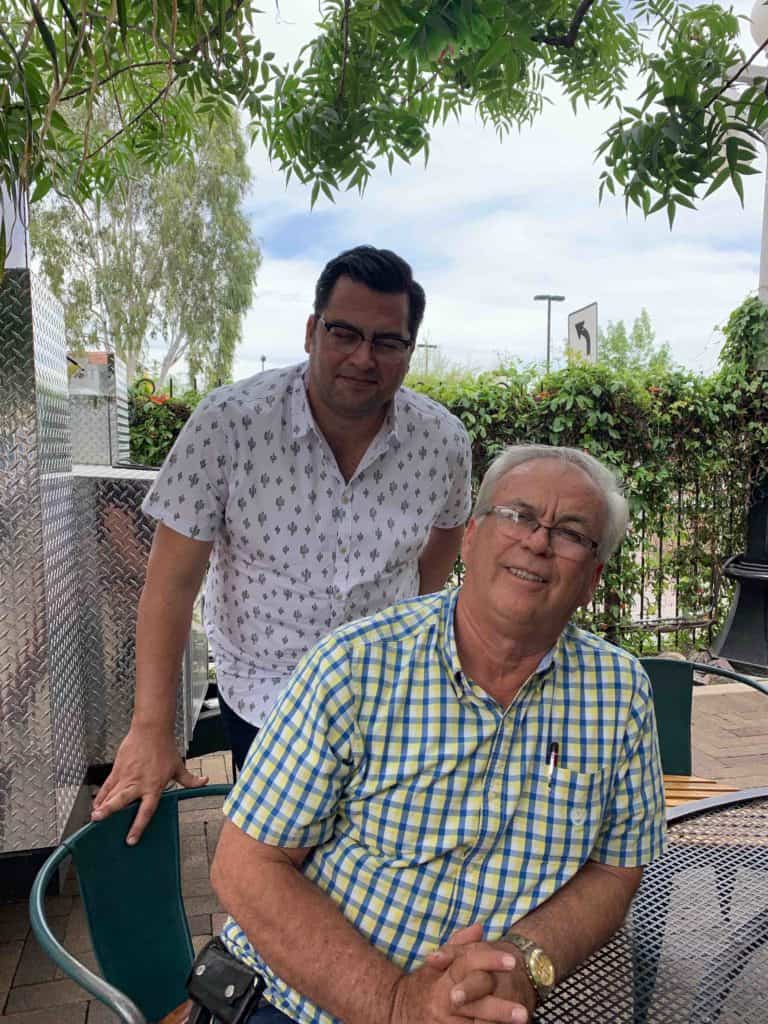 The appellation
The producers take the appellation seriously but I had a tricky time distinguishing exactly what it means to each of them. It feels like they think that a named appellation is important both as a demarcation of tradition and as a profitable path into export markets. But given all the different production techniques, you can see how flexible it is and difficult that idea of of brand consistency is. Here is the full definition of the appellation for reference.
As with many agave distillates the history of bacanora reflects the world around it. There's evidence of this sort of spirit in Sonora back to at least the 18th Century. It was caught up in the widespread prohibitions within Mexico that pushed it underground and, like many Mexican spirits, also maintained its very local character and distilling techniques. But it was also caught up in the United States' prohibition in that Sonoran distillers both served spirits to cross border tourists and took part smuggling to the north. When the bacanora appellation was legally declared in 1992 the prohibition formally ended.
The appellation is restricted to the 35 municipalities around the town of Bacanora and they all share a single NOM number – 168. This may change in the near future, apparently it's topic of discussion amongst producers. There is clear pressure to open the denomination to producers outside of the mountains and lots of gossip about how products are being certified. One of the more remarkable aspects of talking to all the producers in Tucson was that they are a very closely knit group of families. Everyone knew each other on a first name basis and uniformly described the appellation as more of a collaborative operation rather than a distant bureaucracy. This is also a function of the tensions in the business right now: All these families are traditional producers who look a bit askance at the non producer brands who they call comercializadores.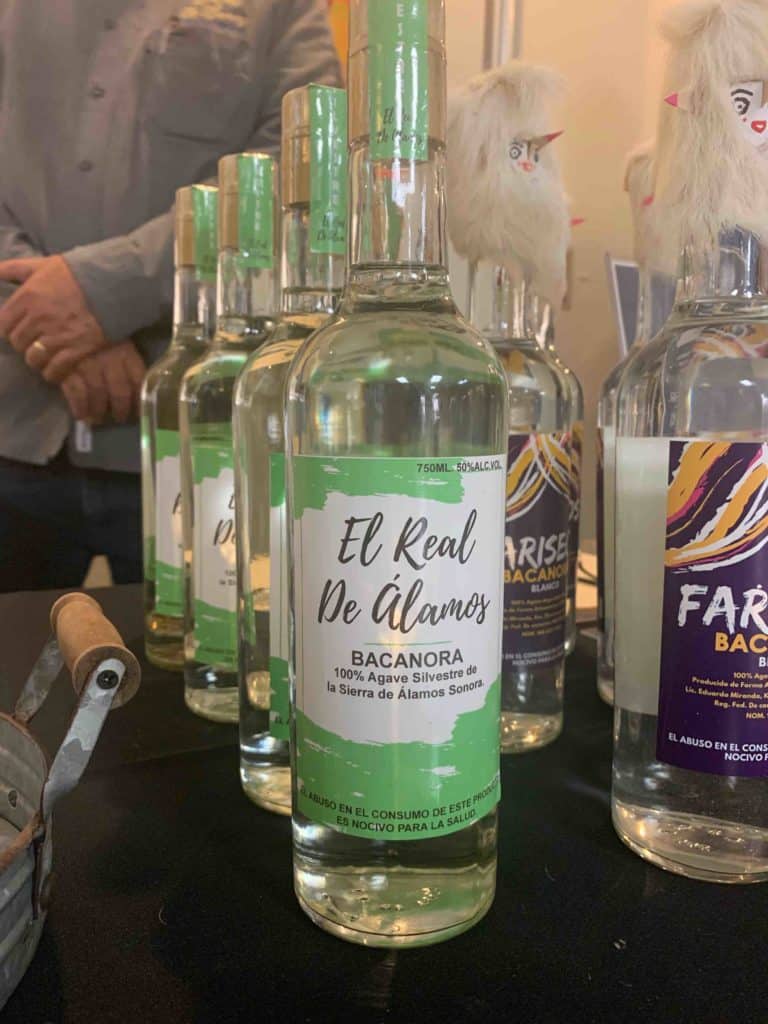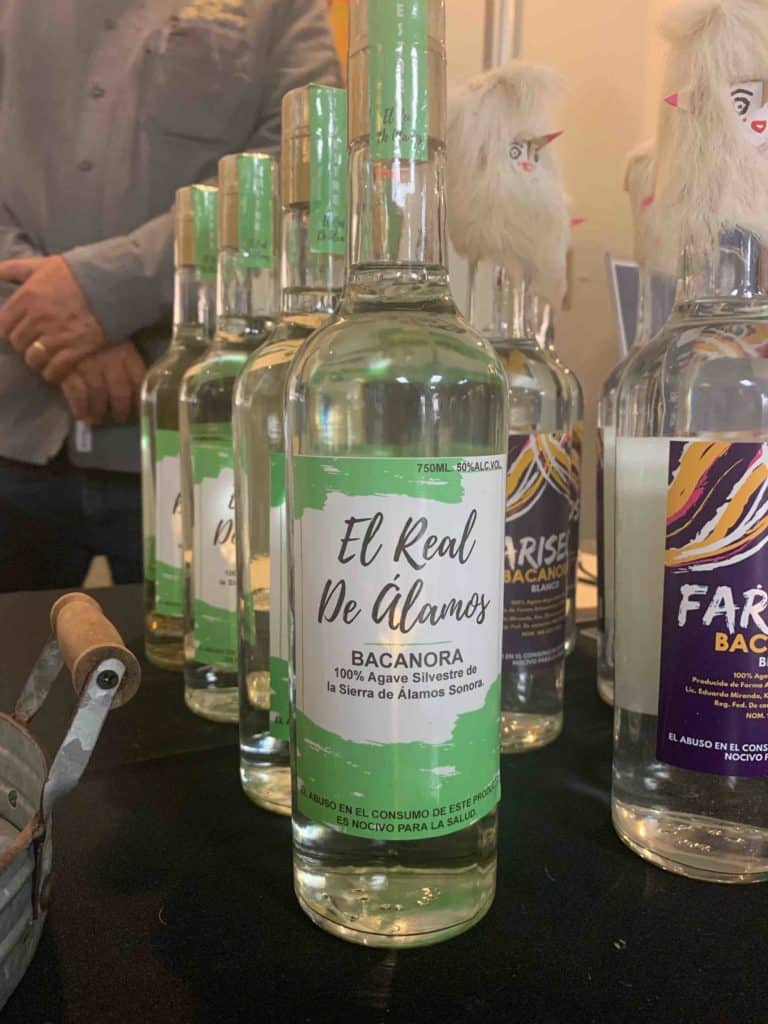 The future of bacanora
What I tasted was mostly great but there are clearly a lot of issues on the horizon. Traditional makers complain of issues with comercialadores, brands that bottle but don't produce. There are similar tensions in many areas of the Mexican spirits world but I heard it more here most vividly. One maker told me that there are now more than 50 licensed producers while only 20 existed just two years ago.
As with every other area of the Mexican spirits universe sustainability is a huge question. Local ecologists say that c60% of mature agaves were wiped out in freezes in 2011 and then there's the gold rush issue, just as it's getting popular can they grow enough plants to keep up? Gary Nabhan has this great quote from Bill Steen in the Tucson Weekly "We are at a crossroads where the Arizona public is discovering that some of the finest mezcal in all of Mexico has been right here, in our backyard, all along. Lechugilla and bacanora have been produced for centuries [within a hundred miles of Tucson]. And yet, there are not now enough plants to support a sufficient level of production to meet the current and future demand. The increased popularity creates a very delicate situation."
As with any agave spirit, planning is key but since success has been sudden, that planning cycle is only slowly starting now. While far sighted producers like Roberto Contreras who makes Rancho Tepua and Raphael Encinas Molina who makes Batuq have large plantings, they are the exceptions. Raphael Encinas Moilina has been planting for 20 years but many other producers are at the mercy of the spot market until recently planted fields mature.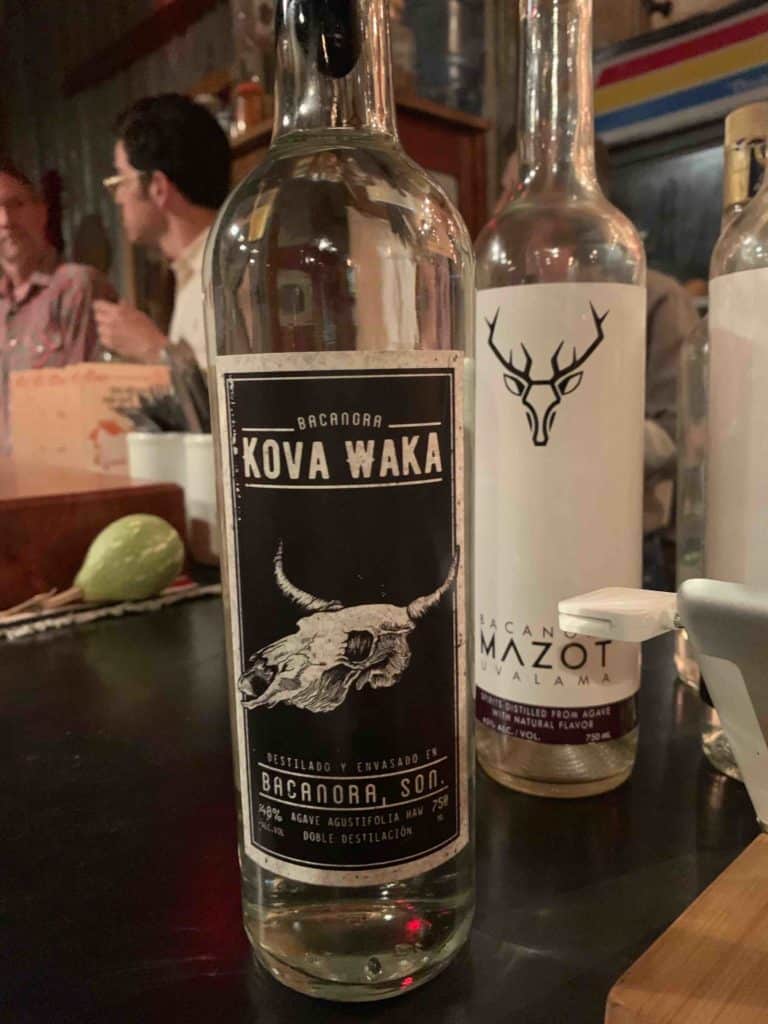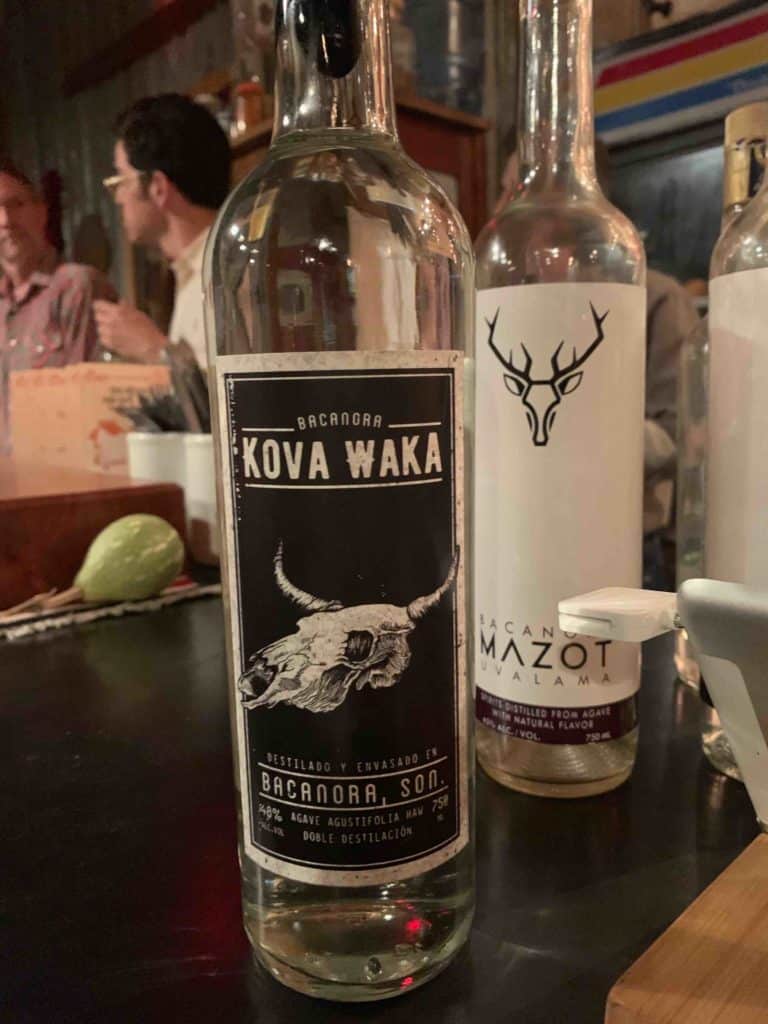 Examples to check out
As a gross generalization bacanoras tend to feature more of the vegetal flavors that you find in sotols even if bacanoras are clearly agave spirits with strong sugar content and those distinctive roasted notes. Cremas are common, as are aged bacanoras on the tequila model. Some bacanoras are lower in ABV because the traditional Mexican market bought at that ABV. These resemble tequilas because the appellation law was copied from tequila. They're chasing the commercial success of that industry and so bottle in the 40-42% ABV range.
But many producers also have higher ABV bottles made for their local consumption on the ranch or in fiestas. In every instance I've preferred the higher ABV bottles because they make the flavors really sing. I spent plenty of time sipping the following bacanoras and can recommend them all. Obviously in our current moment finding these bottles is really difficult because so many retailers and bars are shut down. We'll update as we can:
Batuq: Just entering the US market now this label from Rafael Encinas and his family is well worth seeking out. Their Reserva de la Casa is made from hand selected 10-20 year old angustifolias which they capon for 1-2 years. They call it "Capon Viejo" because it rests for so long after getting its quiote. At 50.3%, this bottle is full of flavor. Only 700 bottles were made last year so keep an eye out for these. Try Corti Bros in Sacramento, Silver Lake Wines or Evondale in Los Angeles, Pearl Specialty in Portland, Loyds Liquor in Phoenix, and Westbound in Tucson.
Kova Waca: Not currently available in the US but an incredibly distinctive bottle with a great label. This is yet another project from Ricardo Pico who brought us Clande Sotol – he's bottling this bacanora from Maestro Productor Balo Ruiz. If you see it on your next trip to Mexico, get a bottle.
Mazot: One of the few, if only, female owned bacanora brands. Emelia Ezrre Becerra runs the business while her husband Manuel Sr. propagates the agave and their son Sinohe manages the harvest and the vinata – it's truly a family collaboration. In addition to a classic bacanora, they also have an Uvalama infused bacanora. The uvalama is a grape like fruit which grows on the Vitex mollis tree locally. The infusion is very novel and also tastes like fruity red grapes. They are also making an amazing hybrid spirit, a Palmilla/Sotol blend that contains old growth sotols – up to 110 kilos. These sorts of blends appear in the northern border zone and are well worth seeking out. Try Gemeni in San Francisco, Silver Lake Wines or Evondale in Los Angeles, Pearl Specialty in Portland, Loyds Liquor in Phoenix, and Westbound in Tucson.
Rancho Tepua: The OG bacanora producer in the US market. They began producing under the Cielo Rojo label quite a while ago. The Rancho Tepua represents some amazing distilling from the Contreras family. At 48% ABV, this is one of the more expressive bottles on the market. Bill Steen has a great blog post on their story. Buy it here.
El Real de Alamos: Ramon Miranda is the primary producer with his son, Eduardo Miranda, as a partner. They have a different label at 43% now available in Denver and Los Angeles.