Cynthia Villalobos of Aventureros del Mezcal and her quest to support small mezcal producers reach the market. 
It is undeniable that the rise in popularity of agave spirits shows no signs of subsiding. Although transparency between producers and consumers has been lauded by agave enthusiasts, as the market floods with a wealth of options, the roots of the industry become increasingly convoluted. Leading voices in mezcal are expressing the need to let indigenous people identify problems and potential solutions.
Projects like Aventureros del Mezcal, founded by Cynthia Villalobos in 2015, are looking for ways to reduce steps between production and consumption, by supporting producer owned brands to find their feet. "We link producers with marketers or with end consumers, but the main objective is to professionalize them, that is to say, that they develop their own brand. We already have several successful cases of this. I have been working specifically in this area for about five years now and we have helped develop at least seven producer-led brands" says Villalobos.
I first heard of Villalobos' work with mezcal in connection to her more recent project Intersección; a series of lectures and events in Oaxaca City connecting small producers from all over Mexico, creating a platform for an inclusive dialogue around mezcal. Along with Moises Avila and Selene Osorio, Villalobos founded Interseccion to reflect on new production practices that are a challenge for communities, the false idea of cultural conservation and the misuse of natural resources. They aim to sensitize those who participate in the mezcal chain, especially the consumer, about the real impacts of production, misleading advertising and what the unstoppable growth of the sector implies for the future of mezcal.
Villalobos is from Oaxaca and accessed mezcal through her interest in the science and business behind production. She studied as a chemical engineer with a Masters in business management. Following her work with Servicios Alimentarios, a project regulating food companies, she began to engage with the world of agave spirits. She founded Aventureros del Mezcal, a project focussed on social entrepreneurship, aiming to address social problems surrounding the production of agave distillates, while promoting the culture of mezcal and fair payment.
Aventureros also offers courses to producers and the general public interested in getting deeper into the issues of agave production and marketing. Every year the team travels to small communities, to offer free workshops and teach producers about costs and processes; what price is needed to obtain sustainable profits, and physical-chemical processes in order to pass as certified mezcal. "We give you courses on how to brand, and how to export. In reality the market has become very complicated for small producers."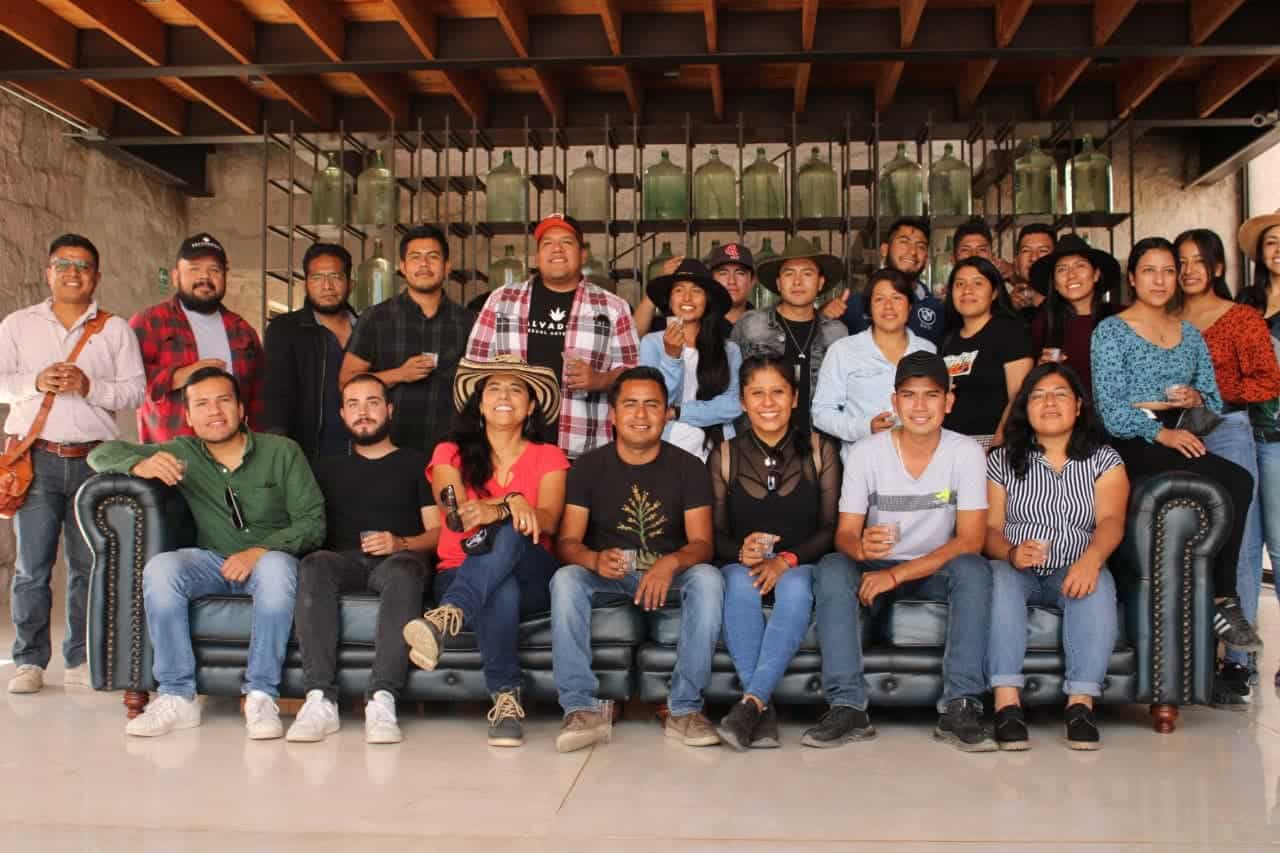 Supporting the "little guy" in a world of volume mezcal
During our meeting Villalobos expressed her concern about the rise of larger volume 'artisanal' brands reaching the international market. "Since the entry of "big mezcals", that is, mezcals with hundreds of thousands of liters and a lot of publicity, it is difficult to compete, particularly with the prices." Although adhering to the regulations put in place through the certification boards, producing this amount of product (often with significant financial backing) changes the pricing model. Large volumes help bring prices down. The traditional, small-batch producers cannot compete.
"One of the social problems surrounding the manufacture of distillates is the low cost paid to producers, who dedicate their lives to this noble work. For years we have been paying for spirits from various states and the conclusion is the same, there is no fair payment for producers," explained Villalobos.
Attempting to tackle the complex issue of fair pricing, Aventureros created a flexible cost structure where they consider all the fixed costs and expenses involved in production. Among the things that they consider, there is the "depreciation", "shrinkage" and "inefficiency of production". External influences that affect mezcaleros are mostly the large investors whose aim is to lower costs in monocultures, collect thousands of liters and unify prices. It is an adaptation of 'Activity Based Costing' (a method of assigning overhead and indirect costs—such as salaries and utilities—to products and services) i.e helping the producers to understand what they need to charge in order to cover current and future price/cost fluctuations.
It is a key part of the business plan for Aventureros and the producers they work with to help producers understand the market. By guiding fair-trade relationships they aim to create a more consistent market value. Said Villalobos, "we dedicate part of our activities to educating producers. Education, then, is a ladder, it is an internal cost ladder."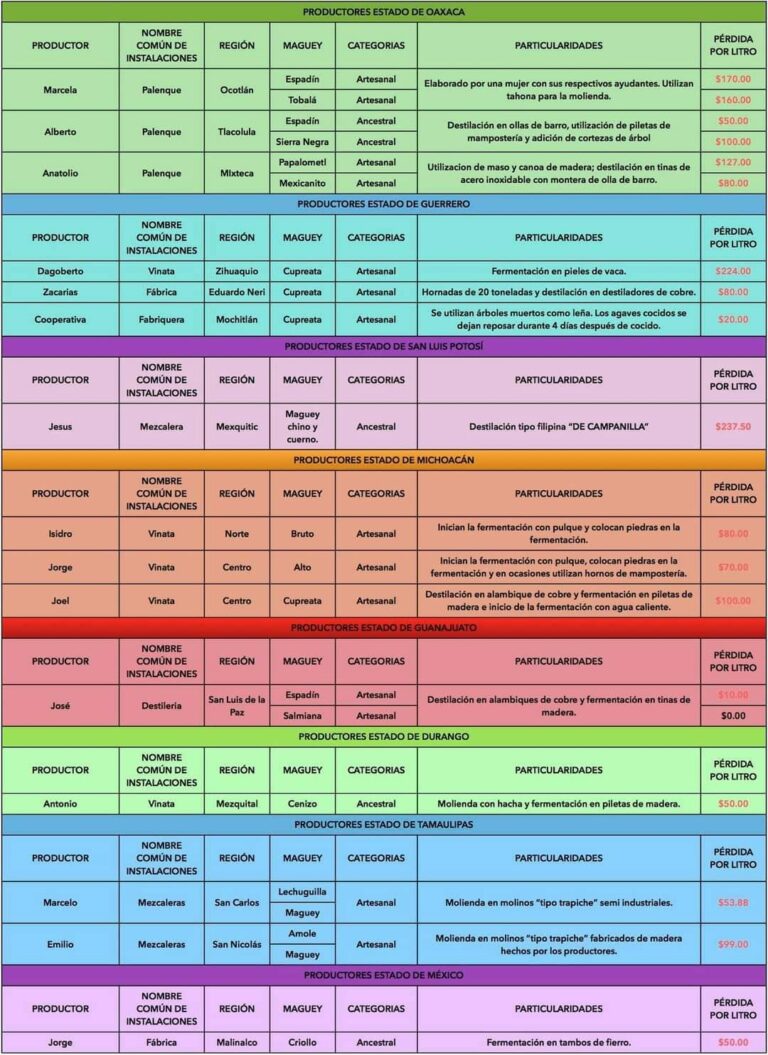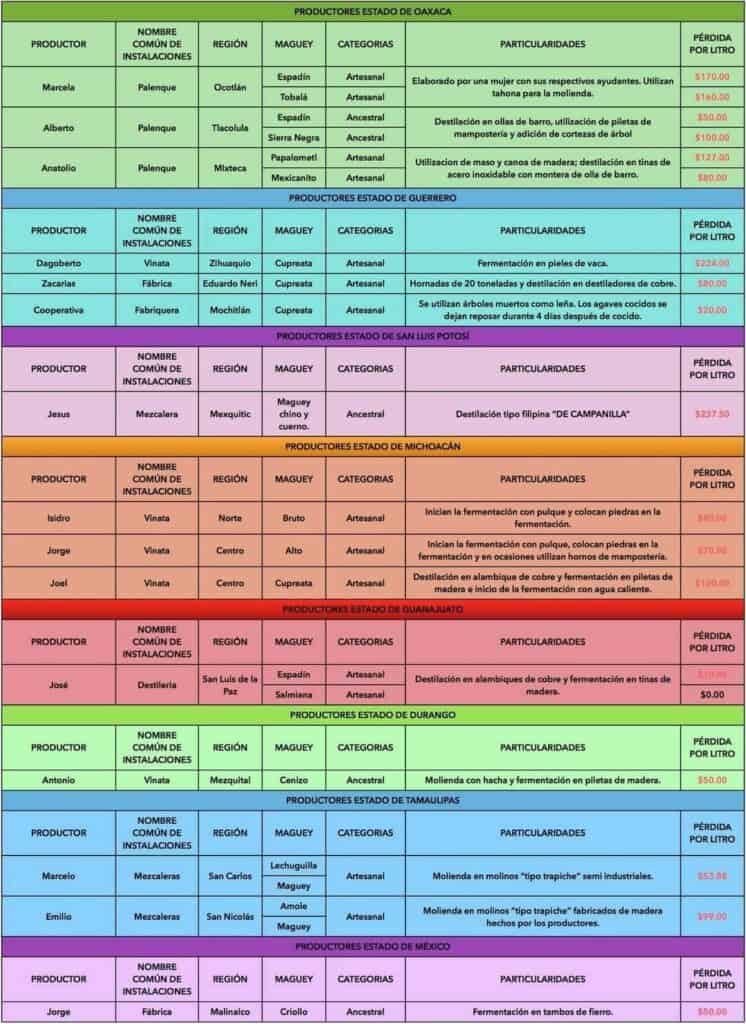 Recently Tess Rose Lampert explored "hot topics in mezcal for 2022" for Mezcalistas. Unsurprisingly, sustainability is at the heart of the discourse. Although environmental health is a well documented concern, cultural sustainability and socio-economic factors are pressing. Lampert echoes the initiatives put forward by Villalobos: "By cutting out a brand-owning middleman, more profit and power is placed in the hands of the producer. In addition to maximum profits going back into the hands of those who understand mezcal production and advocate for a safe future for their land and communities, it also reduces the risk of altering traditional production practices at the request of a brand owner."
The fracturing of the CRM was also a key subject during my conversation with Villalobos. "It was complex because it was a monopoly, it was more expensive, and it was difficult. For me it was good to get rid of it and to have more options." Aventureros works with all five current certifiers with the aim to offer the best course for each producer.
To certify or not to certify
Although Villalobos respects the history and traditions associated with the term 'Mezcal,' she thinks it will be difficult for this to come back from recent challenges in the industry. "The problem is that the term 'mezcal' has lost a lot of credibility." As well as some established 'Mezcal' brands making the shift away from using this officially denominated term, there are also recently established brands that offer 'destilados de agave' that never engaged with the Mezcal classification. Although there are many valuable points to be made about these projects, moving away from DO certification, Villalobos has concerns: "We are now giving way to distillates from the United States. Distillates that are delicious, but they don't reflect the tradition and culture."
Often these non-certified projects work with several producers, buying limited edition batches. Tensions can arise in these instances, specifically with single-batch purchases from small scale producers. Villalobos is concerned about marketers who only make one purchase and then they don't buy again. "They use all the material they gained from that first purchase (mezcal, production story, aesthetic) and continue exploiting it. They do not grow the relationship, do not see the problems." Some of the key issues are; an inconsistency of income and the fallout when one person in the community receives a large order creating friction with neighboring producers. Profits are not always successfully reinvested in a way that would make this method of sales sustainable in these communities.
"There are many associated problems, problems of alcoholism, problems of family violence, low quality of life, and diseases. So having more money does not mean that they have a better quality of life. That is also something new, something interesting. It is really complicated for producers to understand that they have to take a percentage of their bottle and dedicate it to important services for them, such as health, education, training, even therapy. "
However, Villalobos talked positively about projects like NETA Spirits, which works regularly with families in Miahuatlan.  "I noticed a lot of openness to get to know them and I also noticed that there is a solid relationship between them (NETA) and the producers, which is difficult to achieve. I noticed that they are very concerned about paying what is fair to producers." Although NETA could have gone down the certification route, founder Max Rosenstock explained "Our commitment is to the families we work with, to their lands, and to their ability to share a spirit unadulterated by bureaucracy or market pressures." 
Exploring outside of Oaxaca
Villalobos and the team of Aventureros began their work in Oaxaca, but have now branched out to several other parts of Mexico, working with mezcal, raicilla, sotol, bacanora and agave spirits not recognized by a "denomination of origin", a legal concept originally built to defend traditional food products on the global market. One of the recent brands that have partnered with Aventureros is Zinacantan, a mezcal produced by maestra Fabiola Torres Monfil in the state of Puebla, between Oaxaca and Mexico City. 
Fabiola described how they contracted Aventureros in order to obtain the legal requirements of their project; "Cynthia (Villalobos) helped us to understand scientific (chemical & physical) parameters [of certifying product]. She also helped us to present our project, talking about our philosophy and main theme, which is biodiversity and mezcal. Currently we have forged a friendship that has helped us to debate and talk deeply about many aspects of the industry."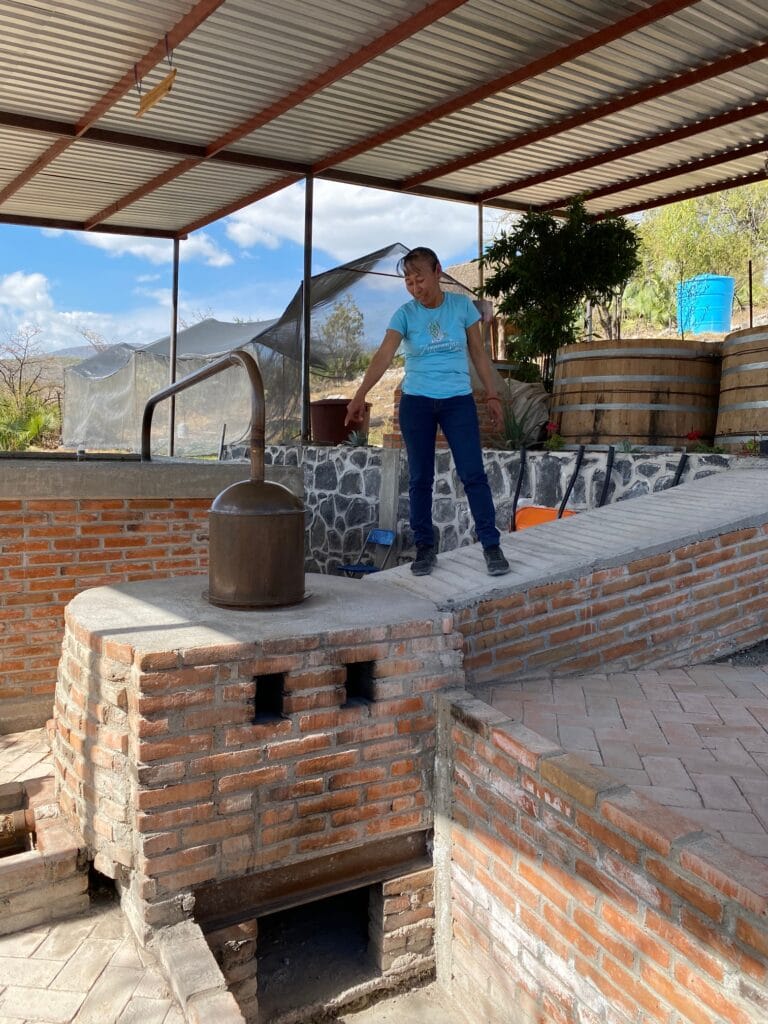 Villalobos typically works with small producers that make around 500 liters a year. "Normally we would go to visit them (producers), but over the years the company has grown, so we have other types of activities to do. So, I dedicate one or two times a year to go specifically to places to give these free campaigns. This year we went to Michoacán and I have just returned from Guerrero."
The mezcal impact
In our interview Villalobos also touched on issues of how agave distillates are reaching the consumer in the aesthetic sense. Many brands aim to present their story through an association with the intimate and the rustic. This perspective creates a contradiction with the inevitable capitalist goals of brand marketing. Unfortunately, "when a producer starts doing well and it is reflected in his quality of life, it is not so attractive for the story anymore." There is no obvious solution to this, but emphasizing transparency and applauding good practice helps.
The popularity of Mezcal has also contributed to a growth in tourism in Oaxaca. This has received a mixed reaction. Villalobos made it clear that she sees the effort to visit and learn more about agave distillates at a ground level as valuable. In addition to the Interseccion event space, Villalobos also wants to find a permanent location that can act as a space for guidance and learning. The idea is for there to be somewhere that falls between a tasting room like Mezcaloteca and the offices of the CRM, where producers can get clear advice and support, but visiting enthusiasts can also dive deeper into understanding the story of mezcal.
Through Aventureros and Interseccion, Villalobos has been nurturing relationships with independent producers like Fabiola from Zincantan, helping to guide them through the mine-field that is the regulation and certification of agave distillates. Events with Interseccion have helped to unite producers and create a platform for resolving issues at a grass-roots level. Considering how the agave spirits industry is evolving, it is the hope that initiatives such as these direct healthy progress, elevating the producer while putting education and a sustainable future first.
"You never stop learning and I believe that there is a lot more to do in the sector than we already do. I am convinced that helping producers to have a better standard of living is directly influenced by their sales. These sales have to be managed in a responsible way, with fair prices and also encourage them (producers) to return a little back to nature, or at least to have some responsible practices."