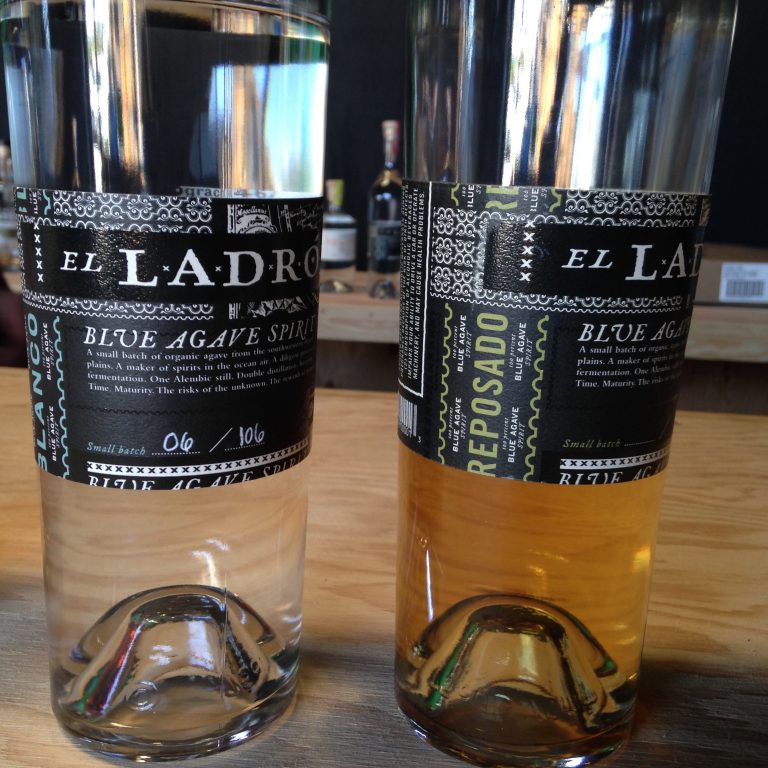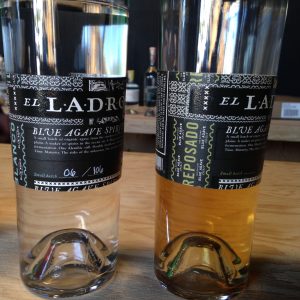 I've been following Venus Spirits since they announced an American agave distillate in May of 2014 because this idea of a North American agave distillate is absolutely fascinating. St. George Spirits tried to do one years ago and we occasionally hear about someone growing agave for a distillate in California so it has felt like only a matter of time until someone grafted North American craft distilling onto Mexico's national spirit. Recently it's been abundantly clear that the distilling community is up to the challenge because the more I look into it, the more of them I find. I even ran into someone on a trip to a Oaxacan palenque last week who had been noodling on the idea.
I finally got around to setting up an interview with Venus Spirits' master distiller Sean Venus this April. In mid-conversation he said, 'looks like the St. George guys are up to it as well, or is this an April Fools prank?' as he pointed to his Instagram feed which featured a shot of St. George distiller Lance Winters hefting half a roasted piña in the Alameda distillery and another of tanks of roasted piñas. I was as surprised as he was but that little encounter spawned a bunch of research and blog posts which led me to get punked by a true April Fools prank from another distiller and leads me back to my conversation with Sean Venus.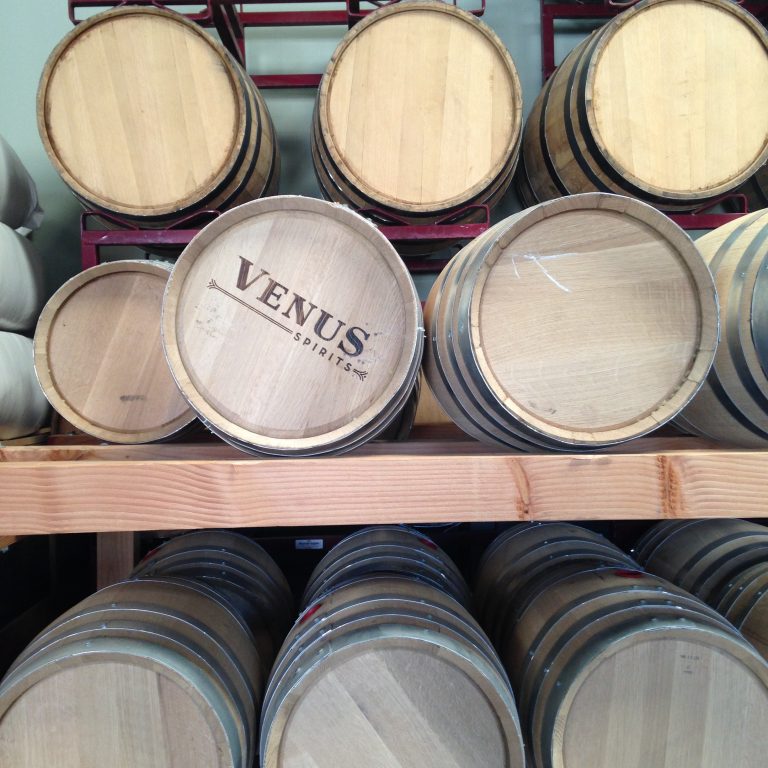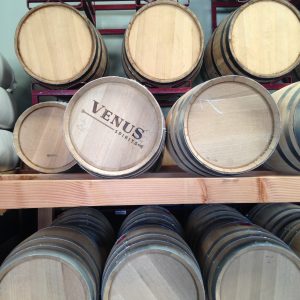 Sean launched Venus Distilling in the spring of 2014 with a gin and has since added another gin, an agave spirit, an aquavit, and a trio of whiskeys.  The distillery itself is hidden away in Santa Cruz's West Side. The corrugated metal ceiling and poured concrete flours are part and parcel of the efficiency model from many a distillery, auto mechanic, and office park. But this one is just down the road from a fast evolving micro-hood of breweries, vintners, a salumeria, and sundry other craft food producers. What used to be the home of the town's light industry hosts the 21st Century version of American production. It's a fun scene, well worth a visit because most of the places have tastings and, once you park, it's all walkable. Venus has plans for a tasting space soon, more on that later.
Sean comes out of the brewing world where he got his start as a teenager when his physics teacher demonstrated the wonders of fermentation to him. A stop in one of the microbrew capitals of the universe at the University of Oregon eventually led to work at Gordon Biersch and ultimately to this distilling venture in Santa Cruz.
He arrived here on the edge of the Pacific because his wife has roots in town and kids are already very much a part of it. Sean is obviously bringing his take on agave and everything else he distills. As he noted during our tasting he emphasizes the aromatics. And that's the first thing you notice, his gin is full of lavender and citrus while the aquavit is an explosion of scents. He noted with some chagrin that his lavender comes all the way from France because that's the only organic source matter he's been able to find. Step outside the distillery and the smell of the sea hits you making the formation of aromatics in his spirits all the more vivid.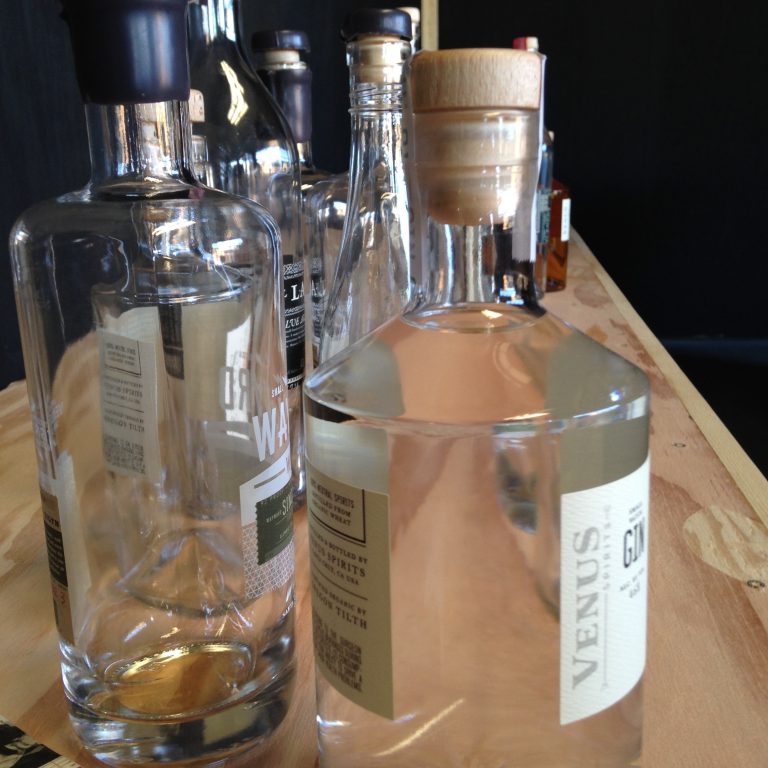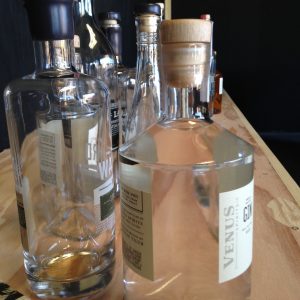 Sean has been selling the Ladrón Blanco since September 2014 and is set to unveil a Reposado and Añejo later this year. His real bread and butter is the gin which is terrifically floral and a steal at just about $30 retail. We stopped by U Save Liquors off Mission St. on our way home to grab a bottle and remain shocked at the price point. You know you're in new territory when craft distilling becomes more economic than industrial products.
Back to the Ladrón: It's an agave spirit. Sean and I chatted a bit about the definition question, why not call it an agave distillate? Sean's perspective is pretty simple, that the word "spirit" is more fun and meaningful. I agree and I've switched my own vocabulary from the overly technical and distancing "distillate" to spirit. As for how it's made, the base material is 50 gallon drums of agave juice from Guadalajara. I don't know much about how it was produced.
Sean told me that he worked with a supplier in around Guadalajara that he had worked with during his days in the organic food industry to get a juice that preserved as much agave flavor as possible. That's just the latest in a series of approaches to the source material question north of the border, the explosion of interest in distilling from agave is only matched by experiments that extends into the entire production process because the production environment is so different. Sean uses a closed fermentation system which can move fast, which is 10 days for him, to incredibly slow, six weeks at Venus Distilling. When you compare that with the 5-7 days that seems something like a standard in many areas of Mexico you get an idea of just how different production is in Santa Cruz than Santa Catarina Minas.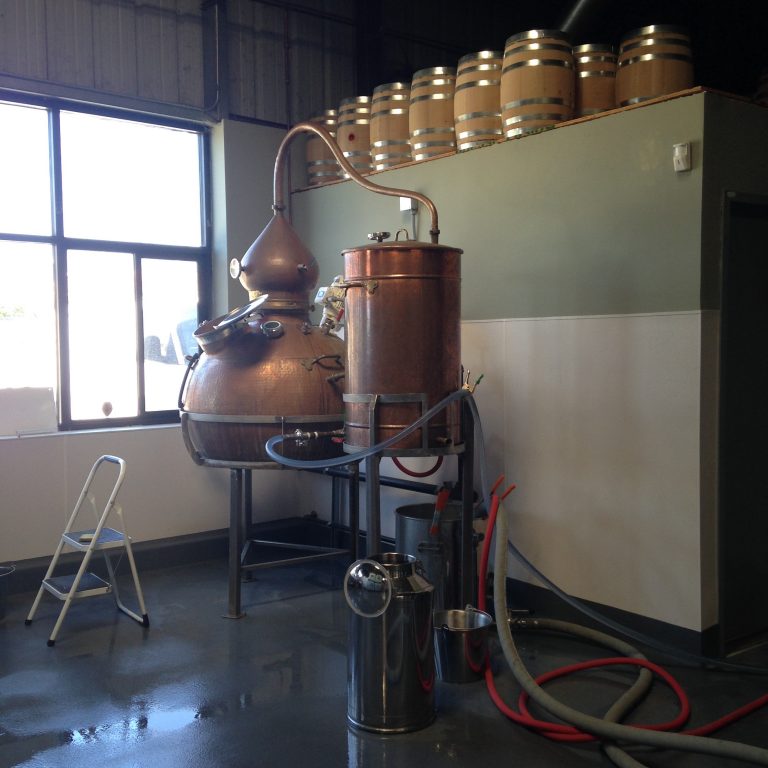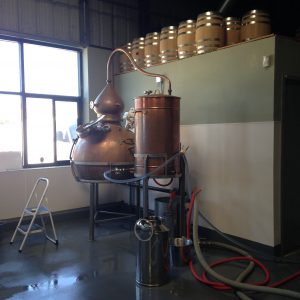 Distillation occurs in classic hand hammered copper pot stills. Two of them stand to one side of the distillery. This is about as far as you can get from a classic Mexican mezcal distillery. Everything is pristine and, on the day of our visit, had just been cleaned after a distillation run so it was doubly so. These contrasts are quite dramatic. The similarities are pretty obvious: The location is just as small and everything is dependent on the distiller's sensibility.
We chatted a bit about how he blended the Ladrón because I was really curious how someone approaches the idea of mezcal as an outsider. The thought lurking there is something like, 'how does a guy in Santa Cruz study mezcal in order to copy it' which, it instantly became clear, is the wrong way to think.
The Ladón is clearly its own spirit, not a tequila, not a mezcal, nor modeling itself on any other Mexican agave distillate. It's a fresh idea based on the source material at hand. Sean mentioned that he started with the middle of the distillation run and only later realized that he needed to cut in heads and tails in order to give it nuance. That's pretty standard stuff for mezcal distillers but he's not out to make the next great American tequila or mezcal, he's following his own tastes and working with the material to make something that he appreciates.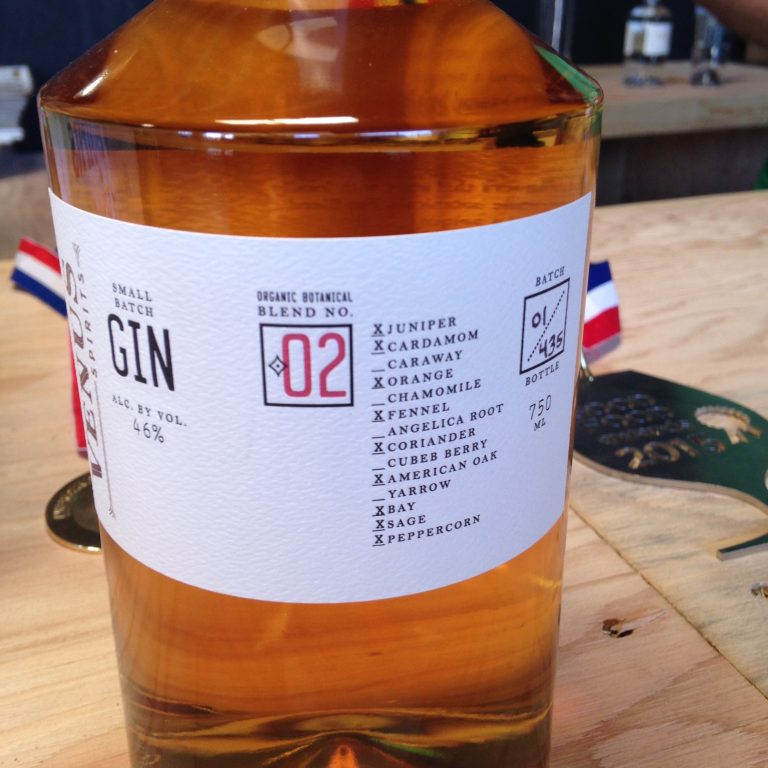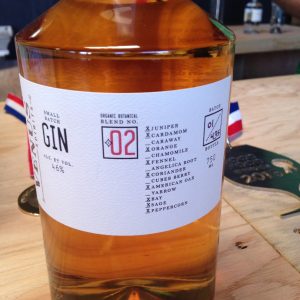 Big picture, that's the really interesting element that North American distillers can bring to the world of agave spirits. I love very traditional mezcals as much as anyone but every once in a while I'll taste a novelty that opens a door onto new possibilities. I'm really curious to see how this evolves exactly because of all the pushing and pulling in the craft distilling space. People try things out because they sound neat, might fulfill a personal taste, not necessarily because that's the way things have always been done. I'm sure there will be duds along the way and that categories will evolve not to my, or many a traditionalist's taste, but that's the world of trial and error. Put another way: I may not really like hopped up beers or over oaked chardonnays but I'm happy that someone is working with them.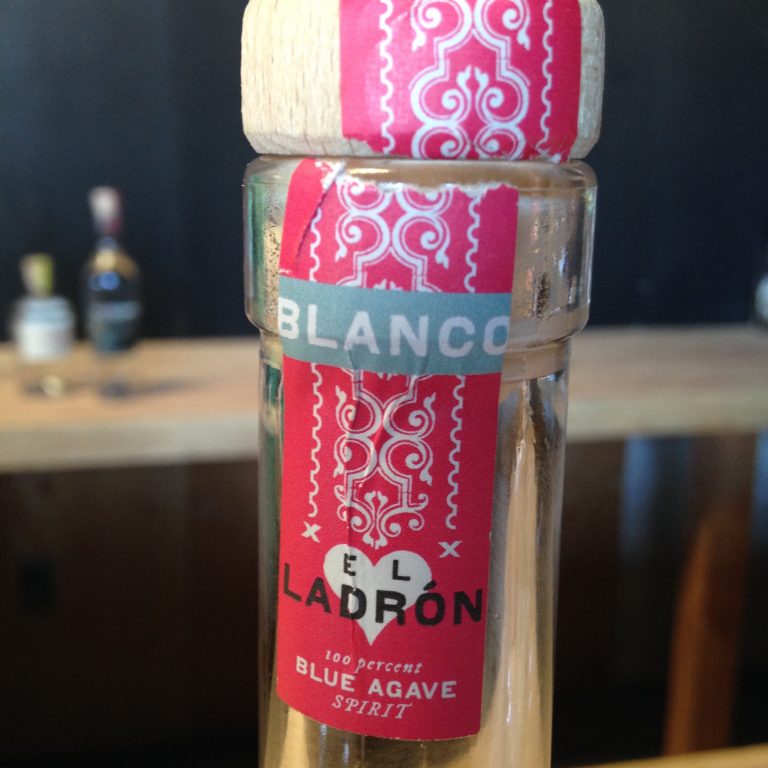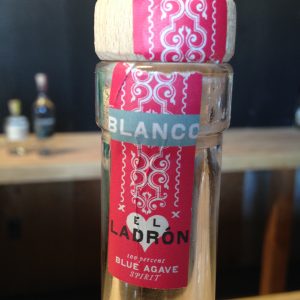 As a sign of that state of things Sean told me that traditional tequila enthusiasts haven't fallen for the Ladrón. I understand that completely because it really doesn't hew to the classic tequila structure. After all, it's distilled from juice, not the bagasse so I'd assume its flavor would be different.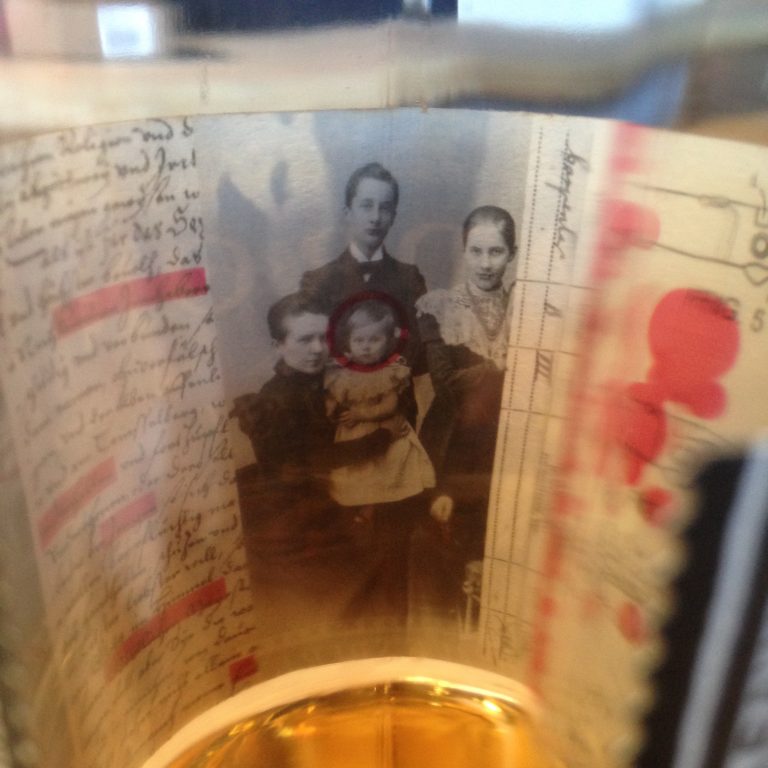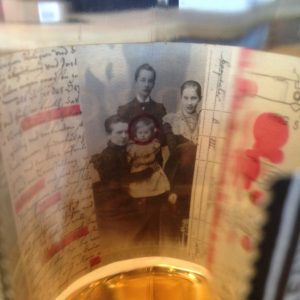 As for how to classify it: The nose is really round and fruity. It almost has grappa notes to it. The flavor is cleaner and lighter than a classic tequila with a decent alcohol edge. You definitely get that classic agave fruit in the body but it doesn't have much viscosity or the caramel that you might expect in a Fortaleza. It's much closer to a Tapatio. While we were tasting Sean said what we were thinking while tasting, "it tastes like an eu de vie." That said it sounds like cocktail bars are really interested in the Ladrón. It's starting to pop up here and there so we'll see how they integrate it into their programs. And don't think it's a lightweight, it weighs in at 47% ABV. We were also lucky enough to taste the Reposado at barrel strength, 106 proof. Sean says he's going to cut it to 47% before he bottles it but now it's redolent of the whiskey barrels it rests in, something akin to an agave whiskey because that agave fruit is present and integrated with the oak.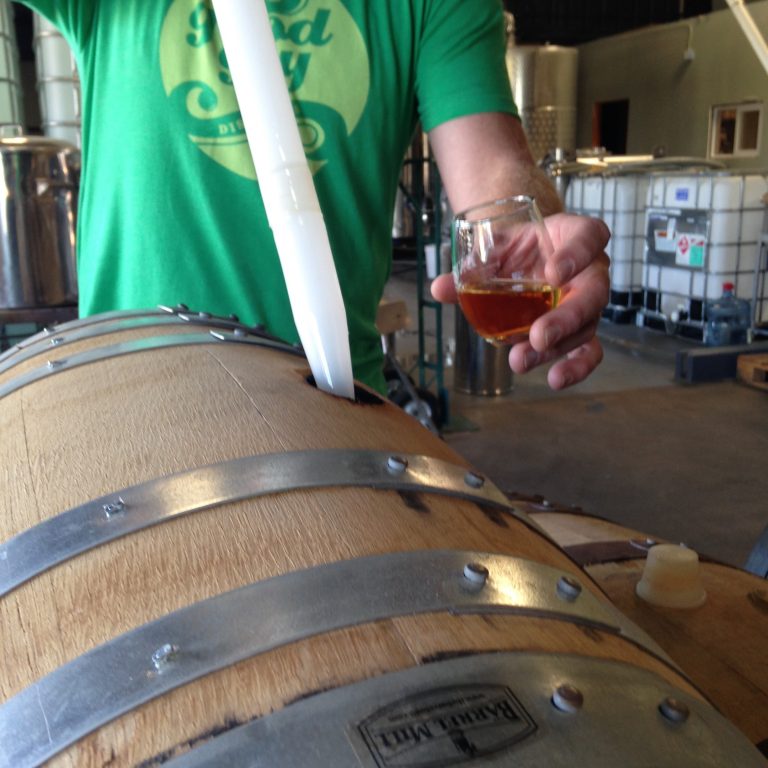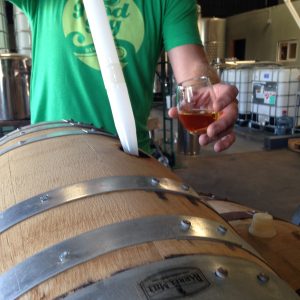 The Venus tasting room is a work in progress. When we visited it was framed and swatches were sitting around but they've made a ton of progress since and Sean is planning on opening in lat May/early June. Until then email them to set up a tasting. One of the perpetual frustrations for distillers in California is that they can't sell their products in the tasting room. There's a bill under discussion in the legislature now which might change that. If you're curious and want to get involved check it out because, who wouldn't want distillers to reap the fruits of their labor, right?