After a two year pandemic hiatus, the Agave Heritage Festival welcomed guests to Tucson for great programming and plenty of delicious agave spirits last week. Marking the 14th iteration of the event, which used to span two weeks, this year the schedule featured a series of discussions, art exhibitions, music, films, tastings, and more, presented over the course of one long weekend.
With explorations of pertinent issues led by industry experts to art and film that illuminate the beauty of agave spirits, this year's programming served people with all levels of familiarity with the category. And with events set at a comfortable pace, like a slow meander through the desert, attendees were given ample space to connect with old and new friends and soak up the celebration offered in between sessions.
Sustainability and Tradition
At the lectures, discussions, and tasting panels, several themes persisted through the conversations, but none so prominently as that of environmental sustainability. Almost every panel acknowledged that producers are seeing climate change impact the growing season, including at the Women in Mezcal event when ecologist Diana Pinzón from Zinacantán Mezcal in Puebla explained how yields this past January were noticeably lower than usual. She pleaded with brand owners and folks interested in starting new labels to not push for increased production because of the strain it puts on the environment. "People in the Mixteca and Oaxaca are the ones migrating the most, because natural resources are disappearing," she said.
At a panel on conservation at Mission Garden, we heard something similar from the Colectivo Sonora Silvestre, an organization of biologists working to help reforest agaves in Bacanora-making municipalities. Because the Consejo de Regulador of Bacanora does not mandate environmental sustainability initiatives, this small but mighty group of twenty-somethings is working closely with the Borderlands Restoration Network and Bat Conservation International to drive changes in policy and encourage and educate producers to amp up their planting programs to ensure a steady supply of agave for the future of the Bacanora category. "I am only 26 years old, and we are changing the laws," said Valeria Cañedo. "Think about what would happen if more people got involved."
The preservation of tradition and culture was the second running theme of the discussions. Pedro Jimenez of Mezonte and Pare de Sufrir offered a suggestion for people who want to ensure that the social connective tissue of agave spirits continues to be preserved as the industry grows. "Sustainability is a word you can repeat without understanding it, and a lot of people want to 'help' communities [in Mexico]. But to do that we need to hear what their needs are," he said. "If we are humble enough to hear and understand — not just going to a palenque once and think you know what you are talking about — that is a good baby step. Live there for six months and see how agave spirits are not the only thing that comes from the agave plant."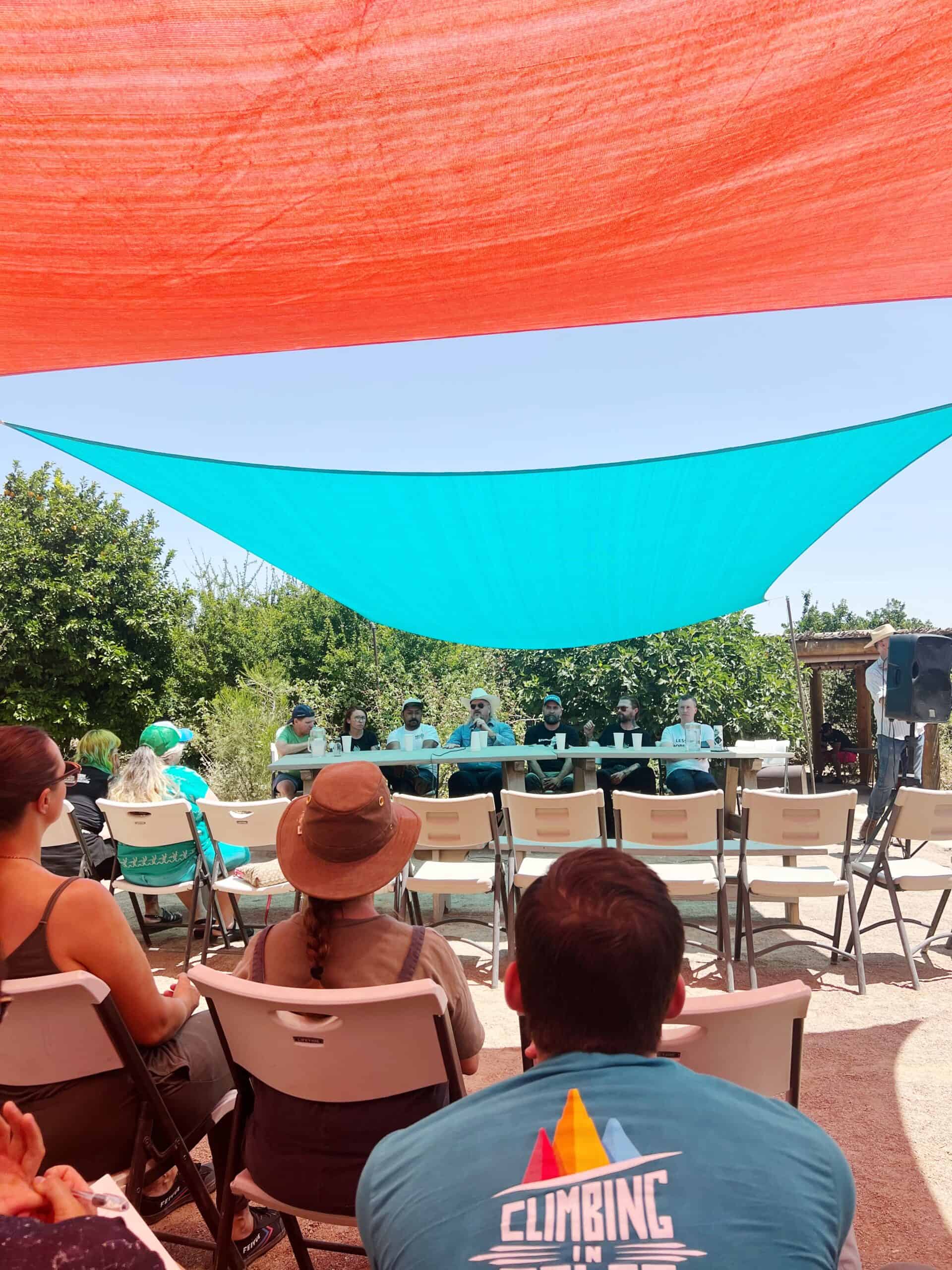 Other Highlights
It's all about the yeast: Author, agrarian activist and ethnobiologist Gary Nabhan shone a light on the microbial reasons why the agave spirits category is so beautifully diverse when he explained how most distilled spirits — rum, whiskey, vodka, and so on — are made with a single yeast, and typically one that has been genetically modified to fit a certain flavor profile. In contrast, in non-industrial agave production, there can be up to 70 species of yeasts and 120 natural bacteria working in tandem to create flavors and aromas during fermentation. Each one draws out a different result. When you add to that the number of varieties of agave that can be used to make spirits, it is "an amazing biodiversity in every bottle," Nabhan says.
Art and the mezcal documentary: On Sunday afternoon, three films were screened at the Loft Cinema that celebrate the culture of mezcal production. Sons of Mezcal made its Arizona debut with director Stephen Werk present to answer questions. The stunning film follows the Cortés family of Casa Cortes/El Jolgorio fame and is made in a fly-on-the-wall style; it quietly transports the viewer inside the inner workings of day-to-day life at mezcal palenques in Oaxaca. With no formal interviews, the film might be a bit confusing for viewers who are brand new to the category of mezcal, but it reveals subtle nuances about production that will resonate with anyone who has been to Mexico and already understands the process. After that, Rezpiral debuted the short film Temporadas de Lluvia (Rainy Seasons), a 16 minute animated documentary directed by artist in residence Dani Eizirik. With footage and voices of producers intertwined with whimsical animations, the experimental film also breaks the traditional documentary mold, offering a more eclectic and sensory glimpse of "a living nursery of wild agaves." Afterwards, they shared a second short film called Miradas Acerca de Temporadas de Lluvia (Reflections Upon Rainy Seasons), a nine minute response documentary that explores the reactions of the families involved in production after they are able to watch the completed Temporadas de Lluvia film. In the short, many families expressed gratitude at having their stories captured in such an artful way. Though all three films took very different approaches, watching them in tandem served as a good well-rounded glimpse into the world of mezcal.
The Sotol Dilemma: You might be familiar with sotol, the spirit (officially) made in Mexico's northern states of Chihuahua, Coahuila, and Durango, but did you know producers make spirits from the same Dasylirion plant and its many varieties outside of the denomination of origin as well? In Oaxaca, they call it cucharilla, and in Sonora it's known as palmilla. At the closing lecture on sotol and its sibling spirits, Ricardo Pico, founder of the Clande and Sotoleros brands, praised this diversity as guests tasted examples from brands like Sotoleros, Los Cantillas 1905, and Lamata. At the end of the lecture, he added a few thoughts to address the elephant in the room — how some brands in Texas are testing the waters by making similar spirits stateside and calling them by the DO-protected name sotol. "The southwestern U.S. has the environment and terroir to make this spirit. And innovation is good, but we need to be thoughtful in how we categorize it. There needs to be respect," he said. "Sotol has a history, culture, and tradition. No Oaxacan would make this spirit and call it sotol, [for example], because they have their own name for it."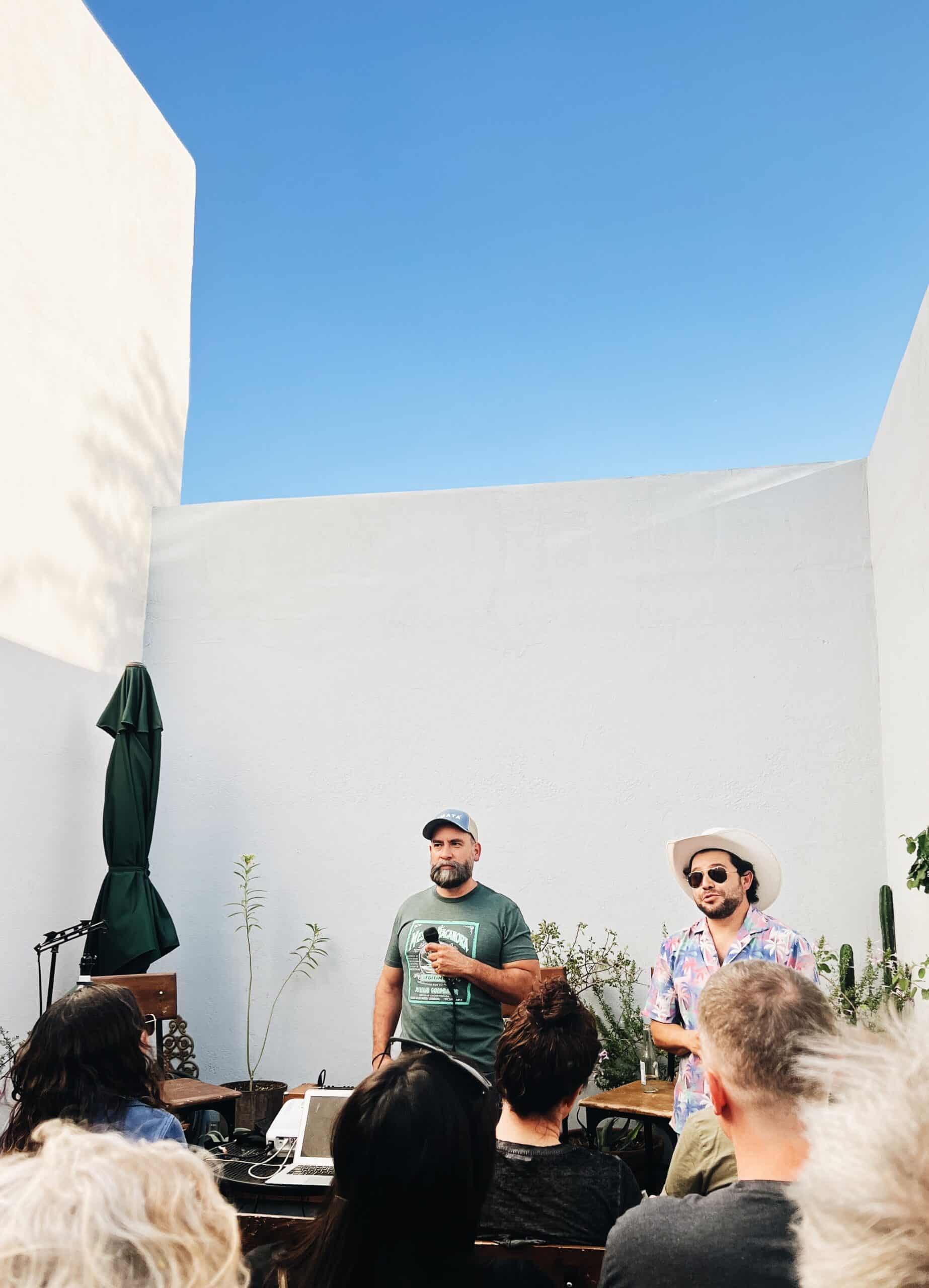 Rekindling Community
At El Crisol, during a tasting and lecture on the nuances of fermented beverages, speaker and scientist Valeria Souza shared a moving personal mantra with the crowd. "I believe we are here on this earth to do two things: honor and nurture the earth, and build communities," she said. Those two themes wove through the weekend as folks expressed their respect and admiration for the agave plant and connected with other enthusiasts. This was the first time I've been able to make it to the event, but it immediately became clear how founders Doug Smith and ​​Todd Hanley have used this festival to cultivate a community — a cross-border cadre of producers, importers, brand owners, scientists, writers, intellectuals, and enthusiasts. In creating a broad and diverse group of speakers, they have created a space for connection, education, critical thinking, and civil discourse.
This is no small thing! For the last two years industry conversations have existed almost entirely online thanks to COVID-19. Digital platforms only have so much to offer in the way of navigating nuanced conversations, and the world of agave spirits is so complex, those discussions can sometimes be impossible to have in a respectful way in the ether of the internet. Talking to one another face-to-face about complex issues like denominations of origin, cultural appropriation, and the future of agave spirits helps deepen understanding, expand awareness, and build bridges across differing backgrounds and experiences.
The ability to meet new people, shake hands with those we've only engaged with online, and give big grinning bear hugs to those we haven't seen in years — all of us united in our interest and love for the incredible beverages of Mexico — is why the return of the Agave Heritage Festival felt so poignant this year. As Ricardo Pico mentioned in the closing tasting of Dasylirion spirits from around Mexico, "we're all humans first," and that is why we're looking forward to returning again in 2023.