It is a well-known fact, or should be, that I love tacos. That I am fascinated by the endless flavors and varieties, and that I never get bored by them. And let's face-it, Los Angeles is taco paradise in the US of A.
Two and a half weeks in the southland, bookended by the Natural Products Expo and the Craftcation Conference with a side trip to Tijuana in between (see separate missive about that adventure.) It was going to be the most contiguous amount of time I had ever spent down there…
But before I dive into my SoCal adventures, a side note about my decision (based on simple economics) to not rent a car during my time in SoCal. Two and a half weeks going from Anaheim (ugh, food poisoning at the Natural Products Expo) to LA to Tijuana to Ventura. A combination of trains, buses, subway and taxis. And it is totally doable, especially if you have the luxury of a little time. And they are all so clean and run on a schedule and people are so helpful. Color me highly impressed, especially after the years of dealing with MUNI and all of its issues and squalor. And who doesn't want to arrive/depart from the gorgeous art deco Union Station in downtown LA. Yeah, I like LA, and may in fact love it, something you don't hear too many die-hard San Franciscans say.
But back to adventures… I am having to learn to be a gypsy these days as I spend more time traveling, crashing on sofas and pushing the limits of the generosity of friends. I am taking advantage of having the time these days to hit the road and try food, specifically Mexican food in all of its diverse glory – it's great to see it finally getting its acclaim as a gastronomic force – both here and in Mexico.
The trip got off to a rough start with the whole food poisoning incident and my total lack of desire to eat for a few days. There is some irony involved with this given how much I eat street food in Mexico where I have never gotten sick. That could be due to my preventative regiment there – yogurt in the morning, lots of chile and lime during the day and of course a mezcal every night. Perhaps it is a protocol I should follow here.
I did finally revive and planned out two days of eating adventures, primarily in East LA with its assortment of markets, hole in the walls and dives. I scoured various magazines, Jonathon Gold articles, blogs and of-course friends down here to put together a list of places to try. It's hard to do these kind of blitzkrieg like food tours – to train yourself to only take bites and leave food on the plate, especially when you have something that totally rocks your world. I am proud to report that I was not entirely successful in that effort and fear I might have put on 5 pounds during this trip.
So, let's just get something straight right away. The food scene in LA is a world apart from San Francisco. It is a world of ethnic foods, mom and pop places interspersed with some truly spectacular high-end restaurants. While the locavore, food craft and urban homesteading scene is growing here, it is definitely in the minority, and that is fine. It allows for a different experience and different conversation. And I am truly blessed by the people I have met during my adventures down here and the perspective they bring to the table.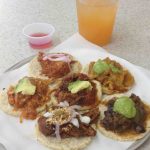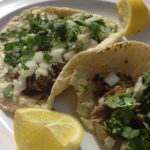 But to the blitzkrieg tour of a full day of eating with my friend Michaele. So here is the list – chilequiles, tacos arabe (think taco combined with a schwarma,) cemita de Milanese (specialty of Puebla with the pungent herb called papalo), quesadillas with huitlecoche (a corn fungus), pambazos (a sandwich stuffed with potatoes and chorizo), tacos of chicharrones, pibil, squash, mole, carnitas, shrimp, fish, carne asada, and Armando palmera (a blend of limon and Jamaica, the Mexican version of an Arnold palmer), a mindblowing salsa made from sesame, pumpkin and chile seeds, garlic salt and oil, fresh horchata. And that was just one day of running all around East LA and Eagle Rock, I couldn't help but think, oh San Francisco, why does your Mexican food scene pale in comparison? The variety is endless, the flavors completely different from one place to another.
LA has been undergoing a profound transformation for the past 10 plus years. You see this in downtown LA, with the boom of artists lofts and restaurants in areas previously left to the homeless and light industrial businesses. You see it in Echo Park, Highland Park, East Hollywood, and East LA – especially Boyle Heights. Gentrification in all its good and bad forms underway. I hope this city does not follow in the path of SF, with a middle class pushed out, becoming a playground for the rich. Let them have the west side.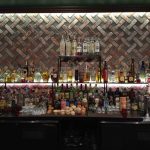 I did not drink nearly as much mezcal as I thought I would on this trip. Food poisoning has a funny way of making alcohol less enticing. But I thought about it a lot, of how jealous I am of the wider selection found in LA than in SF. I was led to a great liquor store in East LA called Ramirez Liquors. They probably sell about 150 different kinds of Tequila and are now carrying more mezcal. I think they had about 15 different kinds on the shelf (even more listed on the website!) Given my gypsy lifestyle here, I am only returning with two bottles, but they assured me they would ship to SF… My friend Bricia and I are making plans to storm the world of mezcal and hopefully in the next month or so will have news of our new venture that hopefully will up the mezcal game in SF. Her family runs the amazing Oaxacan restaurant (and mezcaleria) Guelaguetza.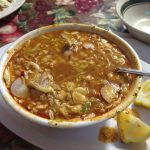 And so back to food, and day 2 of the blitzkrieg, and the pozole I had on a cold rainy St. Patrick's Day that was so rich and earthy – a pork based red chile pozole at Antojitos Carmen on Cesar Chavez in East LA. And later, the obligatory beer (or 2) at a bar in Burbank call Tony's Darts Awaythat divided its list of draught beer by IPA and Not IPA – brilliant, and a nightcap of mezcal to send us to bed before the trip to Tijuana the following day. I won't say much here about that (read my next post) except to say, really, go to Tijuana if you have the chance. It felt safe, the food was delicious and it was a fascinating experience.
So what could possibly top all of this? Have I mentioned I occasionally am blessed by St. Sarah, the patron saint of gypsies? Serendipitous meetings in my travels have resulted in some amazing things. I was blessed with whom I have met in my travels? I was invited to an amazing private dinner put together by two women I met the previous week featuring chef Javier Plascencia (of recent New Yorker profile.) It required me renting a car (one of those new Fiat 500's – I am in love and if I ever buy a car, it might just be this one) and driving from Ventura back to LA in the middle of rush hour traffic – a 2.5-hour journey. I had to keep reminding myself that this was rounding out my experience with the place. It can't be all perfect tacos and fortuitous encounters.
The dinner was a five-course meal of mezcal hamachi, a squid and octopus pesto, a marrow and blue corn taco, albondigas (meatballs), a coconut tamal and a Baja regional cheese plate. It was paired with wines from LA Cetto, a Baja vineyard. I would put that marrow taco in the top 5 of best food I have ever had.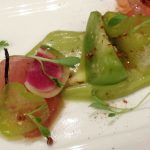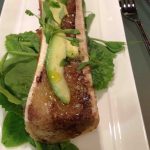 And I got to meet and talk to John Sedlar, owner of two amazing Mexican restaurants in LA – Playa and Rivera. There was also my new best friend from Tijuana, Arturo Rodriguez, the owner of the amazing La Caja Galeriain Tijuana, and a collection of other food and art people. And of course there was Javier, so handsome (get in line ladies) and so very very interesting. I spent the entire time pinching myself to make sure it was not a dream, I really was in Mexican food heaven.
Back to cute Ventura, where my friend Michaele got the keys to City Hall for early morning set-up for the Craftcation Conference. 250 crafters from around the country converged to attend business and hands on workshops (sewing, cheesemaking, fermenting and pie making!) I had the best damn caramels ever from Helliemaes based in Denver. Owner Ellen Daehnick and I bonded over our shared love of crafted whiskeys and mezcals (picture each of us walking around the conference with bottles in our bags – she with whiskey, me with mezcal, offering people tastes.) Met local limoncello maker Ventura Limoncello and saw how their magic was made with Aida Mollenkamp, and then went on a late night taco run (Cuernavaca Tacos in Ventura) with taco experts Gustavo Arellano, Evan Kleiman and Aida. I couldn't have asked for a better ending to the weeks on the road.
So now I am back in SF, happily eating kale and kimchee for the next few weeks. I can't wait to see what comes next.