When I first heard about CNI Brands' Dia del Mezcalero last year, I was equally curious and skeptical of what a trip to Oaxaca with more than 30 people in the industry could possibly be like. Rumor said rough, with all of the usual organizational issues that occur with a first time event. So when applications opened up for this year's Dia del Mezcalero trip – the first big change from last year where it was a first come first serve process – I hemmed and hawed before applying.
I've never actually done an industry trip before. My excursions to Mexico have been independent or working with a brand directly to visit a site on my own. And aside from traveling with family, I've never led a tour or taken on the responsibility of traveling with non-industry friends. I am daunted by the logistics involved, and of course the burden of being with people who might be disappointed by their experience. I have nothing but total respect for the people and organizations that do these things. The Banhez palenque also was not new to me, as I visited it previously, two years ago when I spent a day with Francisco Perez, the head of the UPADEC cooperative behind the Banhez brand, traveling to different palenques to better understand mezcal production in Ejutla. My primary goal in applying for this program was to understand more fully how people absorb their experience, what they want to learn on a trip and how we, either Mezcalistas or the Mezcal Collaborative, can develop educational tools that people will utilize. I was thrilled when I got the acceptance letter and simultaneously nervous of what I would do if it was nothing but non stop drinking — I am old(er) and hangovers these days are debilitating.
The Banhez/CNI Brands folks clearly put a lot of time into organizing our handbooks and laying out the itinerary for the five days. There would be 57 of us on the trip, across different areas of the industry – hospitality/bartenders, bloggers and photographers. For many it would be their first time in Oaxaca and their true entry into the world of mezcal. The logistics behind a trip like this are mind boggling – transporting, housing, feeding us all, and of course keeping us engaged. It's like herding cats and completely thankless work. The prep materials were good, though missing a couple of key cultural points – do not flush toilet paper down the toilet and do not use tap water to brush your teeth.
Our passport/guidebook for the week

Pages of information
Lead participant curator and Banhez Brand Development Manager Mariah Kunkel did a fantastic job culling through the applicants and putting together a great and eclectic group of people. I couldn't have imagined a more diverse group of people to travel with – age, background, ethnicity, sexual orientation, level of expertise. The focus and interest of attendees was vast, and it was great to hear some of the questions people had – things I take for granted after so many years of writing about mezcal.
But, how do you make a trip of this size meaningful? How do you program it so that people feel engaged, that they are learning something on all levels? Every time I travel to Oaxaca I always learn something new. Mezcal is like an onion, layers and layers to peel through before you ever get to the center. I will never know everything and that is what I love about it.
The big draw
Who wouldn't jump at an opportunity of an all expenses paid trip in Oaxaca (note – we all had to pay our way to get there)? Certainly that is what drew most people to apply. For brands, this is a great use of marketing budget because it is virtually impossible for anyone to travel to Oaxaca and not fall fully and completely in love with both the place and of course the mezcal, and to walk away with a connection to the brand that brought you.
To be fair, there weren't really any mezcal virgins on the trip – everyone had been exposed to mezcal in one form or another. The trip to Oaxaca, a first for a majority of folks, provided an opportunity to understand the cultural side of mezcal and to see where it actually came from. This experience should never be dismissed, no matter how much you may read about mezcal, or serve or drink it, seeing production on the ground and meeting the people who make it cements a relationship.
For Vivian Cromwell of The Tipsy Muse, a blog and instagram account full of incredible cocktail photography and recipes, while she has traveled extensively in Mexico and has worked with other spirit categories, she had never been to Oaxaca and came to mezcal with zero knowledge. "As a photographer with a particular passion for photojournalism, Oaxaca was high on my list of places to go. My friend Shawn and Hyes went ,on the trip> last year, and I saw their pictures on Instagram. Shawn notified me when the registration for this year opened up, I applied immediately."
She used the trip as a jumping off point to dive deep into the category. The Banhez trip enabled her to get a basic grasp of production, and she tacked on a few extra days visiting palenques with guides Darinel Silva and Rene Cabrera Arroya. "I think visiting on my own allowed me a slower pace, and the opportunity to ask more questions. After this trip. Oaxaca might be my favorite top city in Mexico. There are so many different styles of mezcal productions, it is crazy and fascinating! One can't really gain the appreciation til he/she visits Oaxaca. That is the only way to learn at a deeper level."
Jason Horn, a long time spirits writer and marketer, had also never been to Oaxaca and immediately jumped at the opportunity to go on a mostly free trip. "I know a lot about mezcal and have written about it a ton, and I'd loved every other place I'd been in Mexico, so Oaxaca was really high on my to-visit list. I was of course also hoping to find story ideas and make contacts for the future!"
Some of his most poignant moments – "Getting to see an agave seed at the nursery in Ejutla—I'd never seen one before, or really even thought about the existence of agave seeds. Wandering into Tacos El Primo in Ejutla after being lured in by a beautiful cone of meat and it turning out to be the best thing I ate on the whole trip. And finally, sitting at In Situ and getting a sip of a dozen or so different types of mezcal (a bunch of us were sharing; it was responsible drinking!) side by side, none of which are available in the US."
For Bryant Orozco, the beverage manager at Madre in Torrence, CA, it was a chance to see where Banhez comes from. He has traveled to Oaxaca previously and given his position of deciding what goes on the shelf, seeing first hand how Banhez is made and what the cooperative structure looked like was invaluable. "This trip clarified where the product came from – because I am constantly pitched on new brands, I am skeptical about where the product comes from and what the back story is. Great to see and understand that. But there can be a disconnect of where the money goes – and for industry trips, especially one of this size, they spent a lot of money on us and sometimes I can't help but wonder if it would be better to have the money to go back to the communities. It's a question on any of these junkets, but feels more pronounced in a place like Oaxaca."
For Bryant, industry trips to Mexico also involve a level of personal responsibility – as a Mexican American he is highly sensitive to cultural interactions and tries to navigate with other bartenders how to interact with not just locals but also the culture. "The group as a whole was great – people were curious about learning more about mezcal. I had never been to Ejutla and learning about the distillation process there was great. I had wondered why the Espadin/Barril ensamble was 42% and assumed it was watered down. But it's not, that's just the style from that palenque and the flavor profile Polo (Maestro Mezcalero Apolonio Patricio Lopez) prefers."
Hitting the road to, and around, Ejutla
The week's events kicked off with a welcome dinner prepared by El Destilado on the terrace at Casa Antonieta, a gorgeous new boutique hotel. The following day the group was divided between three different excusions that beautifully showcased everything unique about Oaxaca- a trip to Hierve el Agua, a walking tour of the Benito Juarez market with Omar Alonso of Oaxacking, and a trip to Monte Alban. That night we reconvened for another delicious dinner on the Casa Antonieta terrace followed by a dance party and night out on the town.
We left Oaxaca on the morning of our third day of the program for our first full day in Ejutla where we would visit palenques before setting up camp at the hotels (of which there are two) in Ejutla. The recent rainstorms had splashed the hillsides with green, and rambling through the country was stunningly beautiful.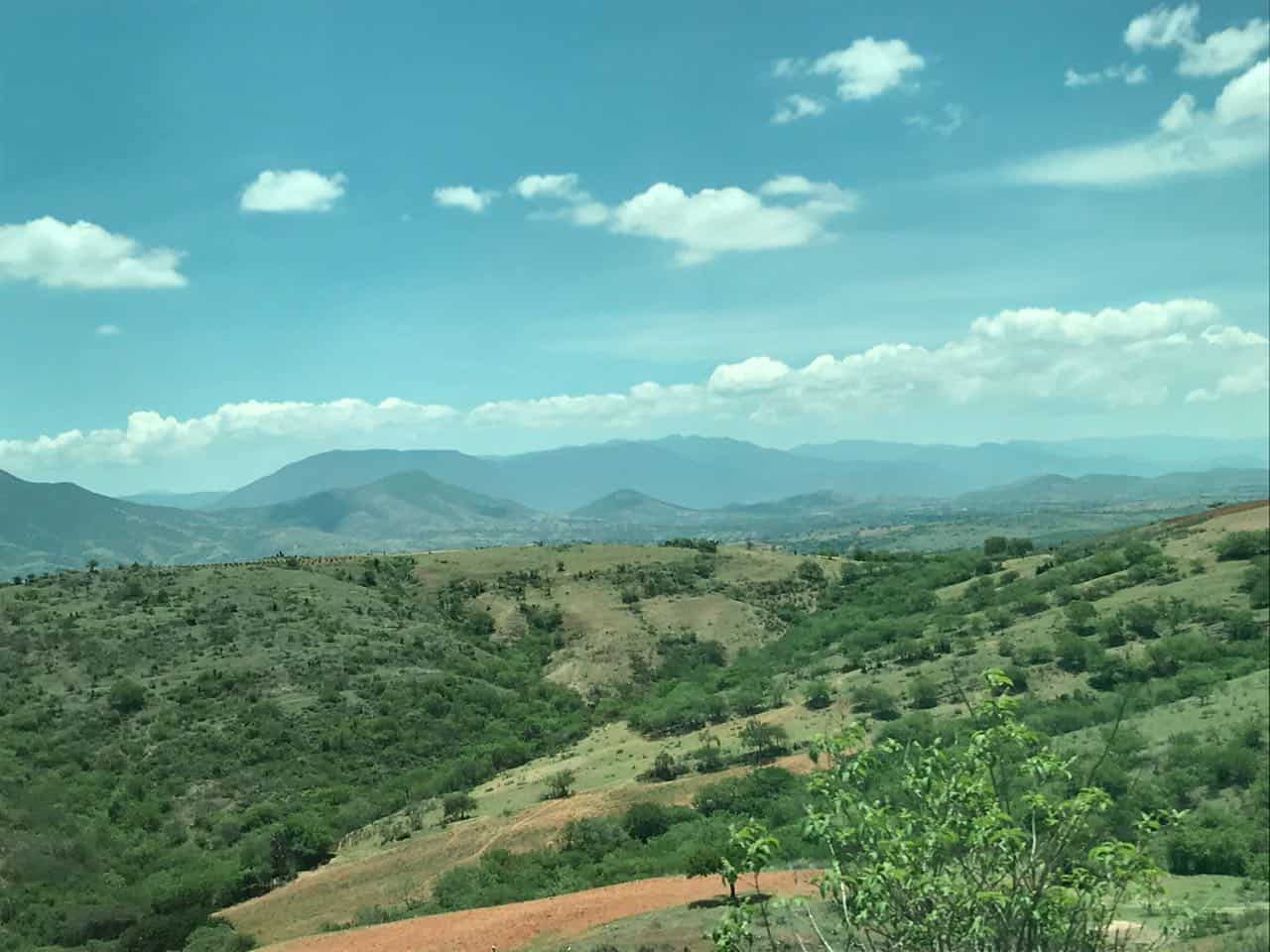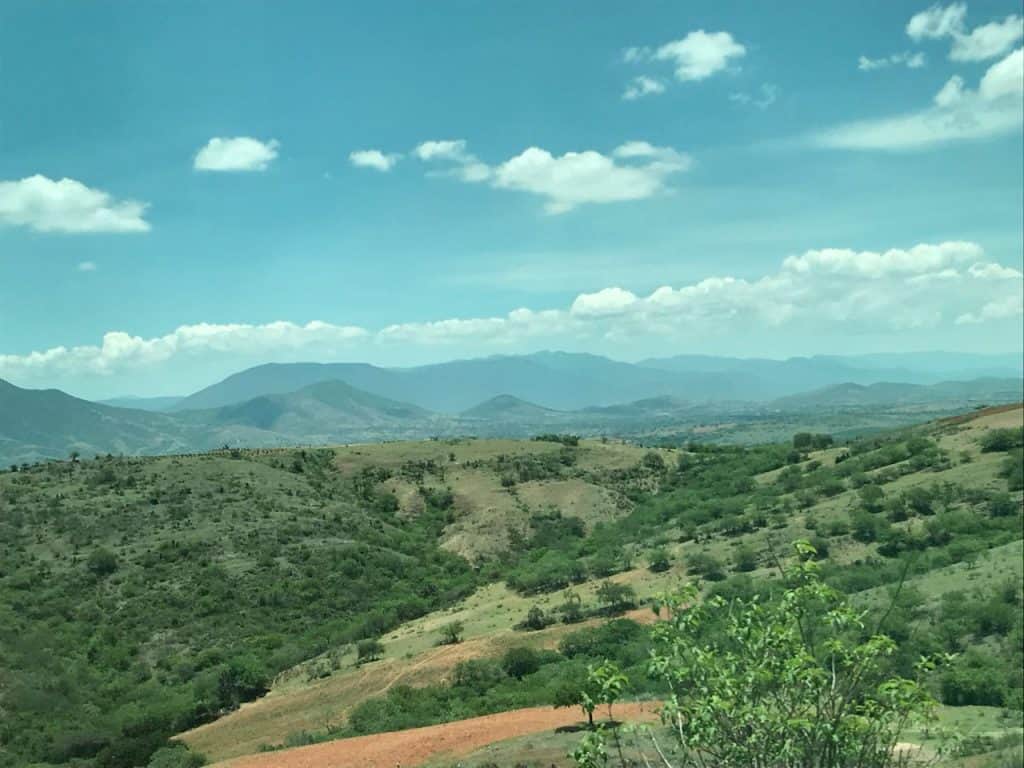 The UPADEC cooperative operates like a traditional cooperative. Mezcaleros that buy memberships must be certified by the CRM (the cooperative will help if the mezcalero is not certified at first), adhere to CRM rules when it comes to identifying where the agave comes from and sign contracts that can be renewed annually. In return, the cooperative guarantees fair prices for the product and a share of the profits which is dependent on the membership level purchased by the mezcalero. There are currently 38 members of the cooperative and vary from individuals (perhaps mezcaleros in training) to families to communities like the farmers in Agua del Espino who sell their agaves to the coop. It is obviously a successful model and its growth is determined by the ability to meet the needs of both market demand and the mezcaleros.
We spent a full day visiting two different palenques in the coop – one in La Noria the other in San Augustin Amatango. The palenque in La Noria belonged to Luis Pacheco and his family. This was a smaller and more traditionally rustic palenque, which is to say dirt floor and all. His tahona was a gorgeous stone and cement wheel made in 1906. There was a column still, a gift from a European guy who was looking to work with the cooperative several years back. This same person gifted several other palenqueros in the cooperative with these stills. There was an attempt to use them, but, no one liked them. They sit empty now and are occasionally used to dry things. We toured Don Luis' vivero, or nursery, and tasted through some truly divine tobala and tepextate before jumping back on the van. The one down side of traveling with a large group and having an itinerary is that there is never enough time to spend at one palenque.
Don Luis' palenque

Tools of the trade

Stone wheel from 1906

Tools of the trade

Fast friends

Don Luis' palenque
Our next stop was at Don Polo's palenque (the original creator of the 42% Espadin/Barril ensamble), a beautiful new facility with a cement floor and steel roof. There was a side nursery and a partial wall built with adobe from the bagaso. Don Polo is known for his espadin/barril ensamble and we were there in time to taste mezcal fresh out of the still. All members of the cooperative use the refrescador still which acts as a double distillation within a single distillation. There are no heads or tails in this process and which means product is distilled to proof or has water added to bring the ABV down.
Drawing by Luis Loya

Don Polo's new palenque

Bagaso wall

Don Polo
Next up was lunch in an agave field in Agua del Espino. It goes without saying that sin agave, no hay mezcal (without agave, there is no mezcal). Eating in an agave field cements the connection of land, agave and mezcal like nothing else. Between cold beers and memelas, people walked among the agaves, posing for pictures and taking in the incredible beauty. The cooperative plants roughly three agave for each one harvested. This year alone they are on track to plant almost 90,000 agaves. Per Alex Jandernoa, the Banhez Mexico brand manager and all around logistics whiz for this trip, "The vast majority of the espadin planted will come from a variety of hijuelos. Because of this we make sure to mix up all the genetics into different fields. We are working on some Espadin from seed but its incredibly rare to find. We currently have had only 37 seedlings take from what we think are espadin seeds."
For the other agaves, "Our Semi-wild program is just starting to get bigger. We are growing seeds of Tobala, Tepeztate (we'll see how it goes), Cuishe, Barril, Arroqueno, and some Mexicano as are numerous Maestros. Luis Pacheco has planted almost 3000 semi wild tobala from his garden over the past 10 years, along with protecting valuable wild Tobala in his secret fields- he wants those seeds."
As Max recently wrote, ensambles are making a mark in the market, which is great news. Ensambles are perhaps the purist expression of traditional mezcal, and during our lunch in the agave field, I had a chance to try a good old fashioned field blend – a mix of a little bit of everything. It was delicious and served in the perfect mezcal glass – a sawed off top of a plastic water or soda bottle, the embodiment of letting nothing go to waste.
Vivero at Don Luis' palenque

Banhez vivero and bat houses

Agave field in Agua del Espino

Women at work

Memelas on the comal

The group lunches in Agua del Espino

Improvised copitas
Without doubt, the ability to speak Spanish makes these trips so much more meaningful and while a few of us tried to help with translating questions and answers, I think this remained a sticking point for a lot of people on the trip. Alex alongside Francisco, did a great job relaying information but when you are with a group of 25 or so, you can't get to everyone. The language barrier is real and if you only have 45 minutes or so to spend at a palenque, not being able to ask questions or interact more with folks working in the palenque is hard.
And it wasn't just at the palenques, at every point during our days in Ejutla mezcaleros and guys that worked with them were present, be it at our amazing lunch in the agave field in Agua del Espino, dinner at the hotel in Ejutla, and of course the big fiesta at the central Banhez palenque. Those of us who spoke Spanish had a tremendous advantage, and those of us who could stay up all night with them, singing and of course drinking, even more so. I decided early on that I could be tired or hungover but I could not be both. I could tell with this particular night, our first night in Ejutla, there would be no way to escape the drinking, nor the late night. I did not stay, and the next morning at the bartenders vs mezcaleros soccer game I could see that the cross cultural/intercambio night had certainly had an impact, the friendly teasing, the handshakes, the clear joviality balanced alongside some pretty wicked hangovers. The mezcaleros of course won– with I think a final score of 15-5.
Bartenders vs Mezcaleros

It was a rough game…
For Diego Bañuelos Enriquez, "getting to know the producers, being embraced by their families and experiencing their overwhelming hospitality," was an incredible experience. Diego has a fairly extensive background in mezcal and came on the trip to learn more about the cooperative model. He was hoping for a clear explanation of how the co-op works, including a breakdown of the pay structure, the hierarchy of communication and decision-making among the producers themselves, the methods of ensuring consistent employment opportunities for all co-op members especially in terms of handling under/overproduction of mezcal. When it became clearer that there wasn't going to be a formal talk about the business model, Diego, a Spanish speaker, was able to speak more in depth with various mezcaleros and workers about the cooperative model. "From the few opportunities I had to speak directly with the various producers, I learned that there is an undeniable confusion over how the co-op works."
The big event
The Dia del Mezcalero program is thusly named because the five day trip culminates in a big giant fiesta at the Banhez headquarters. The day began early, with the afore mentioned soccer game, and then progressed with a full traditional calenda (parade) from the soccer field to the palenque. The sun was high and it was hot, very hot. When we arrived at the palenque, there was food and artisan crafts for sale, cold beer, and of course mezcal. As the day unfolded, and more people arrived (in all, there were probably 400 people) there was a full blown Guelaguetza that showcased the various regional dresses and dances, more music, party favors that included candy, bread, oranges, mangoes, bananas and more thrown from baskets, an agave weighing contest, more food in the form of a big meal of barbacoa de res, the unburying of an agave roast and fireworks, all fueled by an unending supply of mezcal. This party cemented my opinion that Francisco throws the best parties ever. My previous Francisco party experience was his epic Christmas party which is referred to in our house as the "best Christmas ever." It was also where I learned to duck when the party favors were being thrown and to pace myself with the never ending bottles of mezcal that constantly appeared.
Dancers lining up for parade

Faces of Ejutla

Parade to palenque

Traditional dancer

Traditional dancers

Torta with the famed Ejutla salchicha

Co-op members and workers

Weighing agave

Co-op members

Blessed agave roast

Uncovering roasted agave

Future mezcalero

Nap time

After party

Fireworks top off the night
During a quiet moment at the party, I had a chance to talk to CNI Brand's Curt Goldman (the importer/distributor partner for Banhez), Banhez Brand Development Manager Kate Howser and Nasville bar owner Britt Soler about the challenges of creating educational programming on industry trips. Most people wouldn't want to sit in a classroom going through power point presentations or lectures, especially if everyone's base knowledge level is varied. Do you therefore include basic 101 tutorials in the trip handbook, or send people links to resources ahead of the trip? Is the hands on interaction enough? We had no clear answers, but I have no doubt this will be part of the planning for next year's trip. Diego might have had the best idea when I asked him after the trip what might be the best way to learn about mezcal on a trip like this. "Through an open-forum Q&A with everyone involved: from the producers and their families, to the brand owners and mezcal ambassadors, to the myriad of industry workers who are involved with mezcal sales both domestically and abroad."
In the van ride back to Oaxaca the following morning, I asked our group to talk a bit more about what drew them to mezcal and several people mentioned the sheer variety of flavors, that it is a uniquely American (continent) product, and the deep cultural connection. The trip cemented that for most. I also heard several people say that this might have been the best industry trip they had ever been on. I think back on Bryant's comment about the expense involved with a trip like this and if the money isn't better spent back in the community. In a sense it was because a lot of local people were employed to make this trip happen – from the van drivers, to the hotels, to all of the chefs, dancers, musicians, mezcaleros, artisans, money was definitely spent in the communities. The big question is long term, will a cooperative model like UPADEC help create opportunities for the mezcaleros and their communities to have access to a larger market and a share of economic gain. Right now, the answer seems to be yes.
We arrived back in Oaxaca to a farewell luncheon before being let loose on our own. Most people spent their final hours shopping and getting tattoos before ending up at In Situ for final tastings and bottle buying. Some folks remained in town for a few days and it was great to see familiar faces as I raced around town for final meals and get togethers with friends.
There are moments that will stick with me forever: Bryant and I hijacking the vans as we left Hierve el Agua for an unplanned stop at a palenque in search of tobala puntas, there were none but there was some damn fine tepextate and pechuga: the meal in the agave field, with the comals set up between espadins, the women pumping out memelas and fried eggs: the quick escape from the big party with my roommate Laura, returning to the hotel for quick showers before stopping for micheladas and chamoyadas, attempting to delicately sip them in the back of the mototaxi as we returned to the party: seeing La Contenta's wonderful bartender Elaine hoist the firework laden paper maiche bull over her shoulders and dance across the grass as the world exploded over her: watching the massive thunderstorm roll in from the roof of our hotel our final night in Ejutla: discovering the yoga mat in my hotel room just before checking out- something I could have used days before…
Micheladas, Chamoyadas and mototaxis

Mezcal in Hierve el Agua