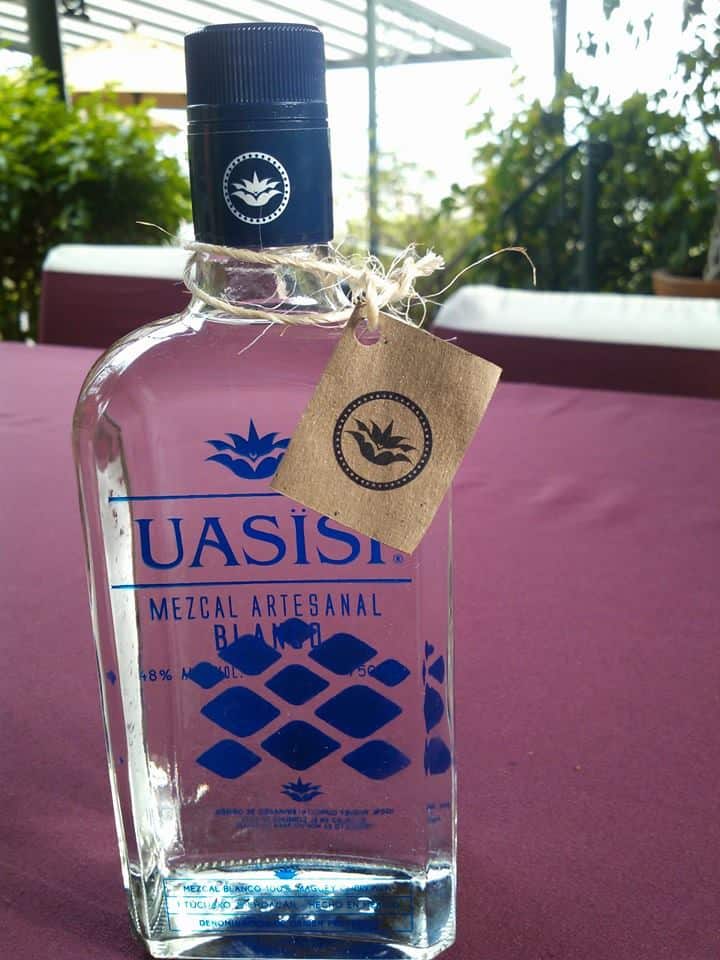 Among the cluster of new mezcals at the Mezcal: Mexico in a Bottle tasting we were very curious to try Mezcal Uasïsï which literally translates to "Mezcal of the Bat" in the indigenous Purepecha language in Michocan where it is produced. Our great friends Peggy Stein and Doug Wheeler, who run Mexico by Hand a fantastic small business that brings folk arts and artisanal crafts from Mexico directly to the United States, poured Mezcal Uasïsï at the tasting.
Fellow blogger Cristina Potters who writes about the Mexican culinary universe at Mexico Cooks already wrote a great piece about the mezcal which we were fortunate enough to republish in Mezcaliastas. I was really curious about it so I talked to Mezcal Uasïsï's brand manager Juan Mendez to get a sense of their process and what's going on in the world of Michoacan mezcal.
First of all, let's get to the pronunciation: Juan rattled off a number of ways native Michoacanos would pronounce it but recommended Washici. Uasïsï' literally means "bat" which is an allusion to one of the agave plant's natural pollinators. Plus it's just a great name.
Juan told me that the agave is all grown around Etucuaro just northwest of Patzcuaro and is part of a continuous 400 year old tradition. If true that makes the local mezcal industry similar in age to Oaxaca's and says quite a bit about the widely distributed Mexican distilling history.  Juan plays the role of brand manager and works closely with the mastro mezcalero Ignacio Pérez Scott who makes Uasïsï and represents the fourth generation of his family to make mezcal. As with many brand creators Juan works closely with Ignacio to make the mezcal and maintain the brand. Juan's mother Maira is the general manager while his two brothers and two sisters also share in the business.
The mezcal is produced entirely from wild Agave cupreata which takes eight to ten years to mature. The local growing conditions are very different from what we're used to seeing in the valleys of southern Oaxaca. Most of the plants are at 1,075 meters above sea level and grow in valleys of dark, rich, soils shot through with the pine groves that you see everywhere in Michoacan.
Production is completely traditional starting with the underground oven which the maestro mezcalero dug out himself and lined with bricks. The roast time is 72 hours for 2.5-3 tons of piñas. The roasted maguey is then crushed by hand with an adze in a wooden canoe. It is fermented solely with wild yeasts and takes exactly 8 days. Per Juan fermentation is "exactly a Monday to Monday process and we still use an alambique de madera which means that we lose 30-40% of production because of the still. But it's very traditional for us."
I was curious whether they're branching out into mezcal distilled from other agaves, making a pechuga or doing anything else different but Juan tells me that they're very focused on the mezcal joven for export because they want to keep things simple in order to make sure that the process goes as quickly as possible. They also make a mezcal that is infused with tamarind for two months but they don't have plans to export it. Juan told me it's just too tricky to get it registered so they're keeping it local for now. I'd love to try that out because the classic pechugas made with fruits are pretty incredible.
Right now they're making 1,500 liters/year of the joven and, Juan, claims, they can ramp up to 5,000 liters/month if they have the export pipeline. I was very curious about this scale because most mezcal producers would struggle both with agave supply and still throughput but Juan told me that his maestro mezcalero owns more than 200 hectares, which is just about 500 acres, and that 70% of that land has cupreata  growing on it.
The sustainability of this operation has to be really tricky. Juan and I talked a bit about that issue and he acknowledged that they're working on cultivating cupreata on a small portion of the land. Right now they only use wild because the cupreata doesn't clone itself. They have to let the quiotes grow before they can cut them down to collect the seeds for their nurseries where germination takes 2-3 months. With luck new cupreata plants grow up over two years when they're ready to be planted. Juan told me that "many producers are using the plants without replanting them. It's very important for us to do this sustainably. We don't want to damage the wild life. We don't want to bother the bats because they do the pollination process. The majority of our maguey is still reproduced by bats, perhaps 80% by bats and birds."
As we were finishing up our talk Juan talked a bit more about the realities of the bureaucratic and economic systems that he and many in the mezcal industry are facing. His is the classic lament of the mezcal world because he is waiting for Comercam to visit and finalize the certification of Uasïsï so that they can legally start exporting. They're already looking for a distributor but for the time being you'll need to hunt it down in Mexico City, make the trek to Michoacan or know a special someone to bring some back for you.