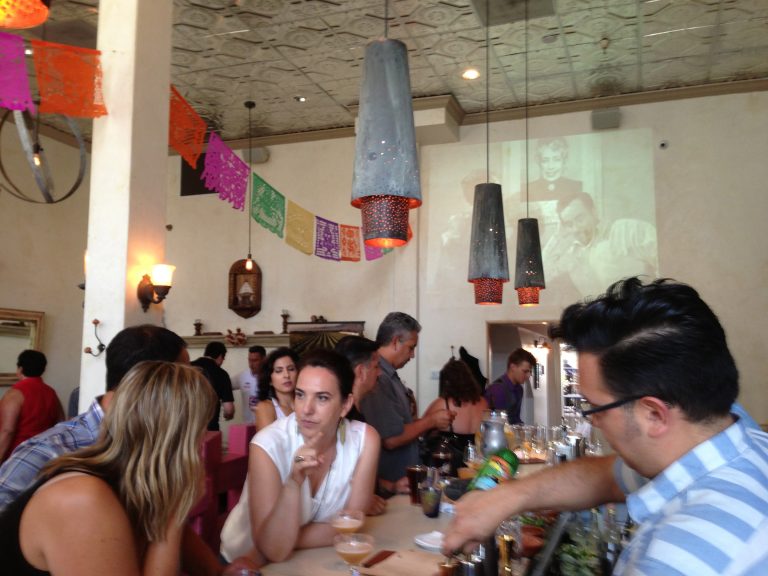 Susan and I had a great time at Tamarindo's innaugural Mezcal and Tequila Festival yesterday. Tamarindo is an ideal spot, fantastic antonjitos in the hot weather, and that bumping downtown Oakland scene. It's like the Mission 15 years ago with a diverse mix of people hanging out and an incredible scene that includes the Trappist next door, Umamimart around the corner and much more action in the neighborhood. Alfonso Dominguez has done a lot to foster that atmosphere and his influence was evident everywhere from including Umamimart's gold plated bar ware on the bar to his family managing the entire scene including his dozing son Diego.
The tasting was arranged around cocktails and brands, here's another spot that Alfonso managed to integrate some of the local vibe because each cocktail was concocted by a local bartender ranging from Troy Bayless and Jacobo Juarez up at Duende to Scott Baird over the bay at Trick Dog. Reps like Jake Lustig backed his diverse line up of Don Amado mezcal, Tequila ArteNOM, and Mina Real at one table (unfortunately they weren't pouring one of his greatest and most recent discoveries, a Fernet Vallet and Amargo Angostura to look out for) while Raza Zaidi backed Wahaka at another. My tasting highlight was the brand spanking new Mezcalero #7 which Craft's Katherine Lewis was pouring for the first time in the US. The mixture of Sierra Negro, Tepetazatae, and Tobala is something to seek out once it hits bars and retail shelves, ideally later this month.
Best of all it seems like this sort of tasting is starting to happen a lot more. Mezcal and agave distillates may finally have a moment to celebrate. We'll certainly be doing our part for the cause with a tasting of two exciting silvestres in San Francisco this Saturday night and look forward to doing many more.