Had the chance to meet up with Judah Kupor yesterday and taste though the whole Vago line at his tasting room/office/bottling facility in San Felipe del Agua. Pretty amazing stuff, especially when you are able to do it side by side and really get a sense of the flavors that are being pulled out by the mezcaleros. Stretched out several hours (important when you are looking at 12-15 mezcals), the conversation rambled over tons of topics including the controversial ones of adding water (distilling to ABV vs playing with colas, puntas and yes, water), sustainability around the agaves, wood, just how many mezcaleros to work with under a brand, fair pay, challenging the mezcaleros to move beyond their flavor comfort  zone and tradition, and well, you get the picture of a wonderful long afternoon. At some point I'll be able to go through the notes and put those ramblings to paper.
But the mezcal – if you haven't already had the chance to give it a try, they produce some pretty incredible stuff and are playing around with some new ones as well. Tasting some Espadins side by side – from their very first batch on, it is quite the trajectory of flavor. For anyone who ever says, oh, that is just an Espadin, well shame, because the variety and complexity of this maguey is pretty extreme.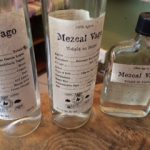 Also tasting side by side three Tobalas was also pretty interesting and again pointed to how much is determined by terrior, water, and distillation and storing – clay/copper/glass.
It is impossible to name stand outs – Madrecuixe, Tepestate, Mexicano, Sierra Negra (with 10% Espadin) – all compete equally and really just depend on the personal palette of the drinker. Me, I still want to go for the Elote every time because nothing quite puts the flavor memory of Mexico into a bottle quite like that one, and presents equally the vital role both maiz and maguey play in life down here.
I am looking forward to a trek out to Candelaria Yegole next week to see the full operation and of course what further hours of conversation will unveil.