This post is part of a series where I'm cooking recipes from some of the Mexican cookbooks released this and last year, in the hopes that we'll make your quarantine cooking a little more fun. Check out part one on Danny Mena's Made in Mexico.
I took my parents to Fauna, Chef David Castro Hussong's restaurant in the Valle de Guadalupe about a year ago and my mom still talks about going back with the tone of nostalgia one would have toward their honeymoon. When David appeared in Mexico's Food & Wine best new chefs issue last year she was thrilled. The Valley in general is the kind of place that does that to you— it makes you an immediate fan. Because there is nowhere like this: mountains covered in boulders give way to vineyards and rustic-chic restaurants tucked off dirt roads where chefs pull ingredients from the region's two coasts and ranches, and from their own multi-cultural influences as sons and daughters of a border state. A lot of the cooking happens outdoors ranch-style and plates arrive paired with a crazy diversity of wine varietals. The cooking and the winemaking is as rooted to the land as it is to that wild-west spirit of creativity.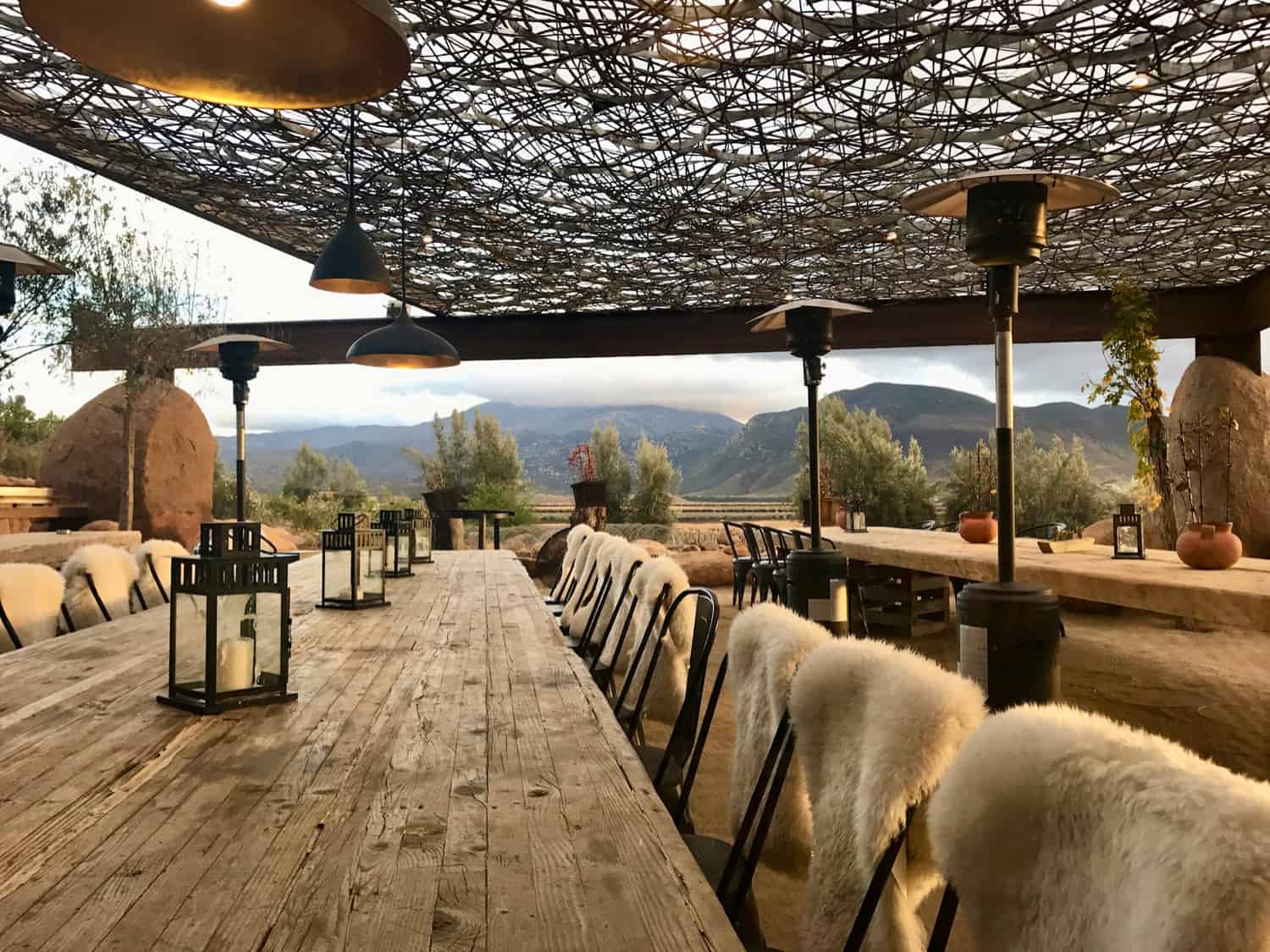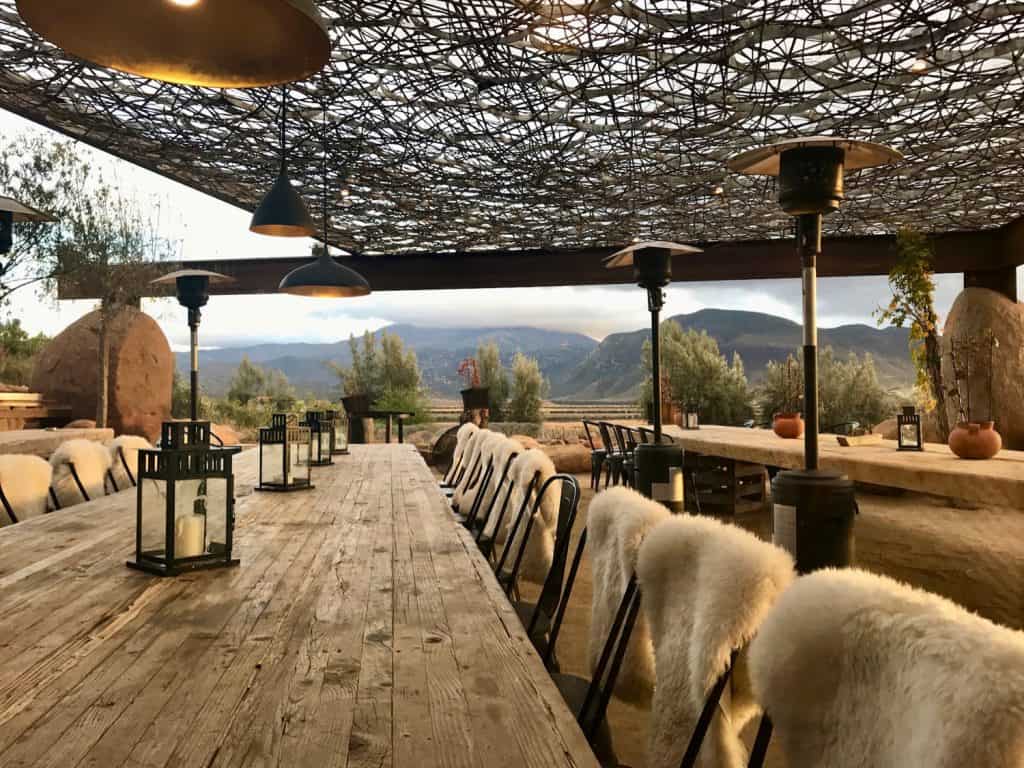 I think as a native Californian I immediately identified with that duality the first time I went to the Valley, and so did my parents. It makes it even easier to sink into your chair with your glass of rosé after a barbacoa breakfast and feel comfortable— much more so than in the pretentious wineries of elsewhere.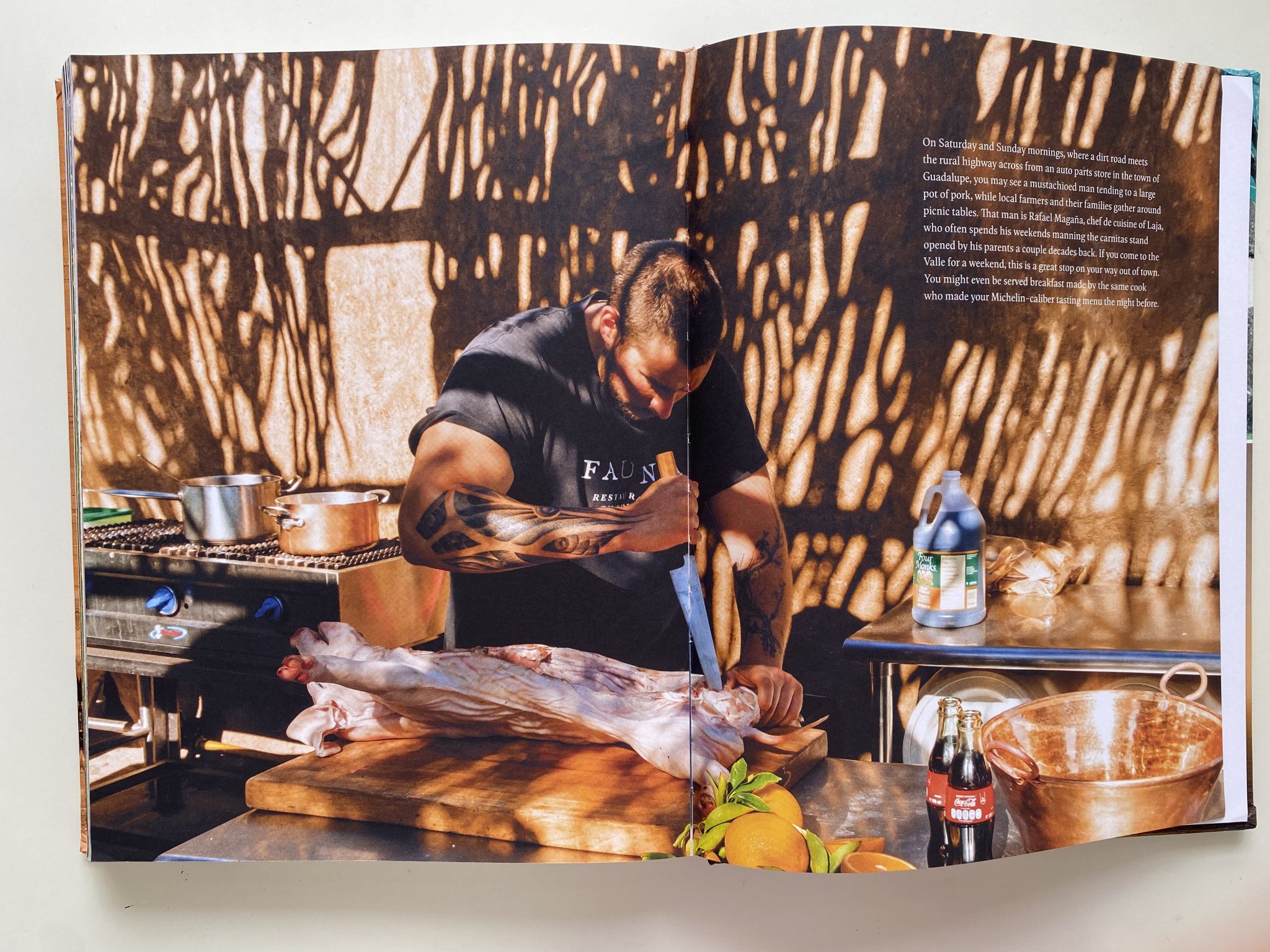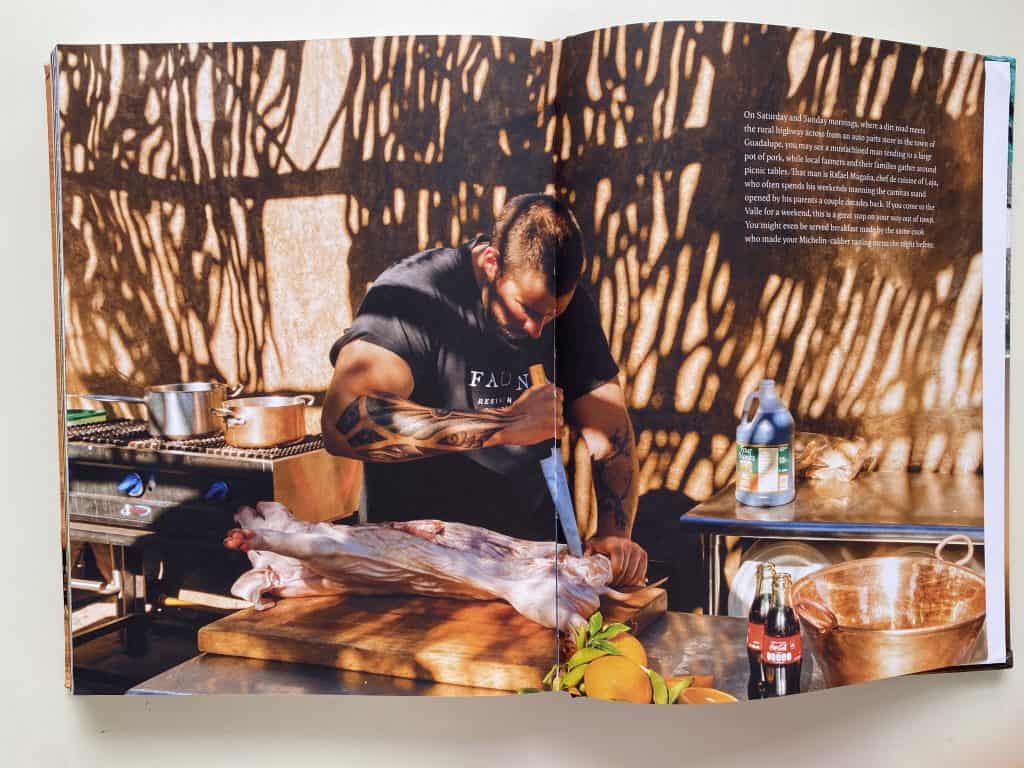 Fauna sits at the end of the valley, opposite from Ensenada's coastline, off the highway as it curves towards Tecate. The restaurant made a big splash when it opened. "It's ok, I know you just want to have lunch at Fauna," said one chef jokingly when Fauna debuted and I stopped by his restaurant just for a light snack in the morning. I think part of that is because it perfectly encapsulates the wow-factor of the Valle de Guadalupe. A communal table spans the entire dining room out into the patio overlooking the valley. The open kitchen reveals glimmers of copper kitchenware and turquoise tiling. Lounge furniture invites guests to sit underneath the sunflowers of the restaurant garden. And the food and wine menu, and of course the garrafon of house mezcal is reflective of David's family and personal history. So is his book, "The Baja California Cookbook," co-written with Jay Porter, a writer and former restaurant operator based in Oakland.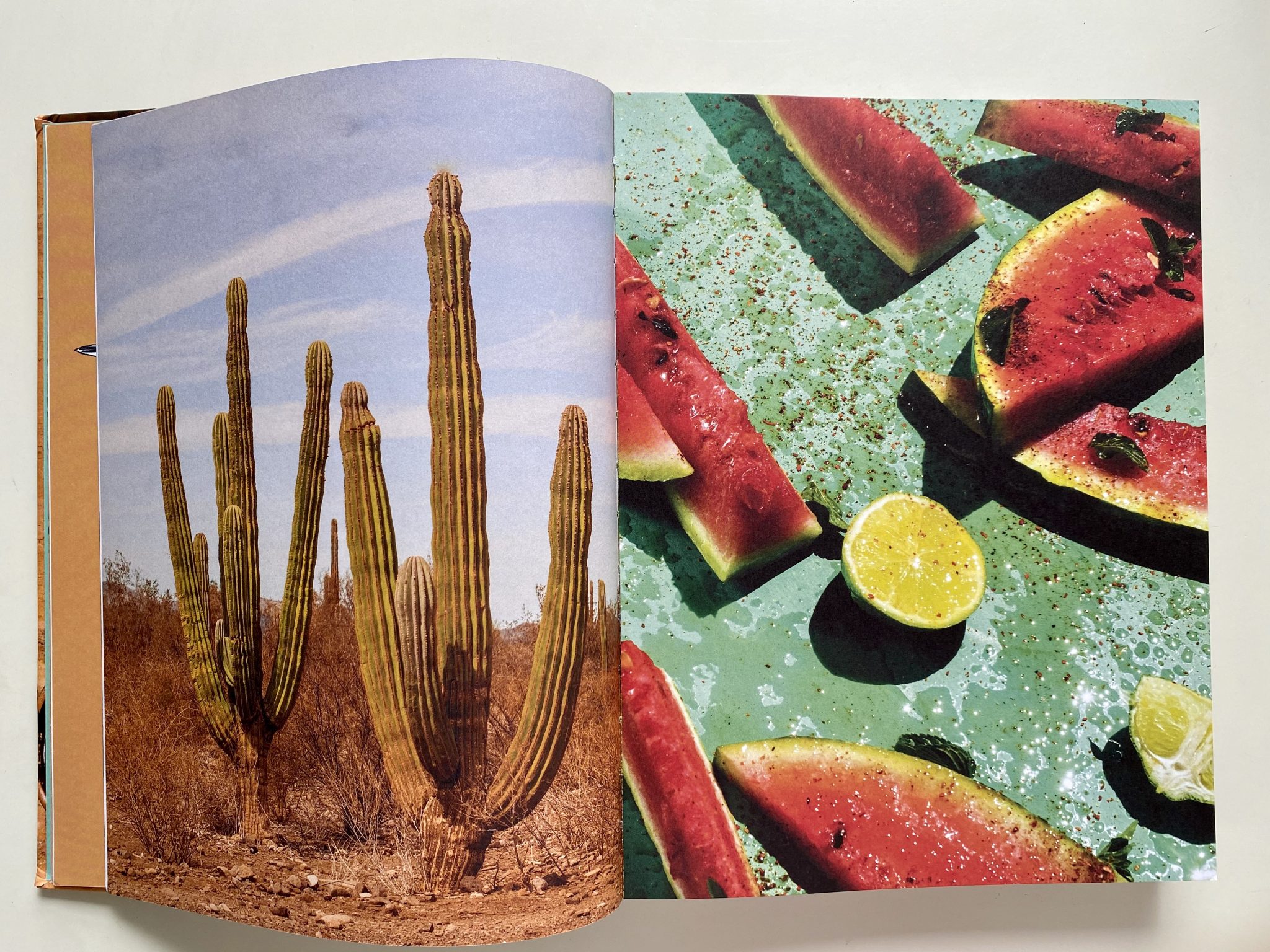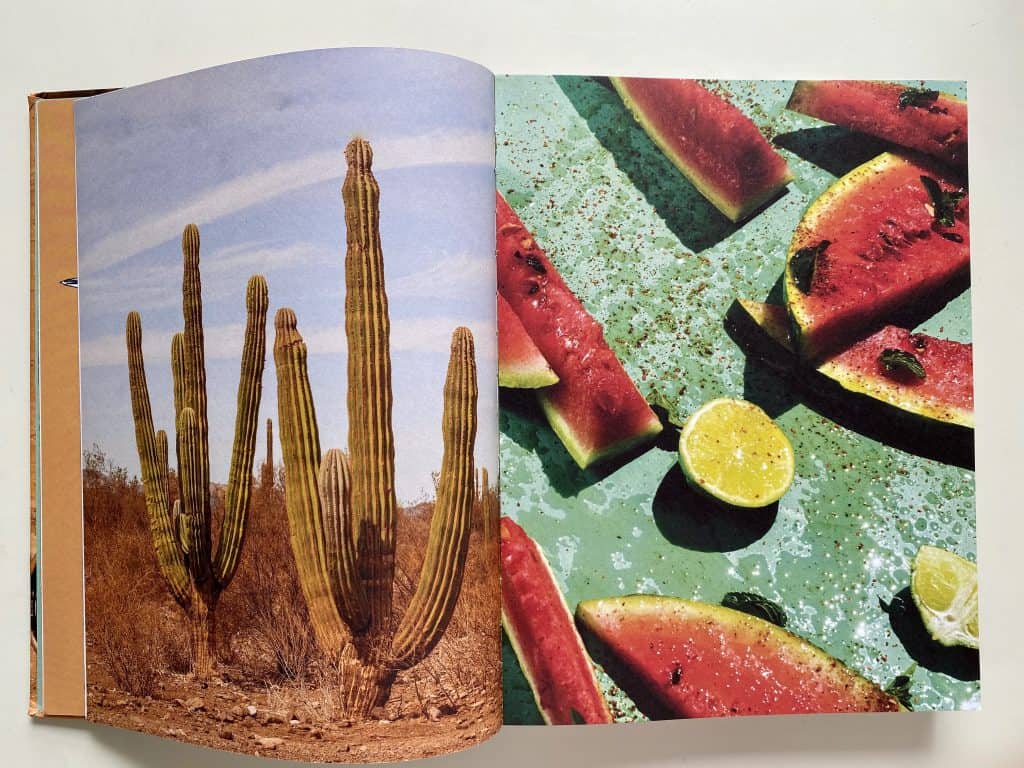 David comes from a long line of Baja bar operators and seafood purveyors on his mother's side, and ranchers on his father's side. He returned to Baja to open Fauna after stints in a few of the top five "World's Best Restaurants" and a period in San Francisco (if you came to Mexico in a Bottle SF a few years back you may have met him while representing Cala). The stories in his book remind me of all my other friends from Ensenada and Tijuana who became chefs: interacting with the sea, wineries, and ranches is part of their upbringing, if not their own family tradition. These kids foraged for sea urchin like we played kickball in Berkeley.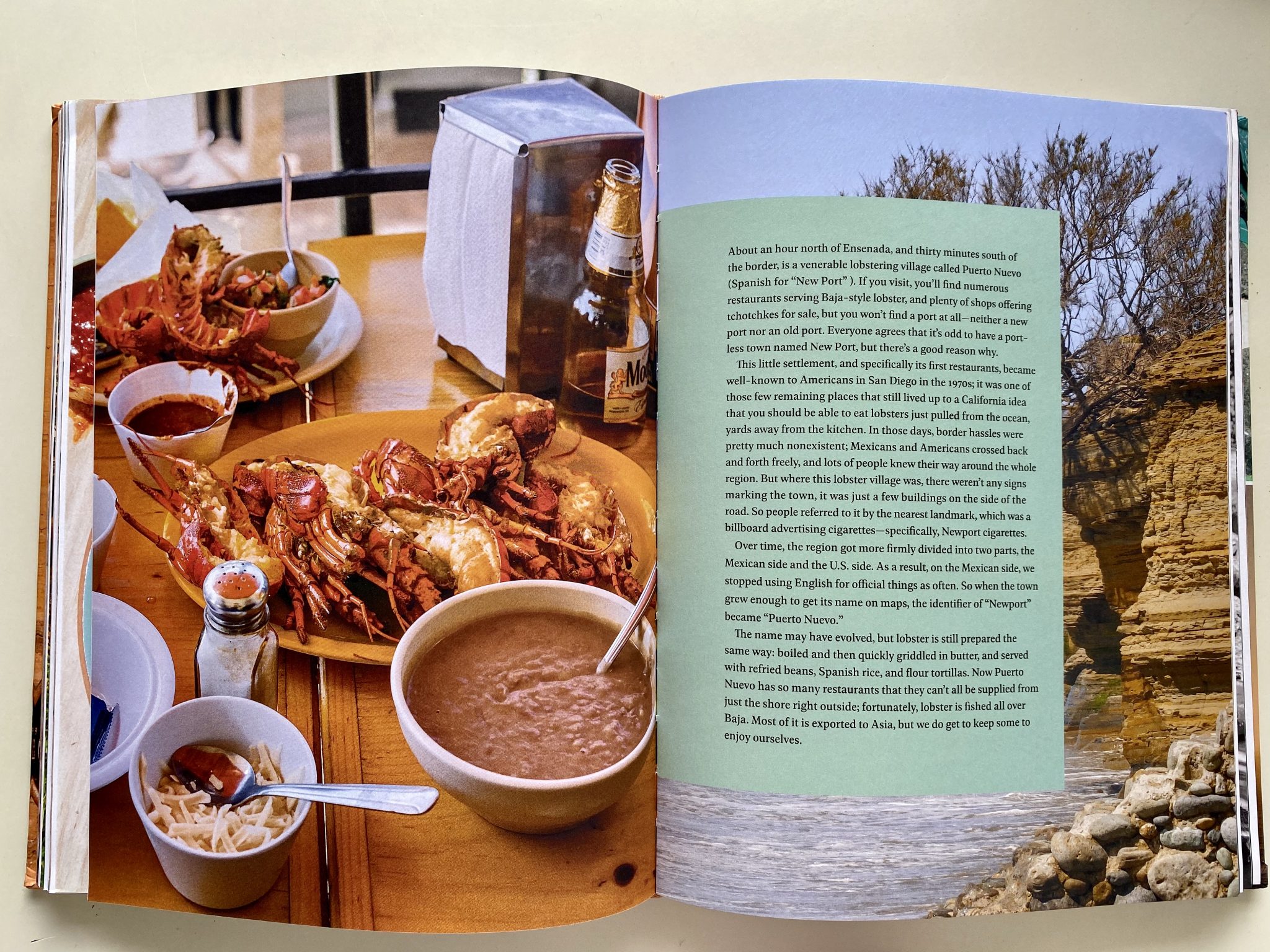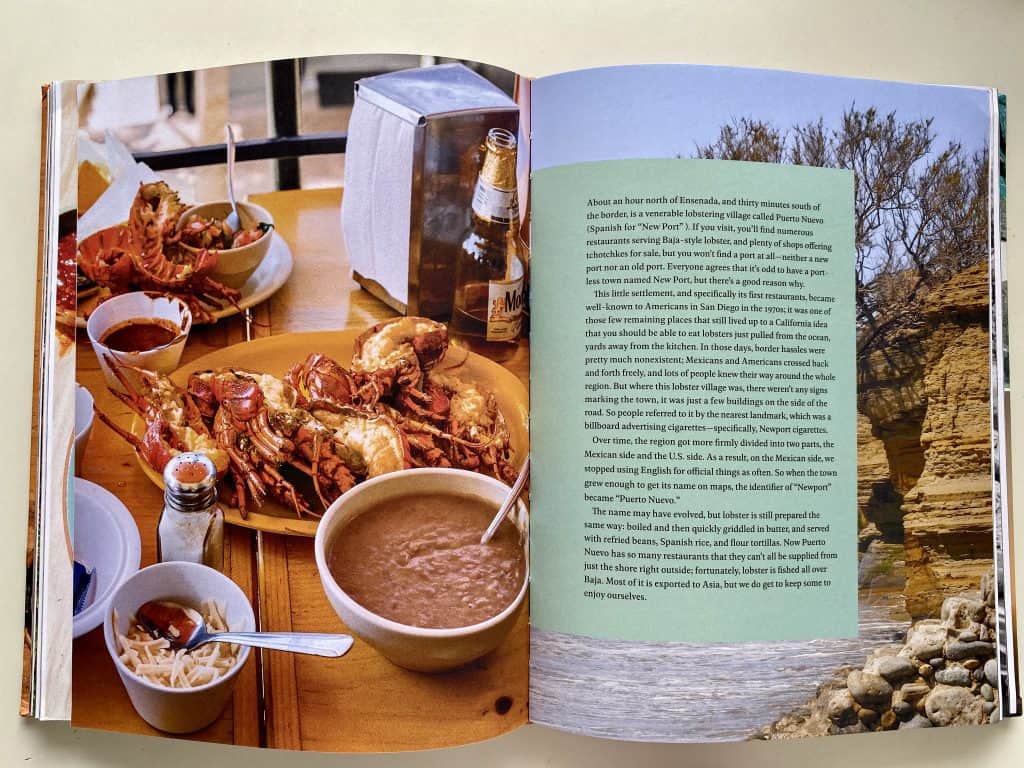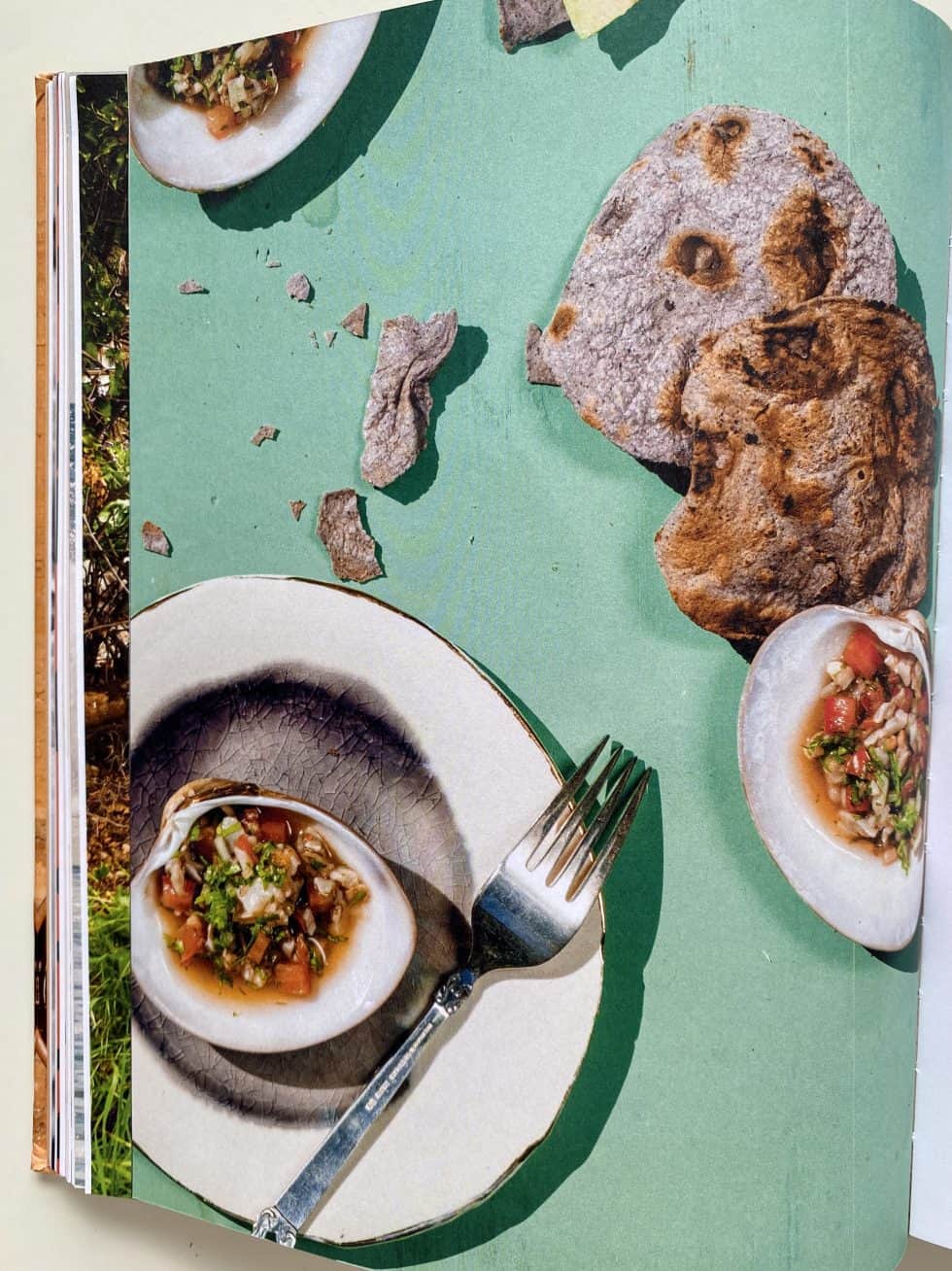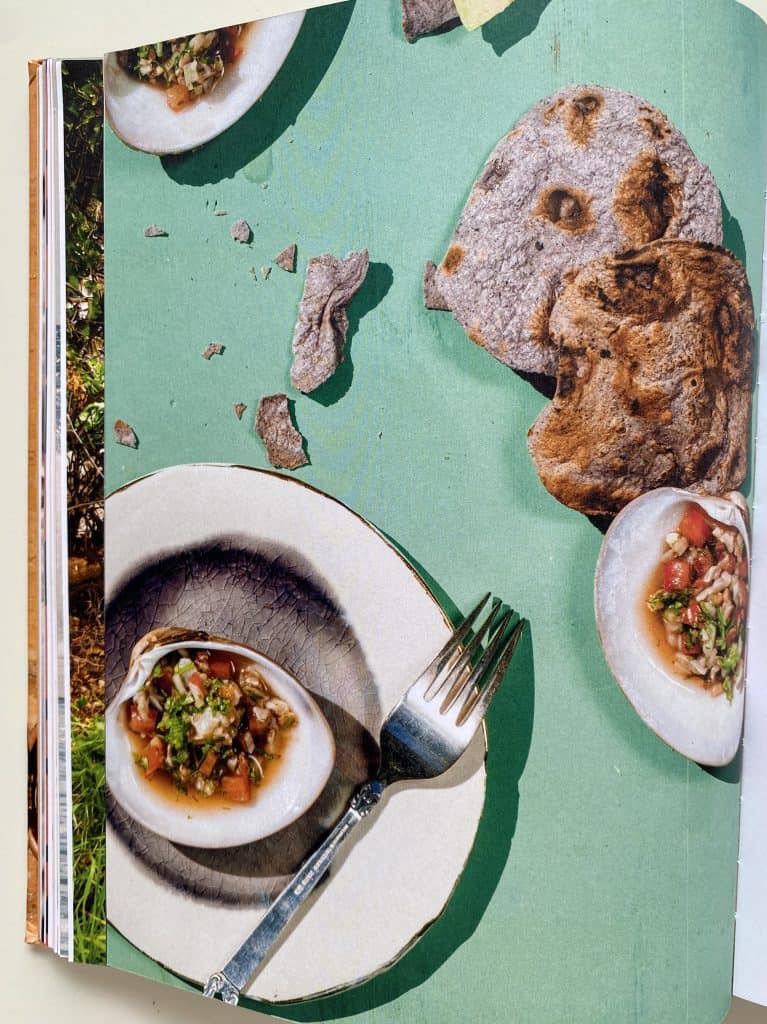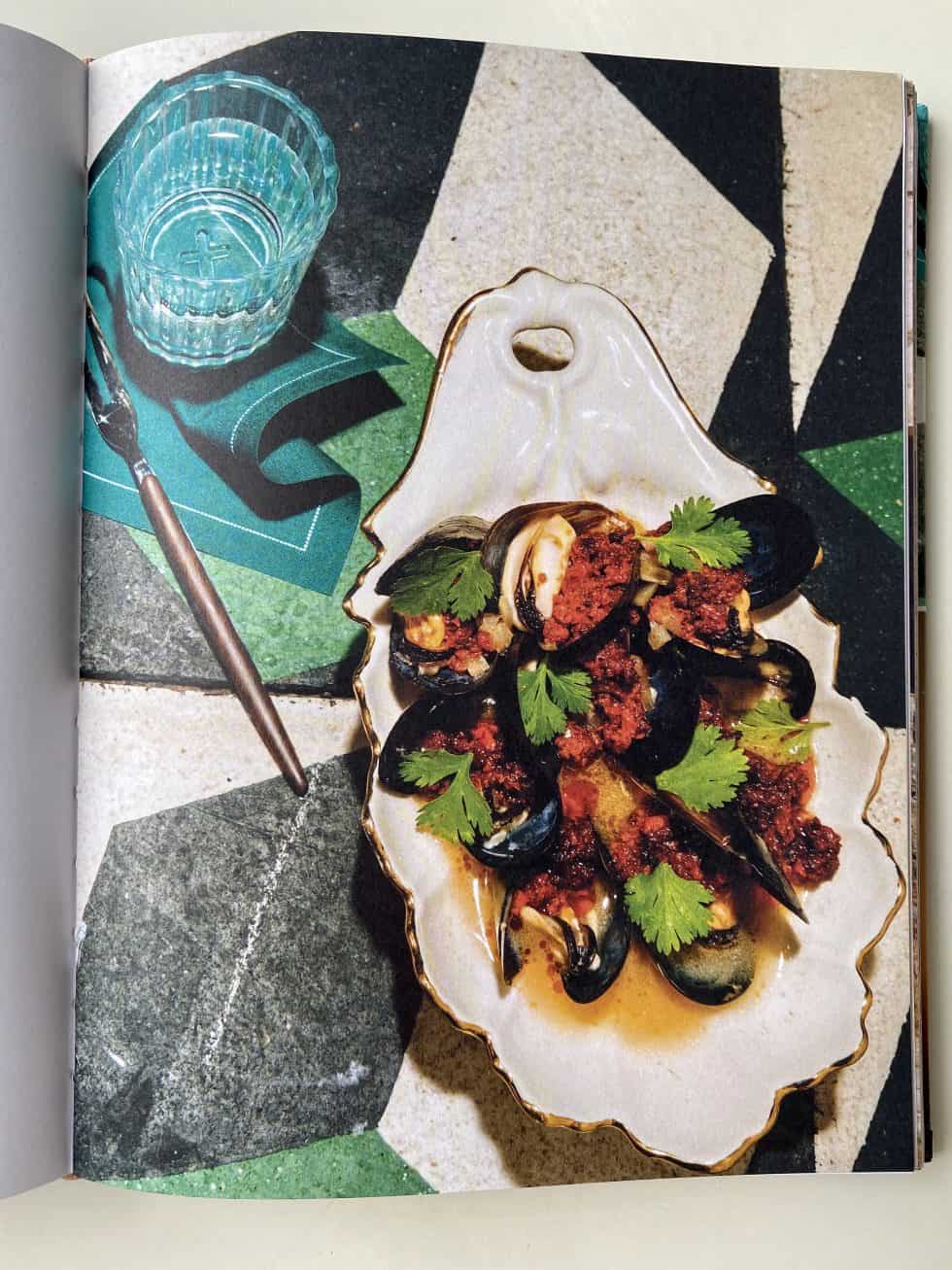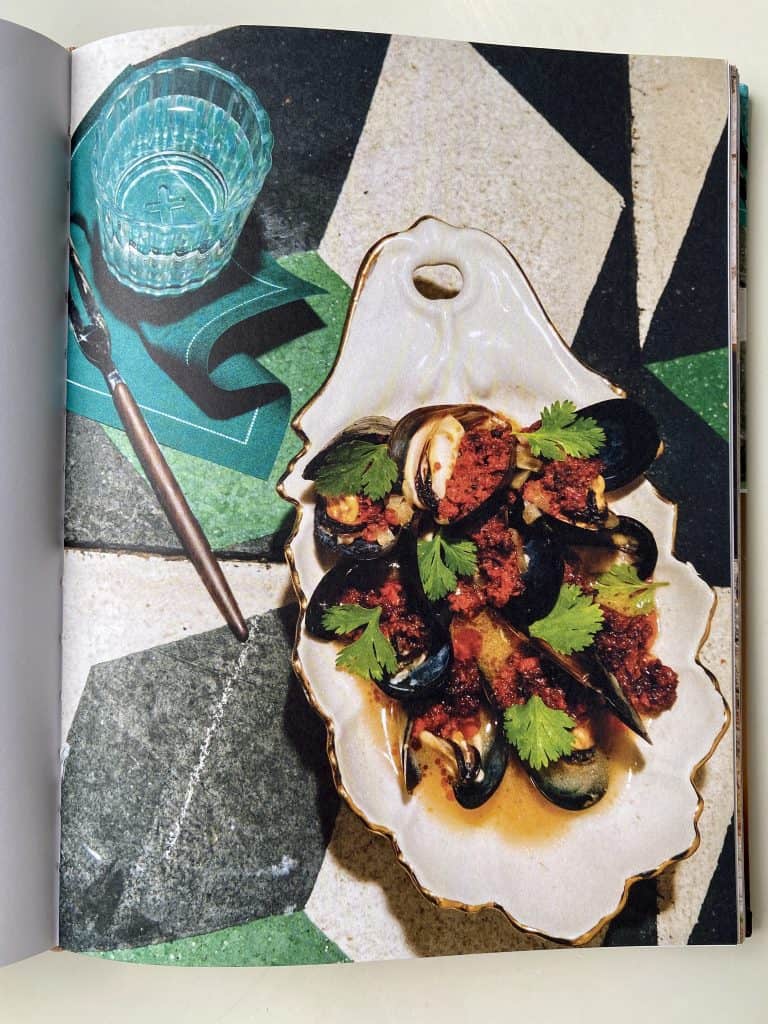 This book celebrates that culture and is broken up by dishes from the ranch, the sea, and the wine country with some dessert recipes from Fauna's pastry chef and David's wife Maribel Aldaco. It's a lot of "California cooking" in which the ingredients are left to shine, mixed in with street food, and some of the dreamy combinations you find at restaurants in the valley. In between, there's some great history of the region, beautiful photographs and shout-outs to other neighborhood kids who have grown into chefs and winemakers as well.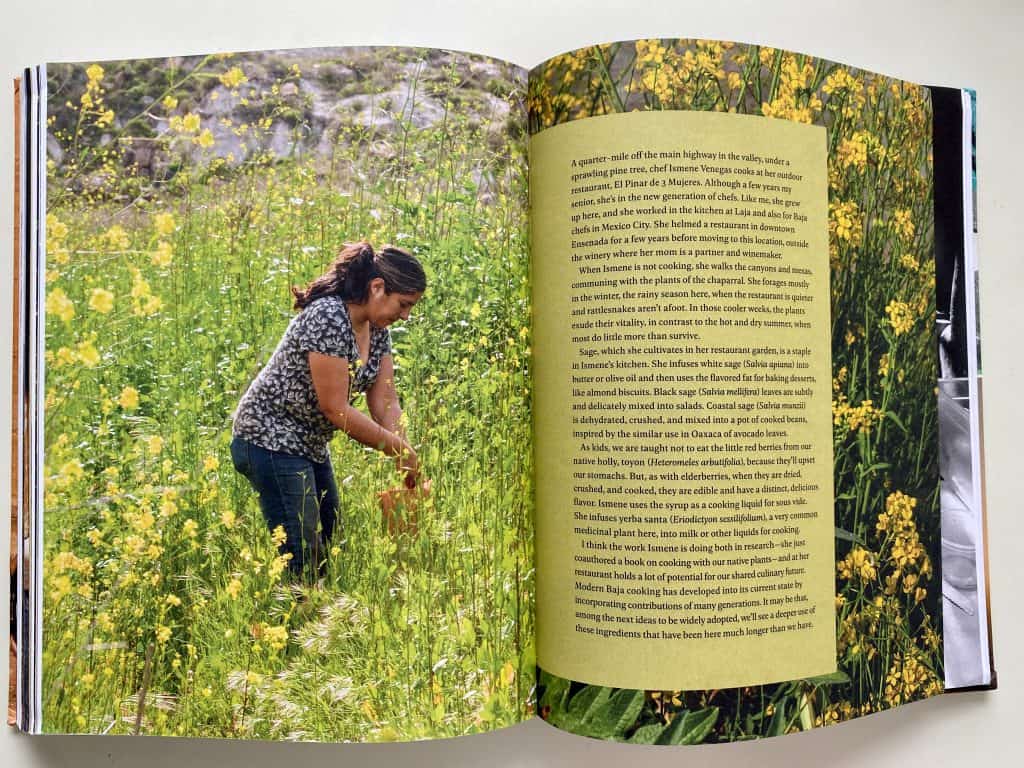 Recipes
As explained in the book, when the Spanish first colonized the area they also brought their agriculture and ranching traditions with them: cattle, wheat, olives, grapes. etc. Make no mistake, these farming implementations were also ways to control the indigenous populations and had serious repercussions on the environment as well. Today, we still see those same crops and animals being cultivated.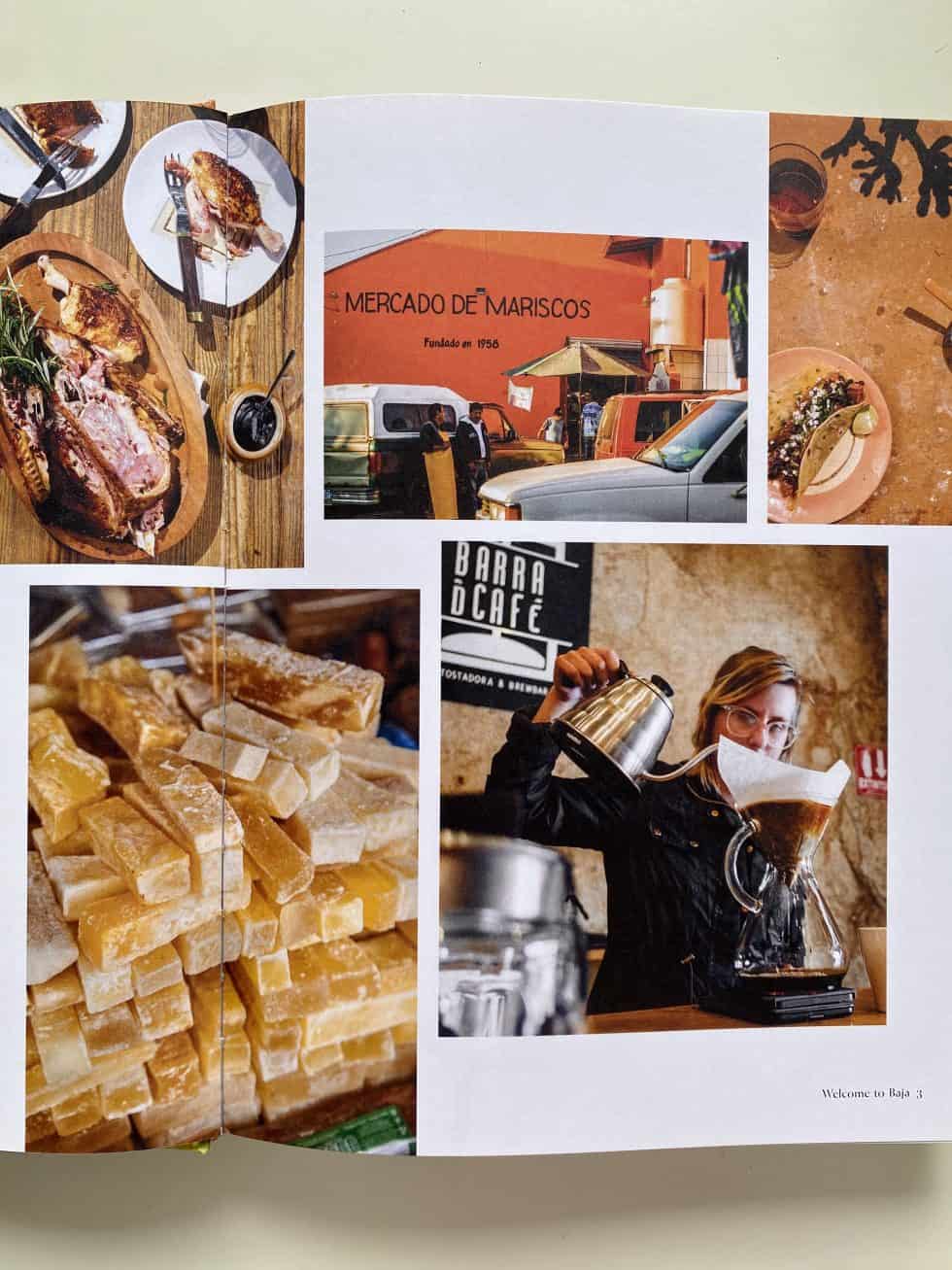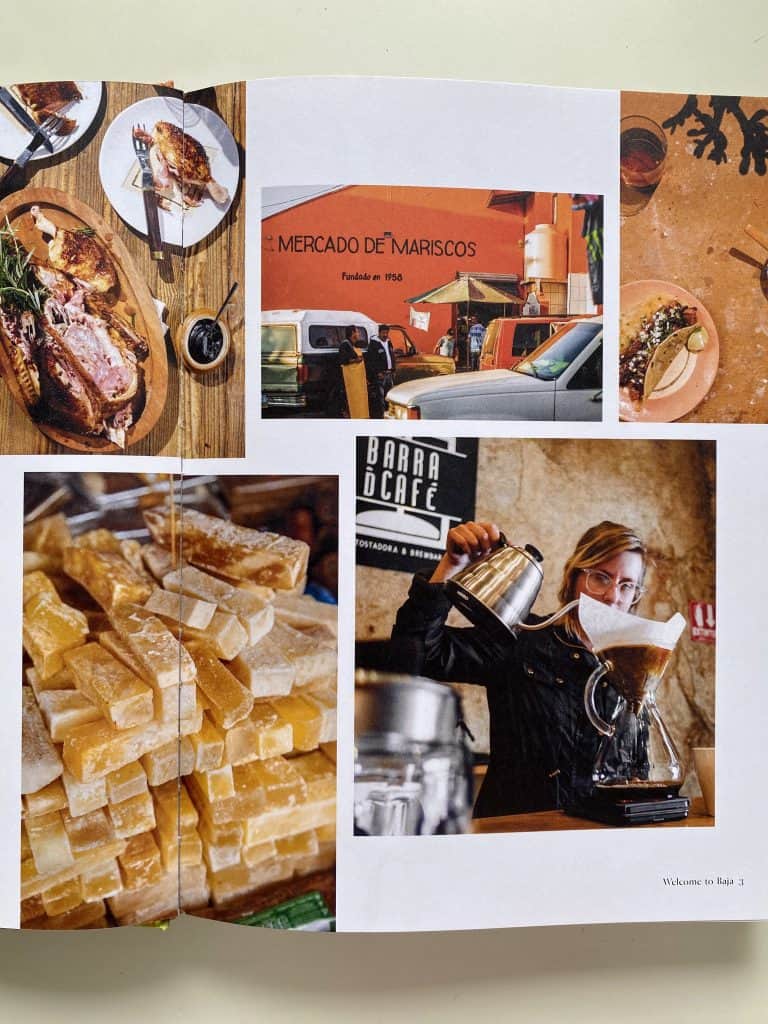 David's father and grandfather were ranchers and the first recipe in the book is an homage to barbacoa, the outside slow-cooking over fire often associated with mainland Mexico, but a tradition in ranching communities in greater California for hundreds of years. During winter in the Sierra he and his father would cook their lamb inside in a pot on the stove. Since the lamb was raised well, it didn't need much to flavor it. A perfect dish for quarantine cooking. I bought some lamb leg at the farmers market, and followed his instructions to throw it in a dutch oven with garlic, onion and salt and braised it for eight hours. It was delicious and I've used the broth for other dishes.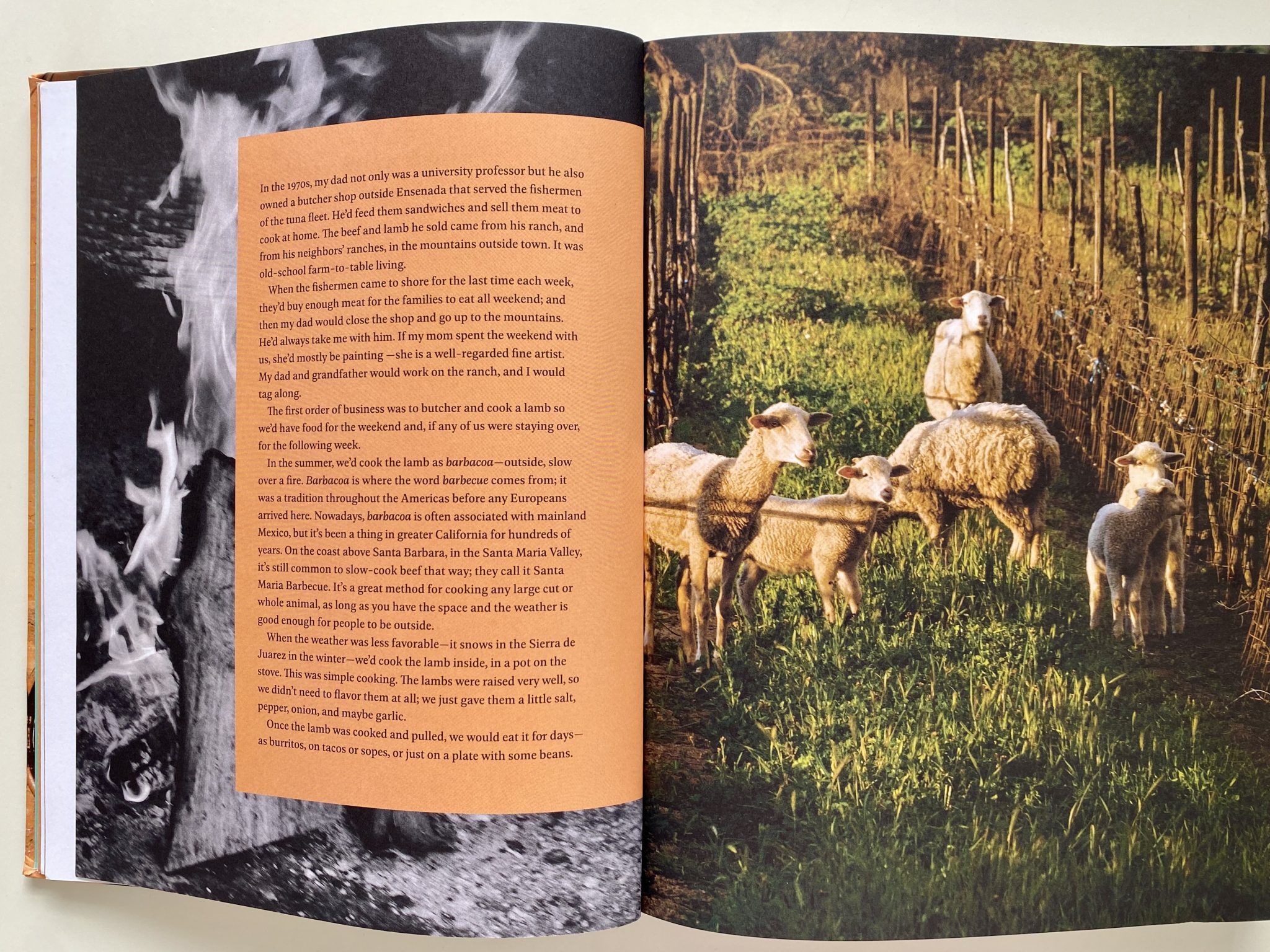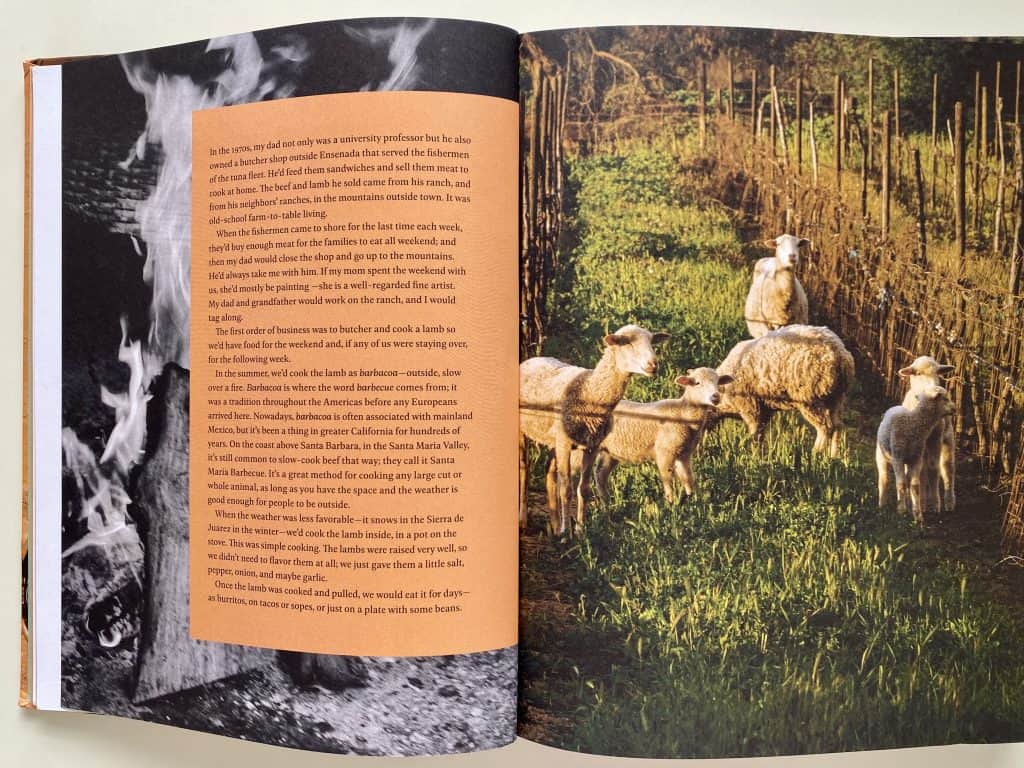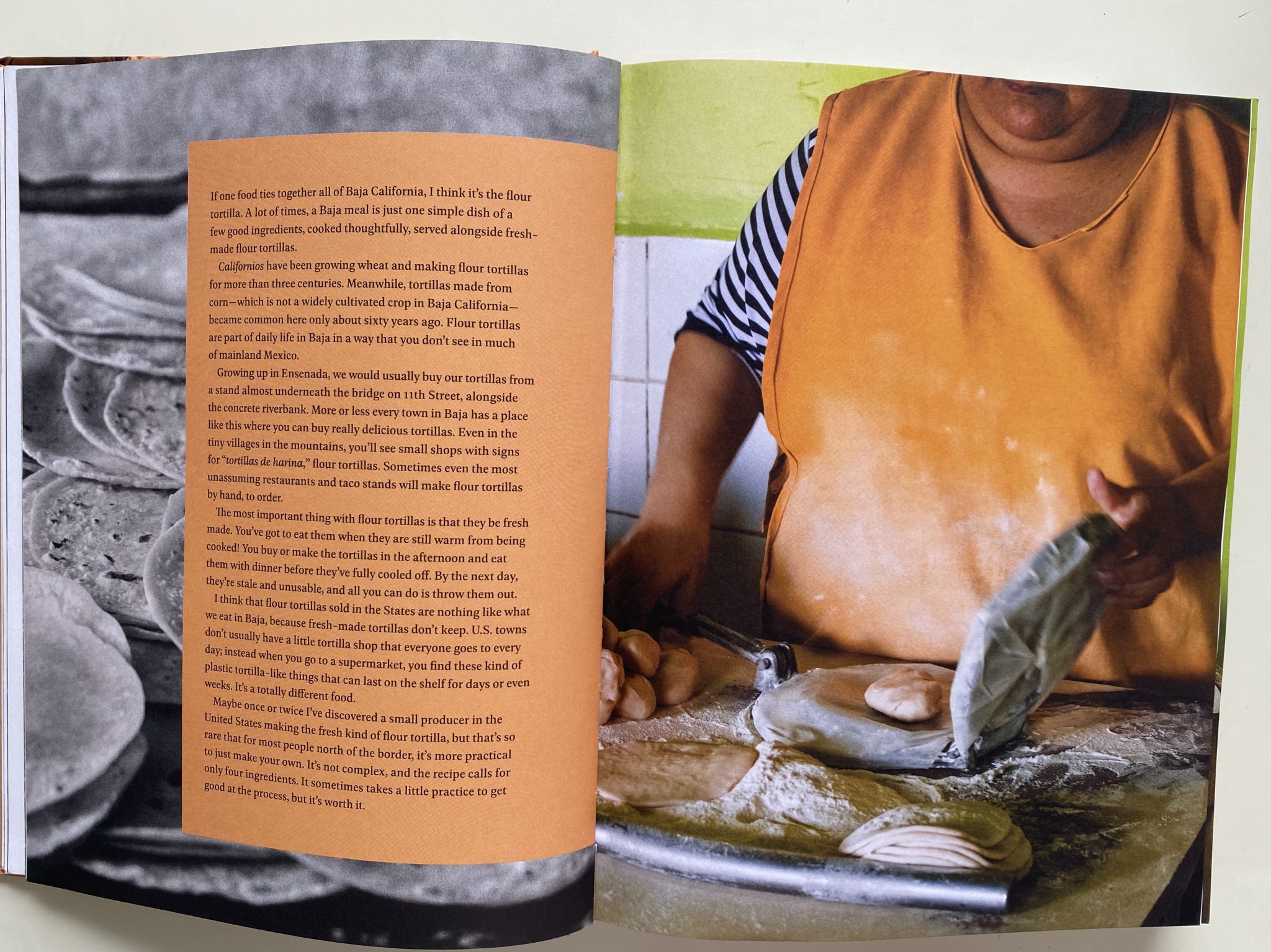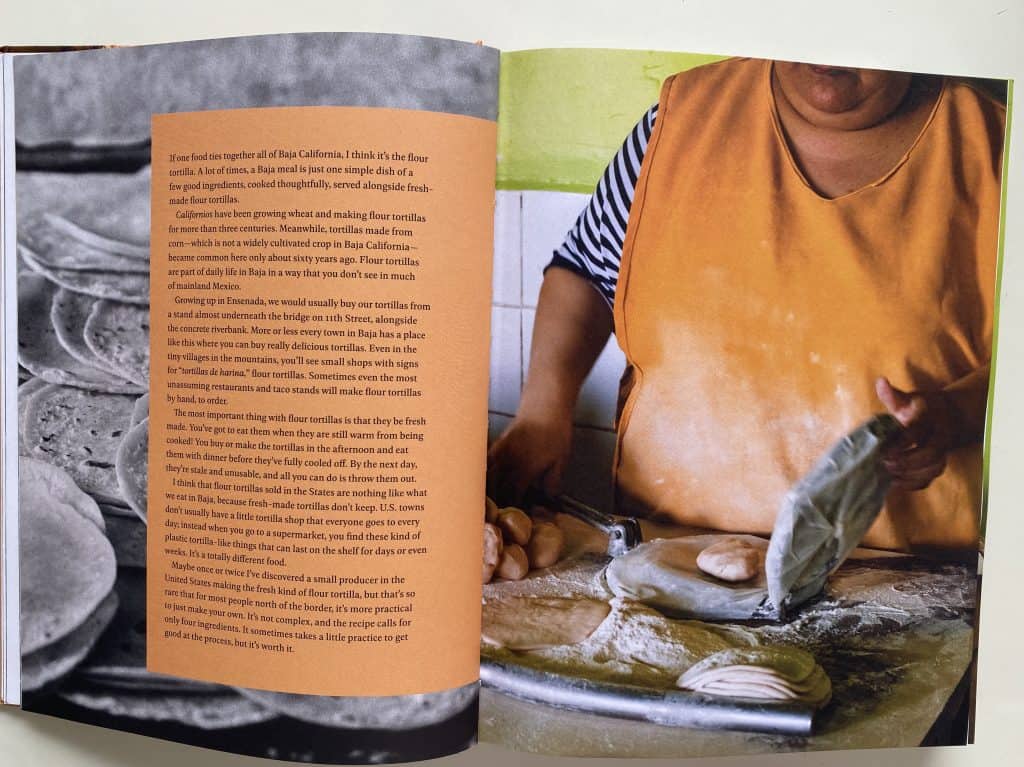 To pair with that, I made my first attempt at flour tortillas. While at most Valle restaurants you'll find the same care for heirloom corn and quality masa as you'd find in other mainland Mexican restaurants, four tortillas have a deeper history here. The indigenous in this area did not cultivate corn, acorns were made into a preservable atole that was used to accompany dishes like bread or tortillas. The best part is you only need four ingredients for these flour tortillas: flour, fat, salt, and hot water. I found that my dough required about a quarter less water and oil than the recipe called for, but as the recipe says each fat and type of flour has its own behavior. I used what I had: regular flour and vegetable oil and after experimenting with different resting times and proportions got to a tortilla of perfect golden brown spots and nearly see-through texture.
I also made black beans and his recipe for tomatillo/avocado salsa, which again, if you can find tomatillos at your local bodega like I could, you mostly need avocado and cilantro to add some brightness to your plates. (Tip: you can store cilantro and other herbs in the freezer this way).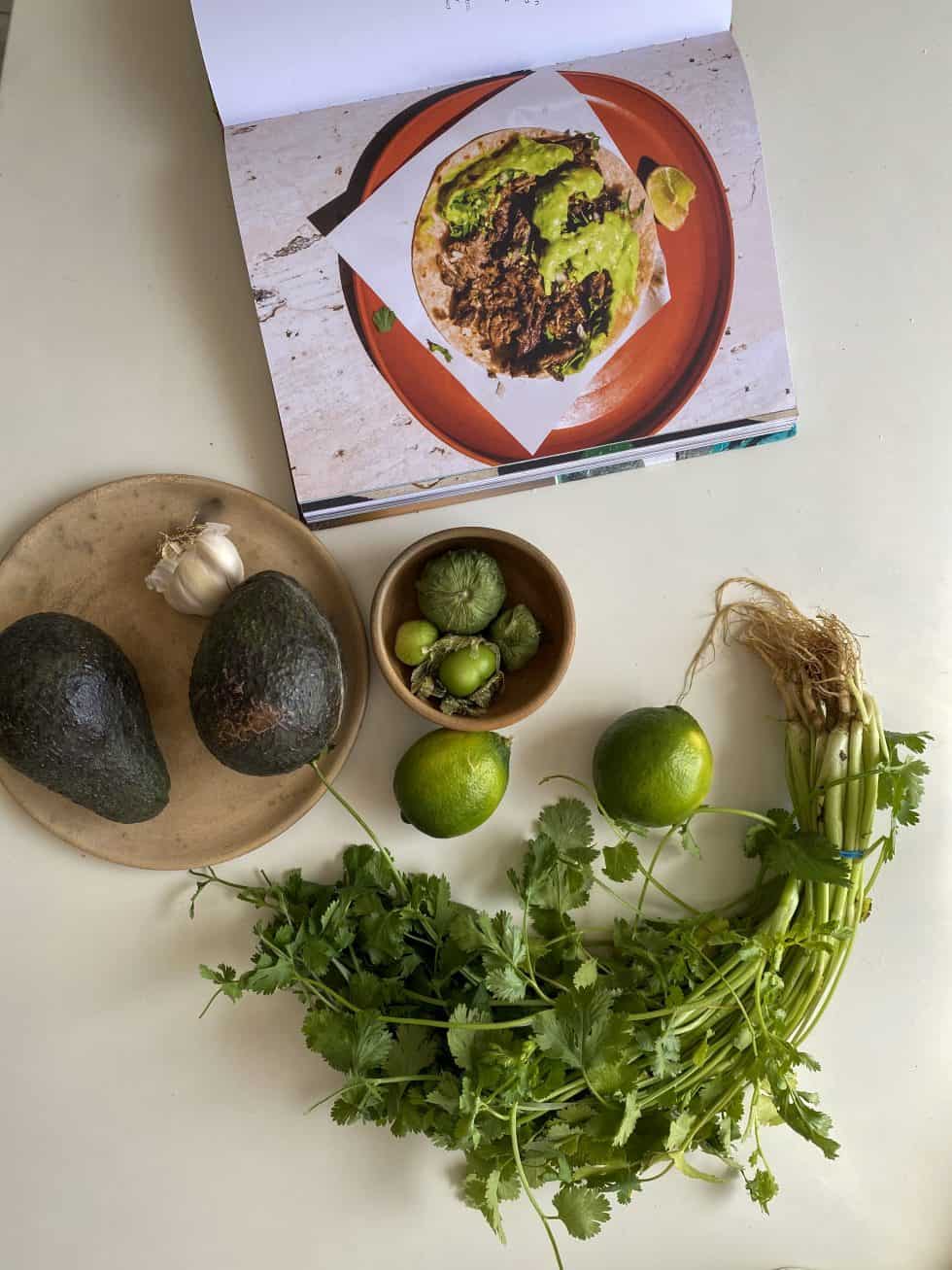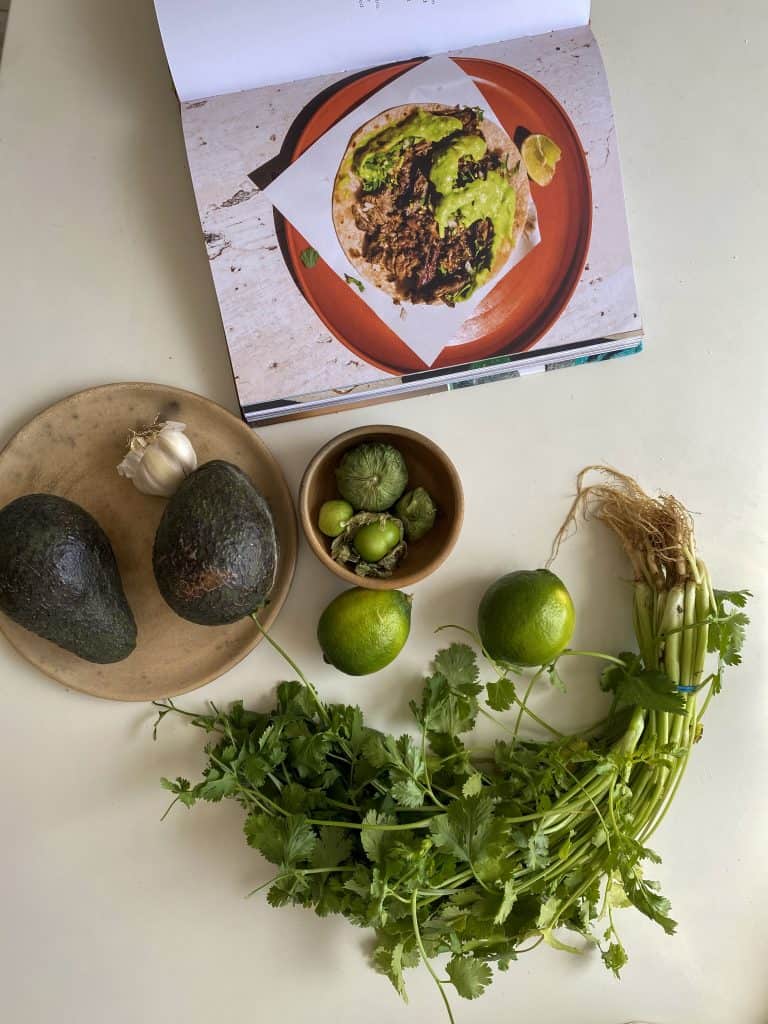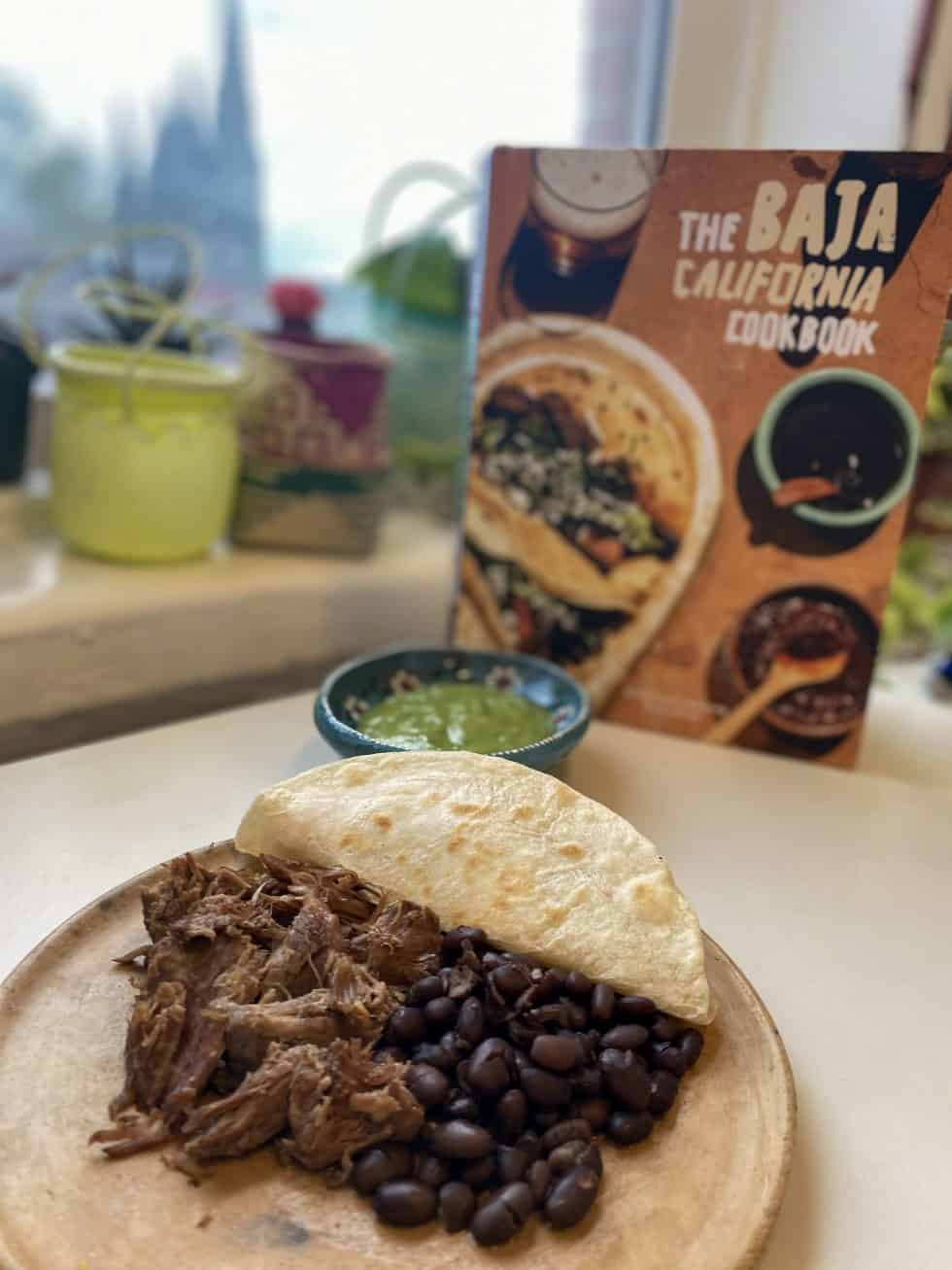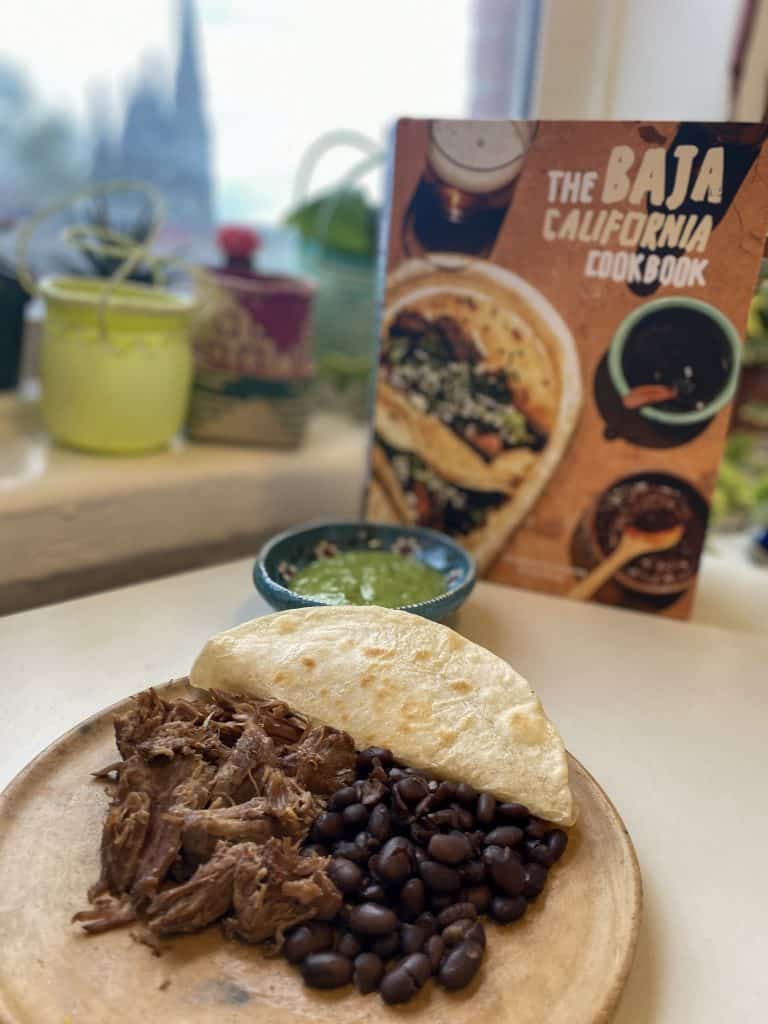 To pair with this, I went northern and grabbed a copita of peppery Sierreño from Lagrimas de Dolores.
Recipes are attached in photos below. Provecho!