On July 21st and 28th, the quaint neighborhood of Jalatlaco in Oaxaca, Mexico played host to two nights of a mezcal extravaganza called Mezcalaria. Each night paired four different mezcals with four different dishes. Our on the ground Mezcalista Ana J.B. was there.The original Spanish was translated by Alice Groves.
It's hard to believe that in the land of mezcal and food that this hadn't already happened – a night of four unique mezcals, paired with four unique dishes. But Mezcalaria was something brand new here in Oaxaca. Created by Sandra Ortiz, Ulises Torrentera and chef José Luis Díaz, with the express purpose of promoting small production, artisanal mezcals and talking about it rich cultural history and significance. The team worked with the following mezcalerias to select rare and hard to find mezcals: Los Amantes, Mezcaloteca, Cuish, and In Situ. They were joined by master mixologist Erick Rodriguez.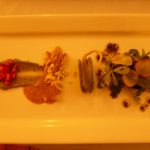 Chef Diaz of El Teatro Culinario rounded out the two nights by creating dishes that drew upon local ingredients and enhanced the flavors of each of the mezcals – drawing out their complexities and highlighting how closely linked the food and mezcal experience is.
Some details on the pairings for the first night evening:
We were greeted at our tables with an hors d'oeuvres called Amuse Bouche – a squash flour stuffed with honey and requesón, a rich ricotta-like Oaxacan cheese, served on a hand made corn tostada.  It was an exquisite taste, delightfully creamy and sweet.
1st pairing
Mezcal: Penc verde
Agave: Penc Verde
Producer: Farolito
Selected by Ulises Torrentera
Produced in San Pedro Totomochapam
Special Edition – 50 liter production
The Penc Verde is a rare wild maguey that requires 12 years to mature.
1st plate:  tepejilote (like heart of palm and very regional), quintoniles y verdologas (local Oaxacan leafy herbs) with salsa de chile guajillo.
The mezcal had an explosive yet woody flavor and its consistency paired perfectly with the flavors of the salad and salsa, leaving your palate wanting more of its unique, herbaceous taste.
The combination of sipping mezcal and nibbling on food naturally causes one's body and soul to slowly relax. The simultaneously calming, yet boisterous ambiance, further allowed our senses to open and better distinguish the aromas and flavors to come. The energy was contagious and we were all excited and anxious to know what would come next. Diego, my friendly table neighbor seated to my right, and I were completely enveloped by the good vibes and ready for more.
2nd pairing
Mezcal:  Rodacanta
Agave: Agave Mexicano
Producer: Los Amantes
Selected by: Leon Langle
Produced by: Yogama, Ejutla
2nd plate:  Tasajo marinated in chili peppers and lime with slices of cuajinicuil, a sweet, tropical fruit, native to Oaxaca's coast, neatly placed over a bed of salsa of chili guajillo.
I would never have imagined enjoying this combination, something completely different from anything I have ever experienced in Oaxaca (we don't usually combine meat and fruit here), but found it to be quite gratifying. After all, this was an evening of experimentation.
3rd pairing
Mezcal: Ensemble
Agave: 70% Espadin and 30% Madre cuish
Producer: Cuish
Selected by: Felix Hernandez
Produced in: San Isidro, Yautepec
3rd plate:  Shrimp topped with Oaxacan chorizo accompanied by refried beans and hierba de conejo (another herb native to Oaxaca), sprinkled with charred onions and slices of chile verde.
This was another combination I would have never thought of in my wildest dreams that went down with ease.
At this point we were graced with the expertise of mixologist Erick Rodriguez of Alma Mezcalara in Mexico City who refreshed our throats with a cocktail of basil, pineapple and mezcal.  This was very refreshing and we recommend it highly. The mezcal cocktail culture is new to us Oaxacans– we have a long history of drinking it neat so it was a very pleasant surprise.
I found myself so elated by the combination of flavors I have known all my life but in a way I had never tasted giving me the feeling that I would finish this tasting feeling like a Oaxacan who is no longer from Oaxaca.
4th pairing
Mezcal:  Arroqueño
Agave: Arroqueño
Producer: Mezcaloteca
Selected by: Mezcaloteca
Produced in: Santa Catarina Minas
The Arroqueño maguey takes 18 years to mature. It's wild, reasonably rare and one of the more prized agaves. It was crushed by hand, rather than by the usual tahona stone mill.
Dessert:  Truffle of chocolate flavored yolk bread drizzled with basil cream and a chile guajillo reduction.
The desert was exotic – refreshing and spicy and not too sweet. It paired perfectly with the very bold mezcal, and the combination of the flavors balanced perfectly.
My hope in going to this event was to discover new flavors and combinations. They were all distinct and unique, and a real pleasure to try.  The idea of educating via a pairing of traditional food ingredients and mezcal is a truly welcoming and special way to learn.