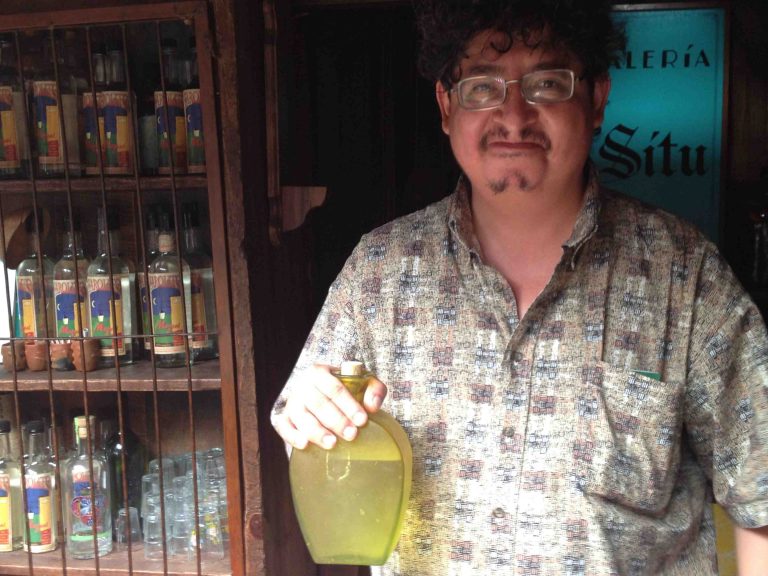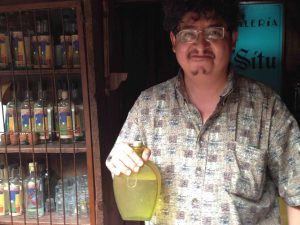 I was excited to learn that a little mezcaleria had opened inside of one of my favorite bars in Oaxaca – Txalaparta. The mezcaleria is only open during the day from 1 to 7pm but it's an extraordinary addition to the world of mezcal because it is run by Ulises Torrentera, the writer and author of several books and essays about mezcal. He is also somewhat of a personal mezcal hero for me – his writing captures not only his incredible knowledge of mezcal, but also his extraordinary literary voice. He tells the stories of mezcal that so perfectly reflect the life, culture and love that is so much a part of the mezcal story.
So I was nervous to say the least, and it was hot, and I had a bit of a headache from the night before (beer/mezcal – never a good combination) and my Spanish was feeling pretty rough.
How do you even begin to capture an afternoon of meandering conversation? You can have a list of questions on you but sometimes you just end up going on more of a journey, letting the discussion flow how it will. Ulises was behind the bar with his partner, Sandra.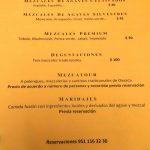 Ulises's menu lists a variety of mezcals and currently features a new brand that Ulises and Sandra have developed called Farolito. It is all small batch, artisanal (will get to that in a bit), and composed of magueys I have never had before. We started with the Chato de Suchiltepec – a full bodied, 47% bottle, that blew my socks off. The flavor exploded up front on my tongue and then melted down my throat carrying such complexity.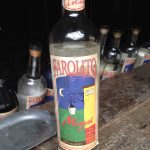 And this led to the question of how you describe the flavor and experience of mezcal? I have always been challenged by this and, to be honest, I have struggled with the perception of snobbery in the vocabulary of wine and tequila.
As Ulises put it: When the flavors change across mezcals of a specific maguey – when you can't define the flavor profile of a Tobalá, for example, because even within a maguey the flavor is dependent on where it is from (interestingly, there is no word for terroir in Spanish), what altitude it's grown at, the hand of the palenquero who made the mezcal and other intangibles. There are hundreds and hundreds of mezcals in Oaxaca and not one is like the other – how can you build a vocabulary for this? Creating a vocabulary may not be a completely Quixotic adventure, it's just that no one has really done it yet.
And so we talked about how tasting mezcal can conjure a specific memory like a wedding, or remind you of the sun setting over the mountain or of a mole you tasted in a pueblo. That's why the current trend of industrializing the process, to make the flavor consistent, is just so damn sad and an anathema to what mezcal is.
Next up on the taste – Cuesh from San Juan del Rio which again exploded in my mouth. It opened my nasal passage and brought the front of my face alive. And then it finished so smooth and reminded me of a drive I took with my grandfather one fall afternoon on a winding road through the hollows of western Maryland, and how the sun dappled through the leaf laden oak and maple trees.
Then I asked him what artisanal mezcal was to him and he came up with the clearest explanation I have yet heard. Artisanal mezcal is made by one palenquero at one Palenque utilizing the process of roast, crush, ferment and distill that has been used for more than 400 years. Traditional mezcal is made the artisanal way, but involves more than one Palenque and palenquero for the final product. Semi-industrial utilizes some aspect of traditional production, but then has modernized or mechanized part of the process. Industrial is well, completely industrial and does not use any traditional methods. I hope these are the guiding definitions going forward. For my own purposes, I fully embrace these descriptions and this is what I now mean when I use the words.
Another question came up regarding NOM-186's impact in Mexico. Anyone who supports small-scale production and producers sees it as the death knell for the truly artisanal approach to mezcal and Ulises is no exception. There is a great deal of opposition to it here in Oaxaca, and in Mexico overal.   The discussion will be long and there will be no resolution anytime soon. In the interim there has been an explosion of brands of mezcals. This is driving huge changes in the market. In the past, people bought barrels directly from palenqueros.  Restaurants and bars have mezcals of the house, which are also bought in barrels directly from palenques.  The growth of brands started in 2000 when the official denomination for mezcal was born.
And again, this led to the talk about the wild magueys (silvestres) and the over harvesting and the demand – something that has been increasing for several years. A lot of it started during the tequila crisis in the early 2000's when there was a shortage of blue agave and producers in Jalisco began buying espadin and wild magueys to create a Tequilera, a blended tequila, to help keep production going. And now with more brands, more awareness, more demand for the silvestres, there is a tragic and growing danger of eradicating many of these magueys to meet the market demand.
Wild maguey can be cultivated, and some people are doing exactly that here in Oaxaca. Espadin is the most widely used maguey in mezcal because it is so easy to grow, and can pretty much grow anywhere. Wild magueys often have their own environmental  preferences that vary by elevation and other factors.  They also take 12 or more years to mature making the cultivation process a pretty expensive initial investment. So there is a bit of a gap right now until the cultivated silvestres really start producing, and thus the threat of over harvest remains. I am curious to see how much cultivation alters the flavors, and what kind of cross breeding we'll be seeing in the future.
The thing is, it is not just wild magueys that are a pending ecological problem – there is also the issue of deforestation. The increasing demand for wood for firing the distillation process is also having an impact. As Ulises pointed out, currently there is no association, or formal organization overseeing a reforestation or replanting project in Oaxaca. Hence there is interest in the gas fired distillation process, but a lingering question about how that changes a fundamental flavor component of mezcal (that roasted/smokey depth.)
Which of course meant tasting another mezcal – a Jabalí (another Silvestre variety) from Sola de Vega – a town on the highway to Puerto Escondido. This one was so green and fresh and reminded me of that long and windy road over the mountains, of going from the drier Oaxacan Valley to the very verdant and cool mountains that separate this area from the sea.
It is possible to fall in love with a beverage, to have it be a calling. This project by Ulises is certainly that and is a labor of love – to bring the immensely varying flavors of each maguey to people and tell the stories of the makers, to ensure the experience and culture of mezcal is not lost in the rush to market.
So how to reconcile this changing market for mezcal with support for the palenqueros and pueblos? How to make sure the market does not end up dominated by big brands like Zignum (owned by Coca Cola) and that the knowledge and know how of 500 years is not lost in a push for efficiency and continuity of flavor? How to protect the diversity of the magueys and protect the ecology in the face of increasing demand? And how to make sure that money and recognition do not stray too far from the system of palenques that exists? These are certainly the questions that should dominate the discussion of mezcal in the years to come.