El Jolgorio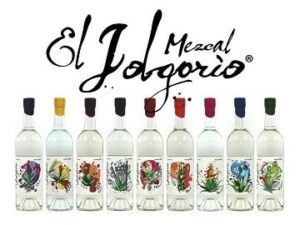 Traditional mezcal forms an important part of rituals, ceremonies and festivities—known as "jolgorios"—in the rural and indigenous Zapotec villages of Oaxaca, Mexico.
Created by the Cortés family, considered by many to be mezcal royalty, El Jolgorio is widely acknowledged as one of the finest collections of agave spirits available. The ever-changing lineup of mezcales represent the most rare expressions the family bottles: wild, semi-wild and cultivated agaves, rare pechuga distillations, and small batches rested in glass for three, six, or as much as eighteen years before release. The expressions in black bottles are legendary as our the annual and constantly changing production of Todos Santos in honor of Dia de los Muertos.
All the mezcales are traditionally cooked in earthen ovens, milled and finally open-air fermented in wooden vats ("tinas") before distillation using traditional copper pot stills. On every bottle is inscribed the species of agave, the year & age of harvest, the village of production, the name of the Maestro Mezcalero, the batch number and number of bottles produced, as to truly connect the drinker with the land, people, and plants at the heart and soul of this mezcal.
All around the mountains and valleys of Oaxaca, Rolando Cortés and his family collaborate with like-minded maestro mezcaleros who approach their work with a shared philosophy of respect for land and tradition. From batch to batch, an individual variety of agave will generally be sourced from different mezcaleros, in different regions, reducing the pressure put upon any one community's agave population and spreading the financial benefits among families all over Oaxaca – but the unmatched quality of El Jolgorio mezcales remains the same.
Mezcalistas coverage:
All El Jolgorio Brand Mezcals
El Jolgorio is part of Casa Cortes which also includes Agave de Cortes and Nuestra Soledad. El Jolgorio showcases very small batch and rare production mezcals.

Sorry, no content matched your criteria.